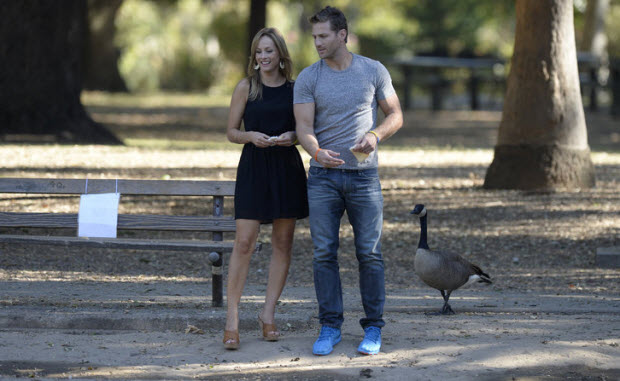 It's been an interesting 18th season of The Bachelor. Prior to the show's premier, the buss around Latin-lover Juan Pablo was probably greater than any other bachelor in the history of the show. After eight episodes, J.P. probably has a lower approval rating than George W. Bush did as President of the United States. Each episode that passes, Juan Pablo struggles to win over audiences and, for lack of a better term, appears to be a fraud.
On to the hometown dates…
First, Juan Pablo meets Nikki in her hometown. The date starts with some BBQ and bull riding. Of course, Nikki gushes over how hot Juan Pablo looks riding the bull (gag!). Nikki's parents were the MOST normal out of all the families. Nikki, who has known Juan Pablo for eight weeks, is ready to say "I Love You" at the end of the date, but can't get it out.
Second, Juan Pablo heads to Atlanta to meet Andi. They start the date shooting guns at a range – literally. A foreshadowing of how awkward this day is going to be methinks. Here's the thing – Andi's dad, on paper, came off as a jerk, but honestly the guy was right on point. If you're a father, why the hell would you give a guy dating three chicks your blessing to marry your daughter. His attitude will be rewarded when he actually watches the season! He doesn't think J.P. is good enough for his daughter and neither do we.
Third, Juan Pablo heads to Sarasota to meet Renee and her son. This was by far the best hometown date. Renee is the coolest chick on the show. Of course, Juan Pablo is awkward with her son, but Renee's family is overall the best. Like Nikki, Renee wants to tell J.P. that she loves him, but fails to.
Lastly, Juan Pablo heads to Crazy Clare's family. There have been some ridiculously awkward moments on this show and this was no different. Clare's sister Laura is the devil – just freaked me out watching her on TV. We get she's very protective of her sister and the family has been through tough times with the passing of her father, but I honestly felt terribly uncomfortable watching this hometown from the get go. If Clare says she doesn't deserve this happening to her one more time I'm going to throw something at my TV. Seriously Clare?
Well, the show ends with the most obvious rose ceremony ever. Not because we've been saying Renee doesn't have a chance for a long time because J.P. is a moron, but because we all know Andi is the focus of intense drama in the second part tonight and she was with Renee as the last two. Duh – way to go ABC. So anyway, we had to get this painful episode out of the way to get to tonight's juicy drama. Looks like Juan Pablo got himself in trouble again…
[Photo via ABC/Jose Villegas]