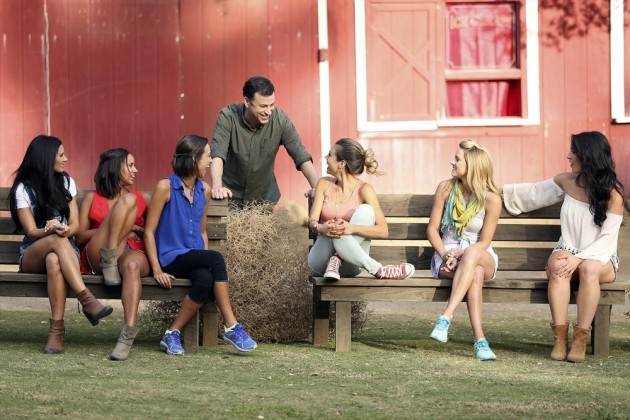 The big change for this episode was, as we were teased last week, was Jimmy Kimmel. I was a little skeptical, but those fears were put to rest early, and, to be honest, Kimmel did almost too good of a job. Part of the problem with The Bachelor is its perceived artificiality; the dates at the Grand Canyon, the oftentimes over-the-top attitude of the contestants, and obviously the format of the show itself. This hasn't been as big of a problem this season because Chris Soules's personality has kept things more low-key than normal but it was still an issue; tractor races are not exactly normal fair.
So, Kimmel comes in, and sends them to Costco.
Kaitlyn and Chris have the best date of any of them so far. I really enjoyed it, outside of the joy I get from pure entertainment value. By placing them in the real world, with artificiality inserted only to highlight the absurdity of what they were doing, really humanized Chris and Kaitlyn. The dinner after, in which Kimmel busts balls for what seems like forever, did an even better job. Both Chris and Kaitlyn were good sports about, and seemed to enjoy themselves. When you're faced with someone like Kimmel, who is a big enough name, a big enough risk-taker, and a big enough brain, you are going to get hit and hit often. To the show's credit, they didn't shy away from it. Also, Chris's acceptance of a lot of the humor was refreshing; when he and Kimmel showered together or otherwise made jokes that only a few years ago would've sent most men running for masculine cover, he rolled with it. I'm impressed.
Then, Kimmel sent Chris and Whitney to the vineyard.
My favorite part of this episode was Chris and Whitney, after seeing a wedding party, deciding to crash it together. It felt more than a little set-up, transparently so in a way that makes it hard to ignore it like one usually would. But, truth be told, it turned out wonderfully. Chris and Whitney had a legit good time, and I did too, as well. They brought a gift and Whitney was intelligent, and Chris was appropriately awkward. It was a nice evening that highlighted Whitney's good qualities and made Chris seem like the awkward contestant. A role reversal that we don't often see.
Though, to be honest, it hasn't been like this Bachelor season has been devoid of Chris Soules highlights. He was faced with several situations that he easily could've mishandled, and knocked them all out of the park. He was faced with Juelia's husband's suicide, as well as Ashely I's emotional issues, and with Mackenzie questioning his integrity. In all cases, he came off good, if not exactly suave. There isn't much to say about his and Juelia's talk, except that both of them were honest and tried their best. I'll leave it at that.
What I do want to talk about is that this episode started to pour on the gas in regards to Chris and his relationships with the other women. Mackenzie came out swinging, asking him how he could kiss other girls after kissing her (not quite that territorial), and Chris was unable to answer satisfactorily. I hate this. I think it's hot garbage. You are on a dating show; you are one of a group of gorgeous women; he is testing you all out like expensive sports cars; this is what you signed up for.
I am 100% sure this is a producer creation, and I don't like it. The season was going fine and dandy and engaging; I buy Ashley I's issues with "Blurred Arse" Jillian, but I do not buy Mackenzie's attitude. She's smarter than that. Come on, son.
Also, just to address: What is with Jillian and the black censorship bar following her around like a lost puppy? LET THE GIRL LIVE!
This was the best episode of the season. Next week has a lot of drama, with Chris laying DOWN THE LAW. Not really, but sort of. It's still a dating show. Whatever.
Front Runners:
1. Britt
2. Whitney
3. Kaitlyn
4. Mackenzie
5. Jillian
Stray Thoughts:
– Ashley I is my favorite and I was so happy to see her escape
– Britt and Jillian should just run away together. I mean it. #Brillian
– ASHLEY S JUST KEEPS HANGING ON YOU DO YOU CRAZY ONION KETAMINE LADY
– Can't say enough how much I enjoyed the wedding scenes.
[Photo via ABC]