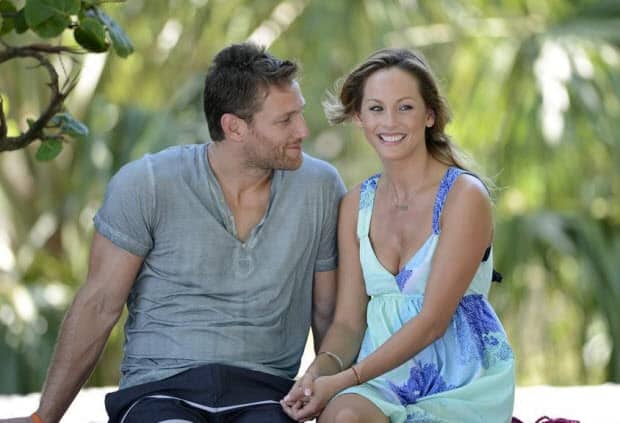 In episode seven of the 18th season of The Bachelor things got very interesting, yet remained grossly predictable. Juan Pablo still remains an enigma in the public eye. Despite all his tears, it's pretty clear he hasn't won over the masses just yet. With six ladies left, the drama was bound to build in episode 7.
The episode starts with the girls headed to Miami, Juan Pablo's hometown. Juan Pablo reunites with his daughter, Camila, then heads over to personally give a one-on-one date card to Sharleen. What's interesting about this is – Juan Pablo was talking about her earlier and you know that is typical foreshadowing of the show. The two have a nice peaceful date on the beach and make out a ton. Yet, there's still this lingering feeling in Sharleen that things aren't organic. She has doubts about Juan Pablo, but ignores them and just makes out with JP. More to come on this front…
Next up, Nikki gets a special one-on-one date with Juan Pablo. In a surprising move, he decides to take Nikki to Camila's dance recital. Camila is a very cute kid, by the way. Nikki is shocked and nervous as she prepares to meet Juan Pablo's family including his ex-wife, who is clearly more attractive than all the girls on the show. It was a very strong performance for Nikki who fit in well with his family and bonded with our bachelor.
Then the drama begins – back at the hotel Sharleen is contemplating leaving. Little does she know that the entire Bachelor audience would love her to leave. Ultimately, she ends up going to Juan Pablo's room and telling him she's leaving the show because she doesn't want to take the spot of another girl who is closer to being "there" than her. Juan Pablo seems pretty shocked and upset over it – but the show must go on.
The next day is a little four-way scrum to get a rose for hometown dates. Nikki, Chelsie, Clare and Andi. It's kind of a weird group date outing with Juan Pablo spending time with each of the girls, but not really enjoying any fun activities. Chelsie shares stories about her family, Clare cries (obviously), Renee is her usual chill self, and Nikki continues to be the devil of the show. In the end, the rose goes to Andi – clearly the favorite to win.
Fast-forward to the the rose ceremony. Watching the show it was obvious that Nikki and Clare were getting roses. By the way, the most awkward moment in the history of the show took place prior to the ceremony. Nikki and Clare who got very catty this episode were sitting on the couches in utter silence while the cameras focused on them for what seemed like 30 minutes. Just awful. So with Nikki and Clare getting the first two roses and Andi already having a rose it came down to Chelsie and Renee. A coin flip – and it went to Renee. Chelsie exited the show very gracefully – heck at this point you want to try to win points because you never know you could be the next Bachelorette.
On to week 8 for the two-part special where it looks like there is HEAVY drama in Andi's overnight. Juan Pablo may have been up to his old moves again. We will see – should be interesting – yet predictable. Remember, now is about the time ABC tries to throw you off.
[Photo via Michael Fullana/ABC]