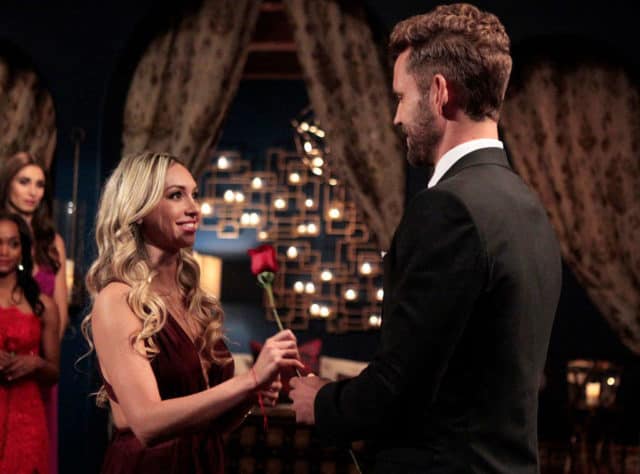 By now you've heard of Keith Berman. He's the guy who is essentially outing Corinne Olympios in the last 24 hours. Not only does he claim that Olympios has been dating someone for three years but that she's engaged too. Apparently Olympios and Berman even met together to set things straight. It's gotten to the point where Olympios is ready to take legal action so that her "reputation" doesn't get hurt.
Corinne says she's mostly upset because it's hurting her reputation. "And you know what it's just sad. It's hurting my brand. It's hurting my name. And I don't want to deal with it and I'm not going to deal with it. I gave him three chances because of his issues to calm down and stop saying s–t and that's it. I'm sorry." Berman has claimed that Corinne has a secret love life, but the former Bachelor contestant tells us that those claims couldn't be farther from the truth.
In addition to saying there's nothing secretive about her love life, Corinne also tells E! News that she is seeing someone new. "Look I'm not engaged. I'm talking to someone new period," she says.
Well guess what folks? I'm the guy dating Corinne Olympios. Yup. My name is Nat Berman, I'm 38 years old. I'm married. I have two kids. I live on Long Island and me and Corinne have been flying back and forth from the East Coast and West Coast for a good 2 years now. She and I set up this whole The Bachelor thing and it's working out pretty well don't you think? I've been coaching her this entire time on what to say, how to act, what to wear, you name it. My marriage is a fraud. My family life is a fraud. It's all about me and Corinne. Don't believe anything they tell you. I'm the one dating Corinne. It's me. I swear. This is not fake news.
Tell us what's wrong with this post? How could we improve it? :)
Let us improve this post!