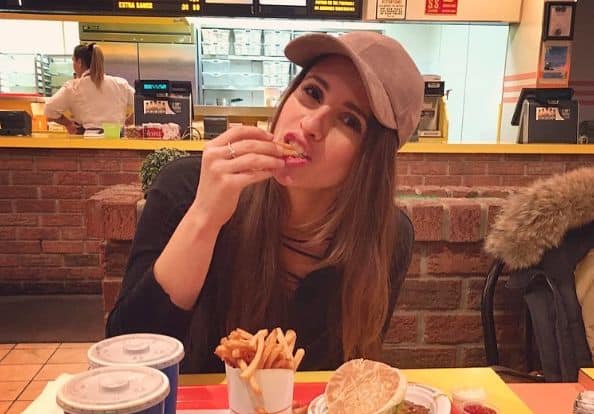 While the show isn't nearly over, Vanessa Grimaldi is starting to mix into the fold a whole lot more on The Bachelor these days. In fact (spoiler alert), it's even been suggested that Vanessa is the winner of this 2017 season and will be marrying Nick Viall. Although other speculation says their marriage (big surprise) will not last. So who is Vanessa anyway? What's her deal? What do we know about her? Given that she's going on a solo date with Mr. Viall tonight, we figured it would be a good time to explore who Ms. Grimaldi is:
She was on Blue Mountain State
While she isn't earning Oscar Nods quite yet, Vanessa does have an IMDB page. While her most notable credit is for her "role" on The Bachelor, Vanessa appeared on one episode of Blue Mountain State. Remember that raunchy college show that was on whatever network it was because I'm too lazy to look it up? Yeah, that one. Anyway, Vanessa is credited as "girl" on the episode which was called "Pregnant."
Six figure mark on Instagram
While she's not quite at 100K followers yet on Instagram, she's getting there. As is always the case with popular contestants on The Bachelor, Vanessa Grimaldi's Instagram account has shot up in the follower department. She's now sitting at around 73K followers. That number is sure to spike past 100K after tonight's episode. And if the rumors of her winning the show are true, she could very well hit the 500K mark and really cash in on her Instagram fame.
Vanessa is a Canadian
According to Hollywoodlife , She's actually from Montreal, Quebec, Canada – and proud of it. She recently posted on Instagram wearing adorable onesie pajamas that showed off her Canadian pride! While she learned French and English in school, she is 100 percent Italian and grew up speaking that around the house. Family is "very important" to her, and if she gets to hometown dates, Nick should definitely be prepared! "I respect my family's opinions as they usually are right in the end," she said in her interview.
Special Education Teacher
Vanessa believes that her life purpose was to become a teacher and a mother. Vanessa already has half of this completed but if I'm a betting man, she won't be having children with Nick Viall anytime soon. Who knows, maybe he'll prove us all wrong. Maybe not.
She was a Gameloft Podcaster
For those of you who'd like to see Vanessa way back in 2011, you'll know that she was a featured member of the Gameloft Podcast, a video game show that aired on Youtube. Even back then viewers loved her cute looks and of course, faint but adorable accent.
Photo via Instagram