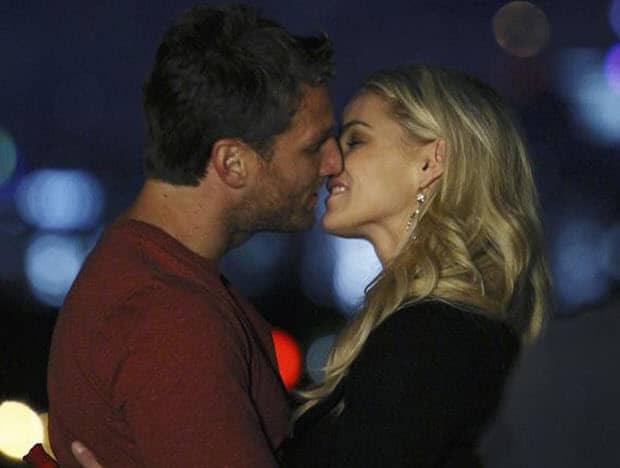 Juan Pablo was at it again last night. Rose-lovers across the country are still holding out hopes that 'El Bachelor Latino' is going to start winning points with audiences, but he just doesn't seem capable of doing so. Another week, another failure in the approval ratings.
On to episode 6 of the 18th season of The Bachelor. This week the crew headed to New Zealand so right off the bat I was interested. New Zealand is just about the only thing living up to its billing on the show. The place looked amazing, especially the Huka Lodge where everyone is staying. Obviously, Clare is still going bonkers over the drama that ensued after her late night dip in the ocean with JP. This whole scenario is annoying – just about annoying as Clare. Finally, Andi (one of the better potential mates) gets the one-on-one date card. The way JP hands out roses on one-on-one dates I know this is a lock. Prior to the date, Cassandra and Renee have a tearful one-on-one about how hard it is to date as a single-mom. Cassandra, you're 22 babe and your baby-daddy is an NBA player. Chill out. (Clearly, I'm not over that).
And the date – yup, we're back in bikinis. (Sigh) Not that I'm complaining, but for heavens sake it's predictable. Long story short, Andi and Juan Pablo head to "the squeeze" which is a secluded hot springs pool. It's quite beautiful. They have a hardcore makeout session under a waterfall. Yawn. Dinner on the other hand was a little entertaining as they sat near a steaming geyser that erupted and rained all over their peaceful meal. They chat about the usual boring stuff – relationships, work, etc. She gets the rose, and deservedly so. We like Andi, she's far to good for him.
The next day Sharleen, Chelsie, Nikki, Renee, Kat, and Cassandra have a group date in the lush green on New Zealand. Things get better when….. Everyone strips down to bikinis…..duh… and they all roll down the hill in giant hamster balls. Of course, Juan Pablo jumps in a bunch of girls hamster balls and ends up making out with girls. After that fun, things get even better. The group heads to The Shire. Yes, THE SHIRE from The Lord of the Rings movies. Renee gets the first one-on-one chat in the land of Frodo and explains to Juan Pablo about her and Cassandra's talk. He loves the mommy talk.
Nikki is up next and that's when audiences start pulling their hair out. Her voice is like nails on a chalkboard. Of course, she's "falling" for J.P. Great. Sharleen is next and she's greeted by a kiss. Of course, she stops him because it's "inorganic". Everything with Sharleen is either organic or not. Lord have mercy. Clearly, J.P. doesn't want to hear about the organic-ness of anything so he just kisses her again to shut her up. How can this dude marry this chick?  Cassandra has a talk with Juan Pablo – it's her birthday, she's 22 and she's desperately looking for a husband. Then something glorious happens – no not Sharleen getting the group rose – Juan Pablo sends jersey-chasing, husband-needing Cassandra home. Thank goodness.
And now the moment we've all been waiting for – Clare's second one-on-one date. I'm not prepared for this. Here we go again about Clare's feelings and the infamous night. Enough already. Eventually, Clare convinces herself that Juan Pablo is a good guy and apologized for how he handled the situation. She's convinced he's a real stand up guy. (Shaking my head) This date sucked, she got the rose, that's all I have to say about that.
It's time for the Chris Harrison one-on-one chat with Juan Pablo before the rose ceremony. You know that's not going to lead to good things. Perhaps the line of the night was Juan Pablo told Harrison he's looking for quality conversations and whether he feels something. Hilarious. You can't talk when you're making out buddy and you sure do feel something.
So with 7 girls left (after Cassandra's early dismissal) one is getting sent home and Clare and Andi already have a rose. Renee, Nikki, Kat, and Chelsie – usually I'm good at picking who's getting sent home, but this has me a little confused. At the cocktail party, Nikki and Juan Pablo had a terrible conversation then make out. Then it happens – Chelsie starts talking about how her last relationship fell apart and it's clear to me she's out. CARDINAL SIN of this show. Then she says something awesome (and totally seals her fate) "If I were to stick around that would mean Kat would go home and that's a good feeling." Awesome.
On to the rose ceremony… Andi, Renee, and Chelsie get the roses. Adios Kat. Maybe Juan Pablo isn't all about the action here. Psych! (Apologies for even saying that). On to the next location, Miami. But first, Sharleen cries about this process not feeling organic and not sure she feels something for Juan Pablo. This chick is horrible. She doesn't even like the guy. She knew from the start she's smart and he's a dumb jock. She should just go home as she said she would if she doesn't feel it. We actually all wish she went home weeks ago.
As you can see I'm exasperated with this show…..
[Photo via Christopher Jue/ABC]