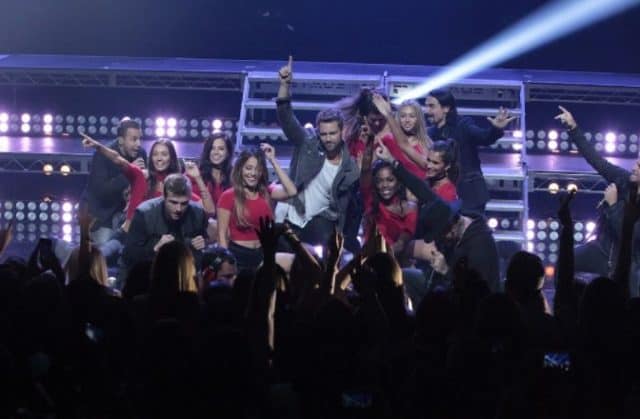 To all the ladies who love watching The Bachelor, things are about to get pretty heated tonight. And to all the guys out there who grew up loving the late 90s simple music of the likes of Britney Spears, N' Sync, and The Backstreet Boys, take solace in the fact that one of the nation's favorite boy bands will be making an appearance. That's right. Expect some background dancing help for Nick Viall in the form of The Backstreet Boys.
In what promises to be a fun episode, Nick and the ladies will be putting on their own little musical act and they've recruited help from one of the biggest boy band acts of all-time. From the get go you can see just how excited all the girls are. Actually it makes perfect sense. They all must have been teens back when The Backstreet Boys were in their heyday. Thankfully, as Nick Viall points out in the clip below, they're all happily married.
As far as other storylines go, here's what's been in the news recently. People are wondering just how far Christen Whitney's going to make it. During Episode 3 (airs January 16), blogger Reality Steve reveals that Christen won't get a one-on-one date, but she will be part of the Backstreet Boys group date with the six other ladies (Kristina, Jasmine, Whitney, Danielle L., Taylor, and Corinne). Spoilers indicate that Christen won't get a rose during the group date, but like the other girls, she hopes to spend more time with Nick at the cocktail party.
Here's another shocker: Is Nick Viall cheating on the 2017 Bachelor winner with Amanda Stanton? A new report suggests that Viall is already cheating on his fiancé with Josh Murray's ex, Amanda Stanton.
And just in case you missed it this weekend, SNL did a recent attempt at spoofing The Bachelor with a "Beard Hunk." In the spoof, the titular Beard Hunk (played by Beck Bennett) chats up a variety of ladies who are all trying very, very hard to impress him. For example, Raquel (Cecily Strong) introduces herself as "the worst girl in any room I'm in." Irresistible, right? To be honest the sketch was "meh" but there are a few chuckles in there.
In any event, get ready for tonight. Backstreet's back alright! Enjoy these previews:
Who's excited to watch us on @BachelorABC? Here's a sneak peek 🌹👀 Watch what happens on ABC this Monday at 8|7c! pic.twitter.com/HIH4PGKuOs

– backstreetboys (@backstreetboys) January 14, 2017
We recruited some pretty awesome background dancers! 😜 Watch @BachelorABC tomorrow at 8|7c to see us perform with them! pic.twitter.com/td9dNbf3sf

– backstreetboys (@backstreetboys) January 15, 2017