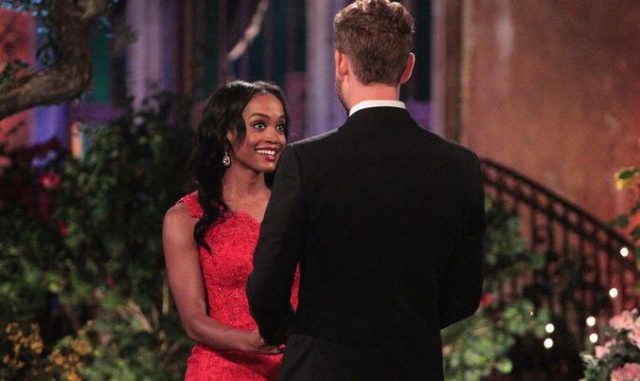 Yesterday I wrote a short article that gave us some background about Rachel Lindsay. I literally wrote this just because I happen to like her and find her to be one of the less annoying and more "real" contestants on The Bachelor. My timing couldn't have possibly been better because just last night Lindsay was cast as the first ever black lead on this upcoming season of The Bachelorette. Spoiler alert: Um, I guess she didn't get Nick Viall's proposal? Hahaha. Obviously. Here's the full announcement from THR.
After 33 combined seasons of The Bachelor and The Bachelorette, ABC has cast its first black lead, a source close to the situation tells The Hollywood Reporter. Rachel Lindsay, a Texas attorney, and current contestant on Nick Viall's The Bachelor, will be announced as the next Bachelorette on Monday's Jimmy Kimmel Live!. The star of the next cycle is usually announced after the current season wraps, but ABC is breaking tradition by revealing the news weeks before the finale. ABC declined to comment. News of Lindsay's casting was first reported by the Reality Steve website. Lindsay is becoming the Bachelorette after years of controversy surrounding the long-running reality dating franchise. ABC and its executives have come under fire over the series' lack of diversity, as the starring roles have almost exclusively gone to white leads on both The Bachelor and The Bachelorette.
All I can say is, "it's about time." As for how the ratings will be, only time will tell. ABC's been getting hit pretty hard for their lack of diversity on the show and they've finally answered the call. I personally think Lindsay will be excellent on The Bachelorette but we'll have to say what audiences think. In case you guys don't watch the show, The Bachelor is far and away the whitest show on all of television. I don't say that in a racial way. I say that because it's fact.