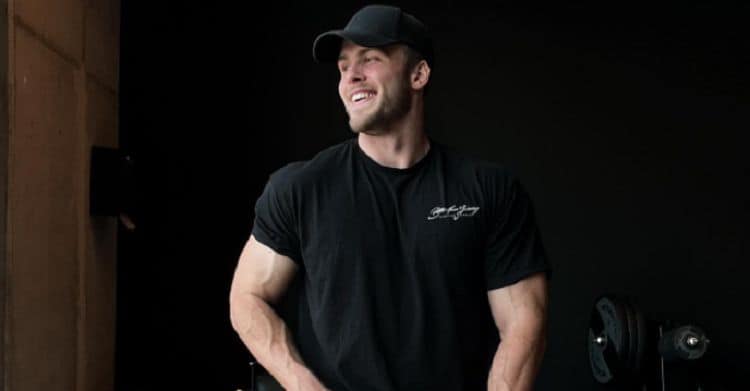 Antonie Lokhorst may have a chiseled physique now, but that wasn't always the case. When he started his fitness journey, he was simply trying to see how much progress he could make. However, once he started seeing results he knew that he wanted to keep moving forward and sharing his journey with the world. Over the last few years, he has managed to build a strong social media presence that consists of hundreds of thousands of people from all over the world. In addition to sharing his own story, he has also become very instrumental in helping other people reach their fitness goals. Keep reading for 10 things you didn't know about Antonie Lokhorst.
1. He Is From the Netherlands
Antonie was born and raised in the Netherlands and he is very proud of where he's from. He still lives in his home country and there's no information to suggest that he plans on moving. That said, his online presence has given him the opportunity to do some traveling.
2. He Likes to Surf
Antonie is one of the lucky people who get to make a living doing something he really loves. Just like everyone else, though, he enjoys getting a break from time to time. In his free time, he loves being outdoors and surfing is one of the ways that he likes to let loose.
3. He Has A YouTube Channel
Most people who are familiar with Antonie know him from Instagram and/or TikTok. However, those aren't the only platforms he has accounts on. He also started a YouTube channel in the summer of 2021, but he never got in the habit of posting on it regularly. Maybe one day he will decide to get into YouTube on a serious level.
4. He Is A Private Person
Despite the fact that there are hundreds of thousands — if not millions — of people who know who Antonie is, there aren't many who can say they know much about his personal life. That's because he's chosen to keep almost all of the details of his personal life to himself. Instead, he likes to keep all of the attention on his passion for health and fitness.
5. He Has Over 75 million Likes on TikTok
On top of being very popular on Instagram, Antonie has also built a massive TikTok following. He currently has over 4 million followers on the platform and his content has gotten 76.5 million likes. His content is all about sharing his workouts and he also enjoys spreading positivity to his followers.
6. He Loves Music
Music and fitness are two completely different industries, but they have a lot of overlap. For many people in the fitness industry, music is one of the things that motivates them to get through their workouts. As a result, Antonie spends a lot of time listening to music and he enjoys putting workout playlists together. Sometimes, he even shares links to his playlists on Instagram so his followers can tap into some of his favorite workout songs.
7. Family Is Important to Him
Despite the fact that Antonie hasn't shared lots of specific details about his personal life, something we do know about him is that he comes from a close family. He seems to have tight bonds with both of his parents and he even shared a few photos of them on his Instagram profile. It's unclear if he has any siblings.
8. He Has Done Some Modeling
Antonie is a natural in front of the camera and that has earned him some great opportunities over the years. He has done fitness modeling and At the moment, it doesn't look like he's worked with any major brands but there's a good chance that time will come.
9. He Is A Dog Dad
Antonie doesn't technically doesn't have any children, but that hasn't stopped him from getting the chance to flex his fatherly muscles. He has an adorable little fur baby who has made a few appearances on his Instagram profile. Unfortunately, though, it doesn't look like Antonie has created a separate Instagram account for his dog.
10. He Is A Brand Ambassador
As mentioned earlier, Antonie has built a pretty significant online following over the years. Although there was once a time when having a large online following was nothing more than a popularity contest, that isn't the case anymore. Building a virtual audience can lead to lots of opportunities in real life, and one of them is brand partnerships. Antonie has worked with several brands to help market their products on his social media profile.
Tell us what's wrong with this post? How could we improve it? :)
Let us improve this post!