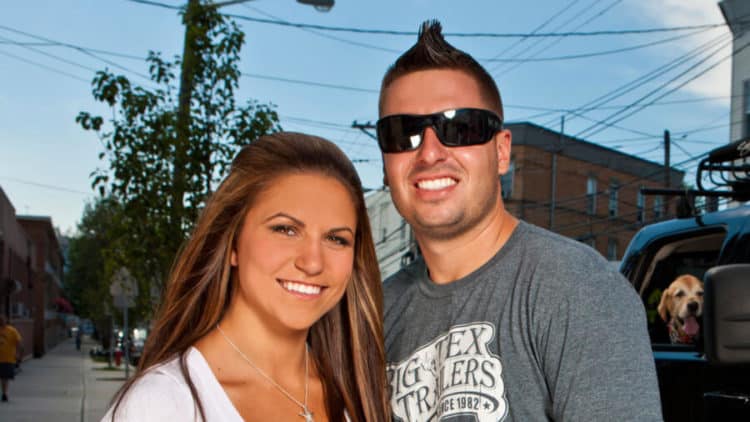 When it comes to reality television, networks such as A&E are big into doing things that don't quite fit into the box. The network brings shows to the air that show a different aspect of life that many people know exists…but know nothing about. Think about the concept of shipping. You order something. It ships to you. You buy something from a store. It was shipped to that store. Every item you purchase that's not hand-made on-site is shipped from elsewhere, and there are people who work solely in the shipping industry to ensure you get what you need via shipping. Robbie Welsh is a woman who knows a thing or two about being on the road and working in the shipping industry, and she's one of the stars of "Shipping Wars," which is a reality show all about the shipping industry. Here's what you don't know about the reality star.
1. She's a Tomboy
She's always been a bit of a tomboy, so this line of work is really in tune with her personality. She's never been one much into the girly things in life, so working with her husband on trucks, driving them, and transporting their business from one level to the next – see what we did there? – is her game.
2. She is Good at All Things
One thing is for certain about this young woman; she is good at almost everything she touches. Is there a truck that needs repair? She's got it covered. Is there a map that needs to be adjusted so a new route can be created? She's your girl. Is there something she can do to make sure the trucking life is easier for her husband and their company? She's on it.
3. She's a Mom
One thing that was so hard on this young mom was being away from her son when she was on the road. However, she knows that her life and her business are all about her son, Carter, and her daughter. The more she works on this company now, the better his future will be. She knows the long hours and the time apart is difficult, but she also knows that they will pay off in the future. She spent a lot of time working hard with her then-boyfriend after their son was born, but she slowed down the travel a bit when they welcomed their daughter in 2015.
4. She is Married to Chris Hanna
You probably guessed it by now, but she's in a relationship with her fellow co-star and business partner. She and Christopher Hanna have been together for some time, and they have made it clear that their relationship is working in every aspect of their lives. From their business to their son to their romance, they are making it work. They've been together since at least 2008 given the fact that their son was born in May of 2009, and they married in 2015.
5. She's A Small-Town Girl
Living in a lonely world…kidding, but you can't forgo singing the lyrics when someone mentions a small-town girl, can you? It's not the right journey for anyone. Bad pun, we know. However, this is a girl who is from a small town in South Carolina. She and her husband are both young, they are both just getting started, and they are both doing big things in life.
6. She is a Dog Lover
She and Hanna have a dog of their own, and he's a permanent fixture on the road with them. The dog's name is Gix, and Gix is always on the road. In the truck on long transports, working to repair trucks, make loads, map routes, and more, this is a dog that is never away from mom and dad.
7. She is Fit
She's a woman who takes good care of herself if the photos she posts on her Instagram account are any indication. She is fit. She clearly works out, and it clearly makes her feel good.
8. She is Family First
At the end of the day, she is a wife and a mother, and those things come first for her. She's not interested in anything other than being the best of the best to her family, and all things fall to the wayside in comparison. However, that does not mean she's not successful and thriving – because she is.
9. She Knows What is Important
Taking the time to really enjoy her kids is all she cares about. It's so easy for us to all forget to take the time to sit back and really spend quality time with them when we are all worried about spending as much time getting them here and there and everywhere instead, but how often do we sit back and really appreciate the time we have with our kids? She does, and she's wise to do it.
10. She Likes Her Privacy
When it comes to her life, she's happy to share with the world. But, she's only sharing the snippets of her life that she feels comfortable sharing. She's not into sharing the most important, most intimate, most special moments of her life. She's got no time to give the world that much access to her personal life. reality star
Tell us what's wrong with this post? How could we improve it? :)
Let us improve this post!