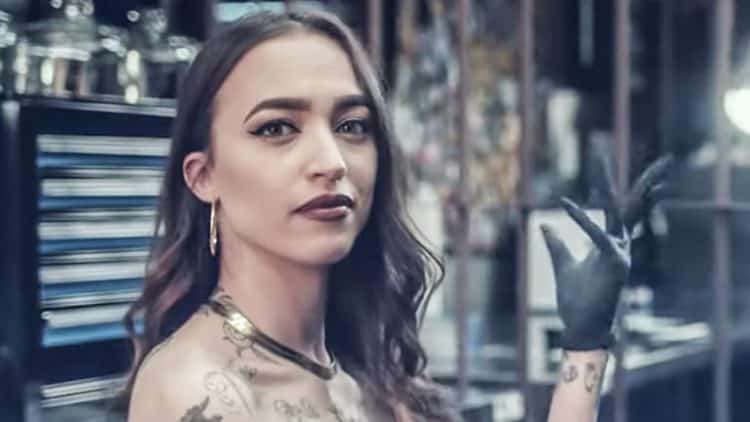 We all love tattoos; some are scary, but others are just adorable. Anyone looking to get a tattoo wants it to mean something, but on Hero Ink, only first responders are featured to tell their stories through creative art. Such unique artwork can only be entrusted to talented hands and here is the Hero Ink cast who help create the memories for those who walk into Prison Break Tattoos. Speaking of those talented hands, here's the amazing cast of Hero Ink.
B.K. Klev
Bryan Klevens is the brains behind the tattoo shop where Hero's Ink is filmed at; Prison Break Tattoos, Houston, Texas. There was always this notion that only the bad guys could have tattoos, and as a police officer who had to go undercover, Bryan had to get tattoos to pass as a criminal. However, for Bryan, the tattoos now have to mean something to the person carrying them on their skin. Usually, since he never felt comfortable as a police officer in the places where he had to go to get his tattoos, Bryan opened Prison Break Tattoos with the sole objective of giving others like him a chance to be comfortable getting their tattoos by people who understood their journey. Bryan does not separate his police work with being a tattoo artist and therefore blends them through the fact all the tattoos, both those featured in Hero's Ink and those that are not, have to connect with the world of first responders. Even before Hero's ink was aired, Bryan was still doing tattoos for first responders, and since he is passionate about his art, he always interacts with his clients, so that he knows the story behind the tattoos they want.
Janice Danger
We watch movies of wives who are always worried that the next person ringing the doorbell will be the military men bearing the news that their military husbands were killed while on duty. We sympathize with them and feel like we are lucky that we do not have to go through such an experience. Well, Janice is married to a man in the military and who is currently on active duty in the army, but she does not sit around the house waiting for the phone to ring. Instead, she has dedicated her life to giving back to those women and men uniform not necessarily in the army, who have done and continue to do a lot for her. For Janice Danger, her experience was obtained on the street, making her a versatile tattoo artist but whose specialty is in the black line work. The sky is the limit and her willingness to learn new ideas and explore a variety of styles to utilize her artistic abilities puts her in a class of her own.
Zoey Taylor
Living in one of the most developed countries in the world does not guarantee you to enjoy all the benefits that come with it as Zoey came to realize. Electricity became a necessity long ago, but Zoey was raised in a cabin in Oregon Woods where there was no electricity. However that was all part of fate's plan because it turned out to be a blessing in disguise; sitting by the lantern light and in the quietness of the woods with no music to listen to, Zoey came to appreciate her drawing and painting skills and by the age of five, she was well aware of her artistic abilities. Zoey was set to become an advertising painter, but when she drew her first tattoo on her brother at the age of 18, she turned to tattooing as her passion although she still paints for fun. She now owns her own tattoo shop called The Warren which was initially called The Prix, where she had trained after moving to Los Angeles. Her connection to the men in uniform, which brings all the cast of Hero's Ink together is that were it not for law enforcement officers who helped put her stepfather in prison, Zoey's life would have been a whole different story.
Tony 4 Fingers
With a name like "4 fingers", the first thing that comes to mind is if the bearer of the nickname does have four fingers else why anyone would be called such a name. Tony lost his pinky when he was stationed in Iraq hence the name, but that is not a hindrance to the artistic capabilities he displays on Hero's Ink. Tony was in the Marine Corps in two combat tours and then became a government contractor in combat zones. While you would think he would be busy with his job, he still found time to tattoo anyone interested even while on a Navy Ship; that is what we call passion. Tony is the go-to guy when you got a tattoo that brings bad memories and would like to have it covered up because his skills are out of this world.
Robbie Carson
When Lil Wayne came up with the lyrics "am a fireman…, you can spark it up, and I will put it out…" he must have had a hidden meaning but if taken literary that is exactly what Robbie Carson has to do at his fighting job in Fire Station 27 in Houston. We have heard that firefighting is a thrilling experience, but unless you are willing to risk your life for the sake of strangers, then we can conclude that this job is a calling. Robbie Carson loves his job as a firefighter, but that does not stop him from practicing his art skills. Besides being a tattoo artist, Robbie is a talented painter and it seems like these two go hand in hand given that his colleague at Hero's Ink, Zoey Taylor is a painter and tattoo artist as well. Robbie is a first responder himself, and it is like he was being called to serve given that by the age of 17 he had already joined Marine Corps where he served for five years, before joining Houston Fire Department. As an artist, Robbie has done so professionally for the last 11 years, and he can work not just on the skin, but also on leather, wood, acrylics and many more mediums. His style ranges from black and gray to realism and horror.
Rich Verdino
Be it by suicide or accident, losing someone we care about is something we carry around for the rest of our lives. First responders know that every day they set out to go to work, it might be their last, but it does not stop them from giving their best. Rich Verdino worked in the NYPD for 11 years, and on September 11 when the twin towers were hit by terrorists, he lost a colleague and close friend. Being the older tattoo artist at Prison Break Tattoos makes him the father figure, and with his ever-attentive ears, he lends his time to clients who want to create great tattoos. Like most of his colleagues at Hero's Ink, Rich specializes in black and gray, but that does not mean he cannot get you what you want.
Tell us what's wrong with this post? How could we improve it? :)
Let us improve this post!