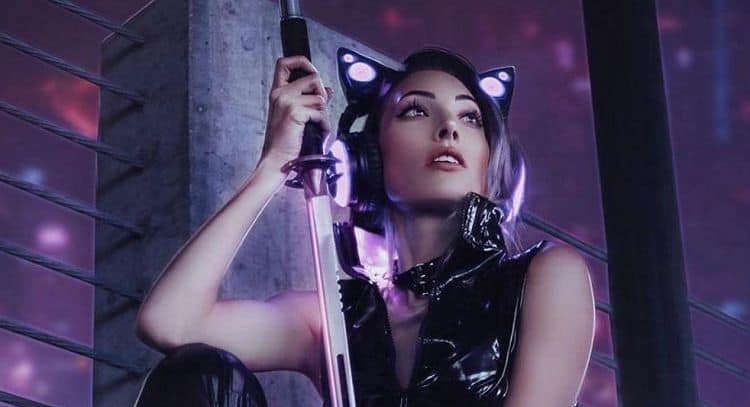 Video games have always been a male-dominated industry, but in more recent years, more women have started to get involved. Among them is a talented gamer, Avori Henderson. Since starting her journey as a gamer, Avori has built a massive online following and she has brought a feminine touch into space where women often aren't welcome. From Twitch to Instagram, Avori has been getting lots of attention on multiple platforms. In addition to being skilled on the sticks, lots of people have fallen in love with Avori's fun personality. As her platform continues to grow, it'll be interesting to see if Avori decides to expand her brand into other areas. Continue reading to learn 10 things you didn't know about Avori.
1. She Loves To Dance
Avori is currently best known for being a gamer, but that isn't the only thing she's interested in or the only thing she's good at. She also enjoys dancing and has participated in some online dance challenges. That said, dancing appears to be just a fun hobby for Avori and not something she plans on doing at a serious level.
2. She Was A Contestant In The Miss America Pageant
Before becoming a gamer, modeling was Avori's main focus and she had even competed in some beauty pageants. During an interview with eSports Heaven, Avori said, "I actually dropped out of the Miss America Pageant to pursue my career in gaming! I was in the heat of competing as I just won my local title and I had prepped all year to take home the state title. A week before the competition, I got a call from my State Director asking for all of my information regarding the pageant. I then remembered that I was supposed to compete for an online tournament that week during the pageant and I needed to make a decision." Although her pageant days are over, Avori still models.
3. She Loves To Travel
Just because Avori spends a lot of her time in front of a screen doesn't mean that she doesn't enjoy getting out of the house. She is an avid traveler and has been fortunate to visit destinations all over the world. Some of the places she's been to include Mexico, Jamaica, Dubai, and France.
4. She Never Planned On Getting Into Gaming
Avori isn't the kind of person who grew up wanting to be a gamer. Instead, modeling was always her focus. In an interview on Medium, Avori said, "Honestly, I never meant to be a gamer. I always wanted to be a model and I was starting to make that happen for myself when the gaming industry caught me by storm."
5. She Likes Organizing Events
Avori doesn't just like playing games for the sake of entertainment, she also thinks that gaming is a great way to bring people together. She loves putting together events/competitions around gaming and she's pretty good at it. It'll be interesting to see what other events she creates in the future.
6. She's Based In Colorado
Like lots of other influencers, Avori has chosen to keep many of the details of her personal life away from the public eye. As a result, there isn't much information about her upbringing. What e do know, though, is that Avori is currently living in Colorado, but it's unclear if that's where she was born and raised.
7. She Encourages Other Women In Gaming To Ignore Haters
Once some people reach a certain level of success, they start to get stingy with their information. That's not Avori's style, however. When asked if she had any advice for other women in the gaming industry, Avori told Jejune Magazine, "…this sounds really silly and simple, but ignore the haters. There are so many out there who will try to bring you down just simply for doing and being someone successful. If you let them get to you, then they win. As a professional female gamer, I assume you have a very competitive nature, so don't let them win. Stay strong and focus on the people who adore you. You never know who you may be inspiring."
8. She Enjoys Giving Back To Others
Avori has worked very hard to create a successful platform, and she hopes to use it to do more than play video games. She loves giving back to those in need and she already collaborated with some charitable organizations such as Children's Miracle Network. She also enjoys spending time with elderly people.
9. She Started Her Own Fashion Line
Avori doesn't just like to game, she likes to look good while doing it. In 2020, she started a fashion line called Styles by Avori which is focused on clothes that are comfortable and stylish. Unfortunately, the website for the line appears to be inactive and it's unclear if she is still working on the business.
10. She Likes To Stay Active
Avori is all about making the most of life in everything she does and she loves making as many memories as possible. When Avori isn't busy gaming, she loves spending time outdoors. Some of her favorite things to do include hiking, snowboarding, and exploring the beauty of nature.