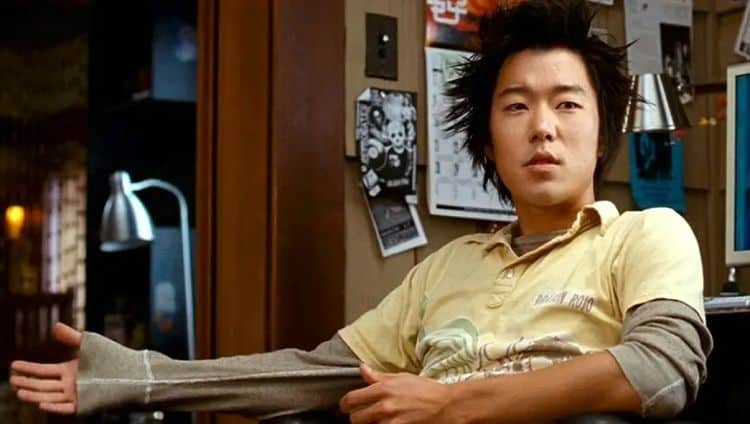 Aaron Yoo has been acting professionally for nearly 20 years, and during that time you've probably seen his face in quite a few things. Most people will remember him from his role in the 2007 movie Disturbia, however, he has also had a lot of success on the small screen. Some of his TV credits include The Tomorrow People and StartUp. Although the industry attempted to typecast him early in his career, Aaron has always fought against stereotypes and he has established himself as a versatile talent. 2021 has been another big year for him thanks to two film roles, and his future is looking brighter than ever. Keep reading to learn 10 things you didn't know about Aaron Yoo.
1. He Was Raised In New Jersey
Aaron was born in Dallas, TX, however, he relocated to New Jersey when he was in elementary school. He was raised in East Brunswick, but there isn't much information about his upbringing. Aaron attended East Brunswick High School. During his high school career, he was in the band and he was also a member of the track and field team.
2. He Studied At UPENN
We aren't sure exactly how Aaron got into acting, but we do know that by the time he went off to college he was very serious about it. Aaron attended the University of Pennsylvania where he earned a bachelor's degree in theater. In college, he also joined a fraternity called Sigma Nu.
3. He Is Bilingual
Being able to speak more than one language is always beneficial, and Aaron is proud to fall into that category. Aaron's parents are Korean although it's unclear whether they were born there or in the United States. Aaron is fluent in both Korean and English, but it appears that English is the only language he's acted in.
4. He Is Married
Some people will find what they love to do in life, and others will find the person they love – Aaron can happily say that he's managed to find both. In an interview with The Korea Herald, Aaron said, "I've been fortunate to find and marry the great love of my life". Aaron and his wife do not have any children.
5. He Is Passionate About Human Rights
Over the years there have been several celebrities who have expressed their hesitancy to speak out on certain issues because they're scared to offend people. Aaron, however, hasn't let that stop him from taking a stance. He is all about using his platform to shed light on the things that he believes in. He has spoken out against racism and he a strong advocate for people exercising their right to vote.
6. He Is A DJ
Playing in the high school band wasn't the end of Aaron's interest in music. In his spare time, he enjoys DJing but it doesn't appear to be something he's ever pursued professionally. Unfortunately, we weren't able to find any audio or video recording of Aaron on the 1s and 2s.
7. He Has Done Cinematography
Aaron has spent the majority of his career in front of the camera, but he's also gotten the chance to experience what things are like on the other side. In 2000, he was a cinematographer for a short film called Bloom. At the moment, this is his only behind-the-scenes credit.
8. He Loves Hanging Out At The Beach
Aaron spends a lot of time working, but when he does get some time off he enjoys spending it at the beach. Whether he's kayaking or going for a swim, the ocean appears to be one of his favorite places to be. Thanks to his career, he's gotten the opportunity to visit some beautiful beaches all over the world.
9. He Is Really Into Bitcoin
Over the last several years, cryptocurrency has become increasingly popular. People have made millions of dollars off of early investments in Bitcoin and other currencies. This is something that Aaron got to explore in his role in the TV series Startup. However, his interest in Bitcoin started long before he was cast for the show. He told The Korea Herald, "I've been semi-obsessed with Bitcoin since its inception a few years ago".
10. He Is A Soccer Player
Acting and music aren't the only things that Aaron is good at. Apparently, he's an athlete, too. Aaron is a pretty good soccer player and spends about 15 hours a week playing. It's unclear exactly how he got into the sport since we didn't find any mention of him playing competitively during his childhood or in high school.
Tell us what's wrong with this post? How could we improve it? :)
Let us improve this post!