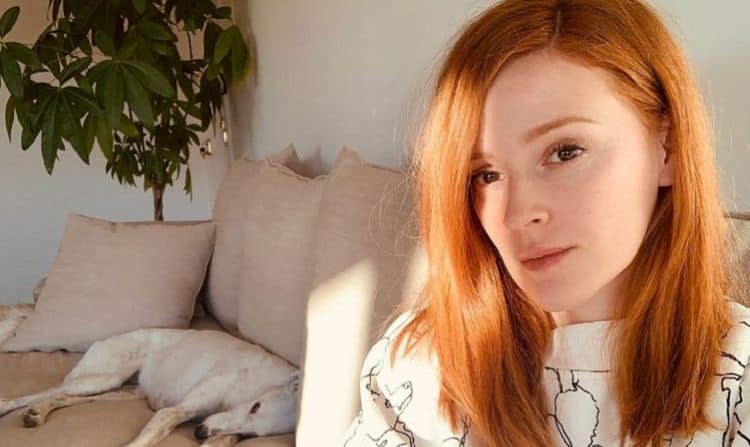 Ana Polvorosa has been acting professionally for more than 20 years. In that time, she has gotten the chance to share her talent with countless people. Although she is most well-known for her work in Spanish productions, she is well on her way to becoming a star all over the world. Her role in the TV series La Fortuna has opened up lots of doors for her and it's clear that she is incredible at what she does. As fans get ready for the show's second season, people can't help but be excited about seeing Ana back on their screens. Not only have the last few years been huge for her, but the next few will probably be even bigger. Continue reading for 10 things you didn't know about Ana Polvorosa.
1. She Has 30 On-Screen Credits
Since Ana isn't quite as well-known in the United States, some American viewers may not know just how impressive her career has been so far. According to her IMDB page, she currently has 30 on-screen acting credits which include several projects that have not yet been released.
2. She's An Animal Person
There are some people who prefer dogs, and some people who prefer cats; Ana appears to be someone who loves both. Based on her Instagram profile, it looks like she has a dog and a cat and she loves spending time with her fur babies. However, her love for animals doesn't stop with her pets.
3. She Loves Fashion
Ana gets paid to express herself through acting, but that isn't the only way she likes to share who she is with the world. She is also really into fashion and she has a great eye for style. No matter what the occasion is, Ana always knows exactly how to pull off a great look.
4. She Wasn't Always Credited as Ana Polvorosa
These days, the world knows her as Ana Polvorosa. However, there was once a time when that wasn't the case. Her full name is Ana María Ruiz Polvorosa and she was credited as Ana Maria Ruiz early in her career. We weren't able to find any information on why she decided to start using Polvorosa professionally.
5. She Enjoys Photography
Acting isn't the only art form that Ana appreciates. She also loves photography and it's common for her to share her favorite photos with her followers on Instagram. Even though we know that she enjoys looking at pictures, it's unclear if she also likes to take them herself.
6. She Has Theater Experience
Lots of actors gravitate towards on-screen opportunities because they tend to pay more than theater roles. That said, the stage is the place where most actors fell in love with acting, so they like to do theater productions whenever they get the chance. Ana has been a part of a few plays over the years including a 2007 run of Olvida los tambores (Forget the Drums).
7. She's Fairly Private
Let's be real, some of us know more about celebrities' lives than we do about some people we actually know. However, Ana has never been the kind of celebrity who likes to put all her business out in the open. Instead, she has chosen to remain pretty private when it comes to her personal life. Since we know how badly things can turn out when celebrities overshare, it's not surprising that she has decided to keep a lot to herself.
8. She Is A Formally Trained Actress
There are some actors who started their careers by jumping right into the audition process. Others, however, took a different approach by honing their skills through training. According to her bio from Mesala Films, she underwent acting training with Gina Piccirilli, Fernando Piernas, and Andrés Lima. I think it's safe to say that all of her hard work has certainly paid off.
9. Fans Love Her Feet
Ana's impressive acting skills aren't the only thing about her that fans have fallen in love with. Apparently, her feet are a big hit among lots of people as well. According to an online database called Wikifeet, Ana's feet have earned an almost perfect five-star rating. The website also has several photos of her feet so anyone who is interested can see for themselves.
10. She Loves A Good Adventure
Life is all about having as many experiences as possible, and that idea isn't lost on Ana. She has an adventurous spirit and she loves to make the most of every moment. Whether that means traveling to different countries or exploring the beauty of her surroundings, she's always looking for ways to enjoy herself and try new things.
Tell us what's wrong with this post? How could we improve it? :)
Let us improve this post!