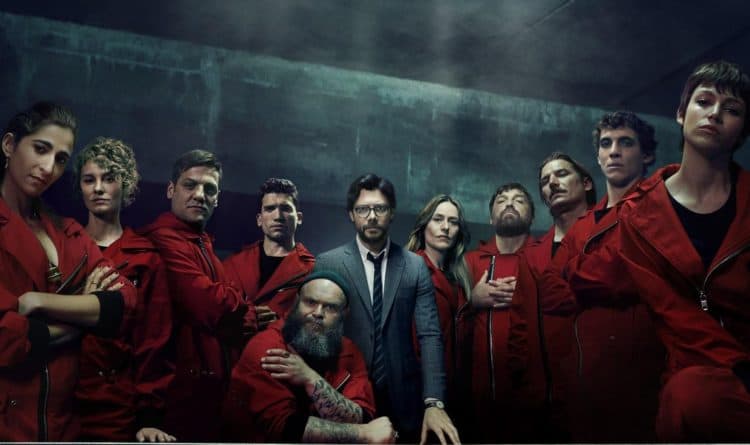 Are you looking for some unique binge-worthy series on Netflix? An excellent Spanish show is a great place to start since it can expose you to different cultures and beautiful places you only read about in novels. In addition, learning some excellent Spanish words after a few episodes gets fun over time. Netflix has an extensive catalog of originals and other shows you can choose from, all with subtitles. If you haven't dived into the thrilling world of the Spanish series yet, this is the article for you. Here are ten of the best Spanish shows you can binge-watch on Netflix.
Money Heist
One of the most-watched Spanish series on Netflix is 'La Casa De Papel' or Money Heist. The series tells an exciting story about a group of robbers who get involved in several high-stakes heists. Money Heist will keep you glued to your screen till morning due to its unbelievable plot twists and action scenes. It is set in Madrid, Spain, with the first heist in the Royal Mint of Spain and the second in the Bank of Spain. So far, Money Heist has four seasons with a total of thirty-one exciting episodes you can binge. The final season, part five released on Netflix on September 3, 2021.
Locked Up
Locked Up or Vis a Vis is another show on Netflix that you won't want to stop watching from the first episode. It follows Macarena, played by Maggie Civantos, who falls in love with her married boss. She loves him so much that she commits accounting fraud and ends up in jail. The drama is similar to Orange Is the New Black. After being jailed, Macarena has to survive her new life behind bars by forming alliances and changing into a different person. Locked Up aired its last episode in February 2019 after four seasons.
Valeria
If you love more funny than action-packed shows, check out Valeria. It is a comedy series set in Madrid that revolves around writer Valeria, who Diana Gomez portrays. As a writer, she struggles to get started on her first novel while balancing her not-so-perfect marriage. Valeria's support system is her friends, Nerea, Lola, and Carmen. If you loved watching Sex and the City, this is the best Spanish drama to start on. Valeria was released on Netflix in May 2020 and had two seasons with a total of sixteen episodes.
Sky Rojo
Sky Rojo is an action-packed Spanish drama on Netflix worthy of your time. If you are looking for a series that will have you guessing and terrified simultaneously, this is it. It tells the story of Gina, Coral, and Wendy, three strippers who escape their abusive pimp. The three women embark on a dangerous yet exciting journey for their lives. Sky Rojo only has sixteen episodes so far, spread between two seasons. It was the most-watched series in Spain during its release, according to Forbes.
High Seas(Alta Mar)
High Seas is the best Spanish series. That is, if a combination of mystery and suspense is your cup of tea. Unlike other Spanish series in this list, Alta Mar is a period drama set in the 1940s. It follows two sisters, Eva and Carolina Villanueva, who travel by ocean liner from Spain to Brazil after their father passes away. When mysterious deaths start happening onboard the ship, the Villanueva's realize they are in grave danger. The Spanish series has three seasons that are interesting enough to finish in one night.
Dark Desire(Oscuro Deseo)
Dark Desire is a 2020 Spanish thriller series on Netflix. Maite Peroni stars in the lead role as Alma Solares, a married woman and college professor. Alma is frustrated in her marriage which leads her into the arms of her student, Darrio Guera. Other stars in the show include Erik Hayser, Maria Fernanda, and Jorge Poze. The episodes are full of suspense, steamy scenes, and unexpected twists that will keep you wanting more.
Toy Boy
Another sexy Spanish drama on Netflix is Toy Boy. The drama tells the story of Hugo Beltran (Jesus Mosquera), a devilishly handsome stripper in the town of Costa De Sol. Hugo's life is turned upside down when he begins a steamy affair with Cristina Castano. When Cristina's husband is discovered dead in Hugo's boat, he is sent to fifteen years behind bars. After serving his sentence, Hugo is determined to clear his name. The first season has thirteen episodes, which is excellent for a Friday night binge.
Elite
Elite is a Spanish teen drama set in the fictional Las Encinas secondary school. The first season follows three average students who get a scholarship to join the elite school. Samuel, Christian, and Nadia struggle to fit it among the highly wealthy students. There is also an unsolved murder of one of the students in the school. Unlike other teen dramas, Elite features mature themes and excellent writing for an adult audience. So far, Elite has four seasons that you can enjoy watching, with season five releasing in 2022.
Always A Witch(Siempre Bruja)
Siempre Bruja is a Spanish fantasy series. Its premiere on Netflix was in 2019. Angely Gaviria stars as Carmen Eguilus, a slave and witch burned to death during the 17th century. Carmen comes back to life in 2019 Columbia, where she can't use her powers. It is a thrilling show full of magic and love. Watch the original Spanish version with subtitles since the dubbed version does not do justice to several actor's intense acting. There are two seasons available on Netflix, with a total of eighteen episodes.
Apaches
Apaches is a Spanish drama that focuses on a freelance journalist, Miguel, who lives in Madrid. When his father is accused of fraud, he ends up returning home to help his family. Miguel quickly falls into a life of crime with the help of his childhood friend, Sastre. It is a dark show, full of action and gang-related crime. If you enjoyed Money Heist, this is the next best thing. Plus, it only has twelve episodes on Netflix.