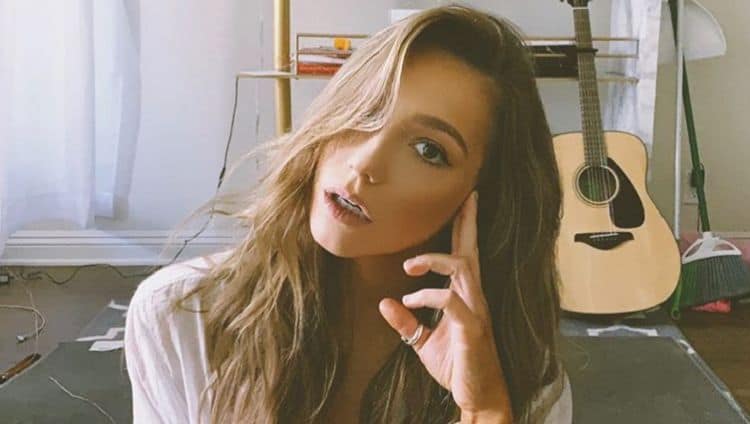 Not to be confused with the Canadian actress with the same name, Alexandra Stewart rose to reality TV fame when she appeared on season one of the American version of Love Island. Like everyone else on the show, she came to the island looking for love, and although she thought she found it things didn't work out the way she'd hoped. However, Alexandra refused to stay down for long and she is back to focusing on herself and her goals. Although her time as a cast member on Love Island is over, she still plans on tuning in and following the journeys of the new cast members. Continue reading for 10 things you didn't know about Alexandra Stewart.
1. She Grew Up Playing Hockey
Alexandra may seem like a girly girl on the outside, but that isn't exactly how she sees herself. She has always considered herself a tomboy and she's always felt comfortable making friends with guys. She played ice and field hockey for many years and also enjoys watching football.
2. She Watched The UK Version Of Love Island Before Joining The Cast
Although Love Island is new to the United States, the show has been popular in the UK for several seasons. Before joining the cast herself, Alexandra wanted to get an idea of what she would be getting herself into. She told Carrie's Chronicles, " I watched Season 3 of [the U.K. version of] Love Island before going to Fiji! The Love Island team asked us to watch the seasons before to get an idea of what we would be experiencing. I was completely hooked on the show and absolutely loved it. Their slang is incredible and Olivia [Attwood] was my favorite person to watch."
3. One Of Her Friends Suggested She Try Love Island
During her interview with Carrie's Chronicles, Alexandra also mentioned that it was her best friend who encouraged her to go on the show. Alexandra had just gotten out of a break up and had developed a good understanding of the type of person she wanted to be with. Her friend though being on the show would give Alexandra a great chance to find what she was looking for.
4. She Co-Hosts A Love Island After Show
Now that Alexandra is a part of the Love Island family, it's only right that she continues to be a fan. She doesn't just plan on watching the show, however. She will also be delivering commentary after each episode as part of her web series, After the Island, which is available on YouTube.
5. She Broke Her Jaw
You know the saying, 'it's all fun and games until somebody loses an eye?' In Alexandra's case, it's all fun and games until somebody breaks their jaw. Unfortunately for Alexandra, that's exactly what happened to her after a scooter accident in 2019. At the time, she and Dylan Curry were still together and she was thankful for his support. She has since made a full recovery.
6. She's Adventurous
There's nothing wrong with a little thrill here and there. With that said, Alexandra is definitely the type of person who likes to get out and have fun whenever she can. Whether it be going on a trip or or diving into the water, you can always count on Alexandra to be ready to have an adventurous good time.
7. She Dated A Pro Football Player
Being on Love Island wasn't the first time Alexandra found herself in a high profile romantic situation. Prior to being on the show, she had been in a relationship with NFL player, Sam Ficken, who is currently signed to the New York Jets. Not much is known about their relationship, but the couple likely met during college.
8. She's Originally From Pennsylvania
Lots of people may be under the impression that Alexandra is a Los Angeles native, but she's actually not from the west coast at all. She was born and raised in Chestnut Hill which is an area of Philadelphia. Alexandra attended a private high school in the area called Gwynedd Mercy Academy.
9. She Studied At Penn State
Alexandra decided to stay in her home state for college and attended Penn State University. She graduated from the school in 2015 with a bachelor's degree in public relations/image management. Sam Ficken also attended Penn State and was also a member of the class of 2015.
10. She Used To Be A Publicist
When Alexandra was cast on Love Island, her occupation was listed as a publicist. Although it appeared that she did work as a publicist for a few years, her LinkedIn profile says she left the job in 2019. It's unclear exactly what she does for a living now, but it appears that she is mainly a social media influencer.
Tell us what's wrong with this post? How could we improve it? :)
Let us improve this post!