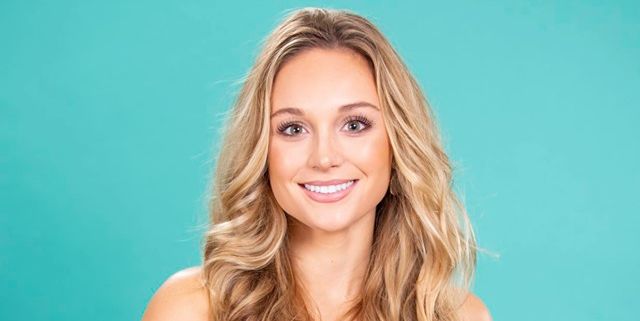 With the latest season of The Bachelor officially underway, fans are very excited about the new group of contestants. One woman in particular, Sarah Coffin, is already creating quite the buzz. The blonde beauty has quickly become a fan favorite and viewers can't wait to see how things pan out between her the bachelor, Peter Weber. As a result, people are wanting to learn as much about Sarah as possible. Unlike some of the other contestants, she didn't have a huge online presence before joining the show. Fortunately, we were able to uncover some tea on the popular contestant. Keep reading for 10 things you didn't know about Sarah Coffin.
1. She's From Tennessee
A little southern charm can go a long way, and Sarah Coffin has a lot of it. She was born and raised in Knoxville, Tennessee and even attended college there. Her roots in The Volunteer State run deep and her charm will likely work to her advantage on the show. However, Sarah isn't the only Tennessee native on the show this season. Hannah Ann, who is also from Knoxville, earned the first impression rose during the first episode.
2. She Studied Radiology
Sarah Coffin definitely has the brains to back up her beauty. She studied radiology at The University of Tennessee Medical Center. According to her LinkedIn profile, she finished the program in June 2019 and began working as a radiographer the following month. If her time on The Bachelor doesn't lead to anything more, the good news is that she'll have a job to return to.
3. She Has Three Siblings
Having siblings may not seem like an important detail, but on a show like The Bachelor, coming from a big family can come in handy. After all, sibling rivalry can teach you how to handle a little competition. Luckily for Sarah, she has three siblings: two brothers and a sister. She has a close relationship with her family and her younger brother, Sam, attends her alma mater, The University of Tennessee.
4. She's A Dog Lover
Liking dogs is definitely an added bonus, and Sarah loves them. She has a dog of her own named Rocco and she's a very proud pet parent. On top of that, she even has a highlights section on her Instagram profile that is dedicated to all the stories she's posted about dogs. I think the rest of my dog lovers out there will agree that these highlights are high-quality content.
5. She Loves To Vacation In Florida
Despite the numerous bizarre stories about 'Florida Man', there's just something about The Sunshine State that most people can't resist. Sarah Coffin is among those who finds themselves drawn to Florida and considers the state her favorite place to go for vacation.
6. Healthy Meals Are Her Favorite
For most people (by most people, I mean me) eating healthy is a chore. Making the choice to eat vegetables over something deep fried isn't always easy. Sarah Coffin sees things differently though. She enjoys eating healthy food and experimenting with different recipes. Her Pinterest board is full of different food options including a variety of plant based meals.
7. She's The Rumored Frontrunner
Before this season of The Bachelor aired, many blogs had already labeled Sarah Coffin as a potential front runner. Of course, we'll have to wait until the end to see how things actually pan out but Sarah is definitely off to a great start. Some blogs have even suggested that Sarah would be the perfect candidate for The Bachelorette if she doesn't end up winning Peter's heart.
8. She's Adventurous
Viewers will likely be surprised by Sarah Coffin as they learn more about her throughout this season. She definitely has much more to offer than just a pretty face and she's the type of person who loves to get out and enjoy life. Sarah doesn't back down from an adventure. She loves to explore the outdoors and do things like hike, swim, and paddle board.
9. She Doesn't Like The Spotlight
You may think someone who volunteers to be on a reality TV show must love the spotlight, but that isn't necessarily the case. Sarah Coffin is a shy person who doesn't really enjoy seeing or hearing herself on TV. Unlike some other contestants on this season and others, Sarah isn't pursuing a career in entertainment and leads a fairly 'normal' life outside of the show. Of course, she's going to have to get used to the spotlight now, because she's about to be all over every Bachelor blog.
10. She's An Avid Traveler
In addition to enjoying adventures, Sarah Coffin also loves to travel. She loves to get out and see the world and spends a lot of time visiting new destinations. Although beach vibes seem to be one of her favorites, she also appreciates the city atmosphere. One of her favorite cities is New York, where her brother Jacob currently lives.
Tell us what's wrong with this post? How could we improve it? :)
Let us improve this post!