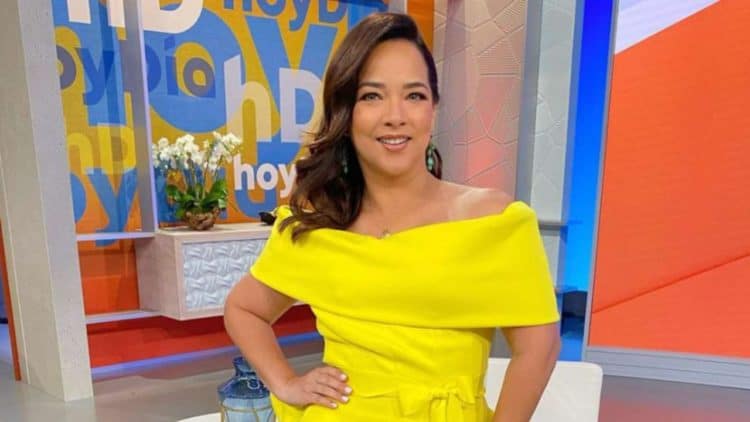 Telemundo is a staple, and Adamari Lopez is a national treasure. The television host is someone who has worked her way into the hearts of her fans, and she's not slowing down. She's adored by her fans, and they want to see her happy and on top of her game, which is why the news that she and her daughter's father, Toni Costa, have decided to end their decade-long relationship and go their separate ways. Fans are shocked, horrified, and just hoping she is all right. They're also hoping to learn a little more about the host.
1. She is in Her 50s
Adamari Lopez was born on May 18, 1971. She celebrated her 50th birthday in 2021, and we certainly hope that she celebrated herself that day. In the midst of her relationship ending, it might not be the most magical 50th that woman envisions as she grows older, but perhaps she is in a place that she feels she's meant to be.
2. She is from Puerto Rico
Lopez's heritage is Puerto Rican. She was born and raised in Humacao, Puerto Rico. She began her career in the same country in which she was born, and she spent the vast majority of her life living there alongside her family. It's a special place for her.
3. She's Been in Television Forever
Literally, she's been on television almost her entire life. She was only six when she began her acting career in a show called "Cristina Bazan," which is a Telemundo soap opera that has a huge fan base and a lot of love. She starred alongside some very famous faces, and it launched her career into what it is today.
4. She Has a Famous Ex-Husband
Before she and Toni Costa were together, she was with a man whose name you might recognize. He and Justin Bieber made a song together in the past few years that almost everyone can sing. His name is Luis Fonsi – yes, the one from Despacito – and they were married. She married him in 2006, but they ended their marriage four years later in 2010.
5. She Met Her Baby's Father While Dancing
She was taking part in a dance competition when she met Toni Costa. We don't know if it was love at first sight or if they simply found one another and it worked, but they did begin dating the year following her divorce. They've been together since 2011, and that's probably why it is so shocking to her fans that they are ending their relationship more than 10 years into it.
6. She is a Mom
She and Toni Costa might no longer have romantic feelings for one another, but that does not mean that they don't both love their daughter. She was born on March 4, 2015. Her name is Alaia, and she is the light of her mother's eye. What a sweet thing to have a daughter to call your own. The mother/daughter bond is something so special.
7. She is a Survivor
Lopez is a survivor. She was diagnosed with Stage 1 breast cancer in 2005, and she fought. She was very fortunate her doctors were able to catch the cancer early, which always increase s the chances of survival for the person diagnosed. She spent time undergoing cancer treatments, and she has been in remission ever since. She's fortunate, and she is a survivor who advocates for breast cancer awareness at this point in her life.
8. She Does Well
Lopez is doing quite well for herself. Her acting jobs and her career as a host have allowed her to earn an estimated net worth of approximately $5 million. She's not in a bad place financially, and she works hard for every dollar she earns.
9. She's Private
She might be a famous television star and a host, but that does not mean that she is sharing everything about her life. She recognizes the need for privacy and the need to keep a few things just for herself and her daughter. She does a masterful job of keeping what's important to her out of the public eye, and we don't see that ending anytime in the near future. She has a daughter to think about.
10. Her Fans Are Cheering Her On
While she goes through the end of a long relationship, her fans are wishing her well. They are cheering her on and hoping that she finds happiness and peace, and they are hoping that she and her now ex-boyfriend are able to co-parent and be there for their daughter despite their own differences.
Tell us what's wrong with this post? How could we improve it? :)
Let us improve this post!