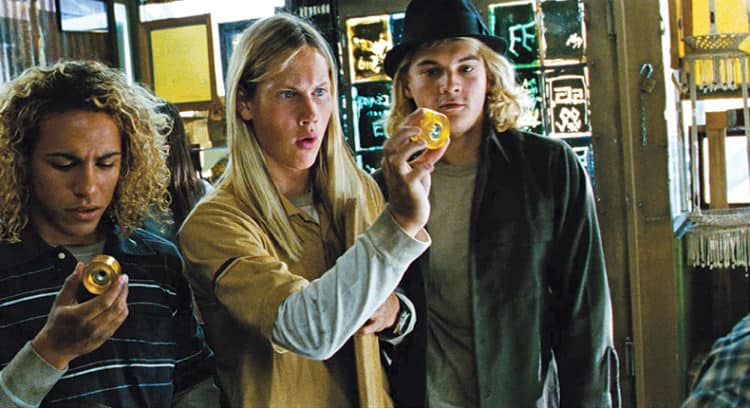 It kind of feels as though Lords of Dogtown should be left alone since it not only took a while to create such a cult following but it's kind of great just the way it is. But hearing that there's a show coming to IMDb TV that has a slightly different take on it is kind of interesting since it could mean that a different perspective might show people a little more of the skating scene back in the 70s that was so heavily influenced by the infamous Z-boys during their day. It would be a wise idea for people to watch Lords of Dogtown just to make sure that they're up on why the Z-boys were such a big deal back in the day, and how skateboarding became such a huge thing over the decades. A lot of people might not believe it until they see it that skating was at one time a lot different since the inclusion of polyurethane wheels made a huge difference since they allowed the boards to handle in a very different manner and helped to revolutionize the sport. But the unconventional style of the Zephyr skating team definitely shook the game up in a big way since no matter how many inaccuracies there might have been in the movie, and it's likely there were a few since remembering them off the top of my head isn't happening right now, the truth of the matter is that the movie does feel as though it captures the feel of the time period, but some of it feels a bit hyped up for the sake of the audience.
But the innovation that took over and the hype that the Z-boys brought to the sport and the way they swooped in and took it over was impressive, even when reading the actual history of it, which was a lot grittier than the movie would indicate. It's a tale that has a lot of moving parts and tends to need multiple perspectives being taken into account to really tell the whole thing since the movie tends to go after Stacey, Jay, and Tony for the most part, and also adds in Skip, but kind of dances around everyone else as the movie goes along. It could be interesting to see this story from a different perspective, especially since it sounds like a tale that would come after the rise of the Z-boys as it sounds as though it's about a young woman that wants to skate and is enamored of the Zephyr skating team. That type of story alone could be enough to push this idea forward and keep it going for a while, but it's already been stated that it's not for certain if the original Z-boys will be a part of this project, as they did show up in Lords of Dogtown.
It might be nice to see Peralta and Alva, but unfortunately, Jay passed away in 2014, and there's no telling about being able to get the rest of the group since they've all gone their own ways in life and trying to find them all might not be too hard, but getting them to come back for an organized attempt to see them again might be difficult. It would be interesting to see how things have progressed in that time period with this new show, but again, what will happen will happen since it's not for certain just who's going to show up and what direction the story will really take until we get to see it on screen. One thing that's clear though is that if this is going to connect to the movie in any way it's going to be kind of interesting to see how the director goes about it since the movie wasn't exactly a huge hit, but it did start gaining ground after a while as more and more people were turned on to the idea of the Z-boys and came to learn more about them. It sounds as though it was a wild time when the skateboarding scene started to change and Zephyr tried to take over and helped to bring skateboarding further into the mainstream. One has to think that if not for their efforts that it might have still happened in some other way, but the Z-boys took the skateboarding world by storm and enacted a change that's continued to this day as new ideas and innovations continue to be brought up and the sport continues to improve.
So yeah, it could be an interesting show and it could be worth it since to be fair it's not seeking to change Lords of Dogtown in any way apparently, so it might be worth watching. If nothing else it will likely be another great addition to the history of skateboarding.
Tell us what's wrong with this post? How could we improve it? :)
Let us improve this post!