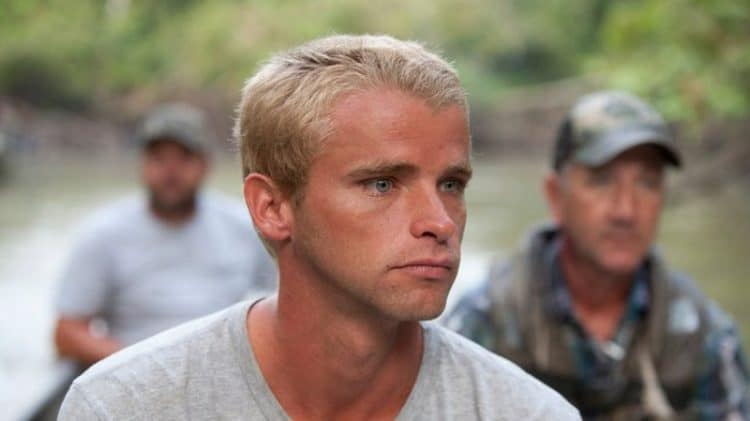 William "Willie" Edwards comes from solid Bayou Sorrel hunting stock. His father, Junior Edwards was a hunter before him. The Edwards clan lives off the south Louisiana swamp land. Willie's an independent swamper and one of the last fishing commercially year-round. Willie and his family catch fish, frogs, deer, crab, crawfish, snapping turtles, and alligators. Willie's popularity on Swamp People stems from his strong family values and downright incredible gator trapping skills.
1. Willie was gifted a new titanium tooth
Dr. Daniel Domingue did the free dental work, but it took a bit of effort just to get in touch with Willie. It all started when the office assistant at Robinson Dental Group saw Willie's gap-toothed smile on the television show. The assistant, Karen Tomplait, tracked down leads without luck. She finally went to an area event which featured Swamp People cast members. She passed a note to the crew which explained that her dental office offered free dental work for Willie. Willie's wife called the office. That's when Dr. Domingue evaluated Willie's dental situation and decided to implant a titanium tooth in Willie's jaw. Dr. Domingue learned that Willie had lost the tooth while he was playing blindfold. Willie ran into the ice box and broke his tooth. Dr. Domingue implanted a new root and a temporary tooth which perfectly filled the old gap, and Willie planned to return for a permanent implant later.
2. Willie doesn't fool with spiders.
He revealed this fear before his oral surgery was done to implant his new titanium root. Dr. Domingue mentioned that Willie's tough, but he was nervous before the surgery. The surgery nerves turned out to be worth it, because Willie was happy with his new tooth and looked good, too. Willie thought he was going to live his entire life without that front tooth.
3. Willie's proud to be teaching his sons how to hunt
He's teaching his two sons to hunt the way his father taught him. He's said that he owes his father a lot of respect. Willie's shown them how to put out fishing nets off the side of the boat. He's also shown them how to cut bait. His sons can put their own bait on their lines. Willie has also taught them that snapping turtles have a lot of good meat to eat. He's shown them how to grab the turtles by their tails to avoid getting bit. The boys have learned how to hold the turtles far away from their bodies, too. Willie's also taught the boys how to catch snakes. Willie knows that the boys need to grow up in the basin for a long time before they'll have the experience to hunt like he does.
4. Willie was surprised when radio stations wanted to ban "Baby It's Cold Outside"
He and his father, Junior, share a Facebook page, and they posted a YouTube video of Bing Crosby and Doris Day singing the song. Their post about the song included their disbelief about the radio station ban and a link to hear it. The post also mentioned that there was "word going around" that the song should be shared at 4:00pm Central Time on December 24, 2018.
5. Willie was bitten hard by a six-foot alligator
He was heading down the bayou with his father when it happened. The duo had headed out to hunt alligator when they saw the alligator on a log. His father shot at it with a rifle and hit it in the nose. Willie threw a hook over him and got the alligator into their boat. The alligator had it's mouth wide open. Willie grabbed the top jaw, but the gator shut its mouth on Willie's hand. It took two men, including Willie's father to pry the gator's jaw open with a knife so Willie could get his hand out. Willie said that the pain was like having a pair of pliers sunk into his hand. The men swabbed his hand down with disinfectant. Later, Willie said that it was just a part of the way he was brought up, the way he lives, and there was "nothin' to it".
6. Willie only tried to work for someone else once
He was only an employee for two weeks. The rest of his working life, he's left his house daily by 5:30 in the morning to trap all day.
7. Willie prefers to hunt alone
The most trouble he has is hauling in large and heavy gators. But he likes the peace and quiet. He says there's no bickering and he's come to like being by himself. He's also had a couple of close calls not feeling well when the weather's been too hot.
8. Willie enjoyed outfitting their boat with new Evinrude motors
The company added E-TECs to their boat. Junior said that Willie's granddad only rode Evinrude. The company was happy when the gang came by so that folks could have a meet and greet. Willie even helped the techs with some of the work.
9. Willie's 2018 net worth is said to be $500,000
Willie and his father were a duo on the series until season six. Willie's total net worth is assumed to be joint with his father, who was fired from the show. Rumors ran rampant that Junior had demanded more money, but Junior denies that he asked for anything. Willie continued solo on the show without his father.
10. Willie's biggest hunt was for Colossus
He ventured into the bayou to catch the power gator who had broken through his first hook. He said he'd never seen such a powerful gator. Willie called Colossus a hook-breaker.
Tell us what's wrong with this post? How could we improve it? :)
Let us improve this post!