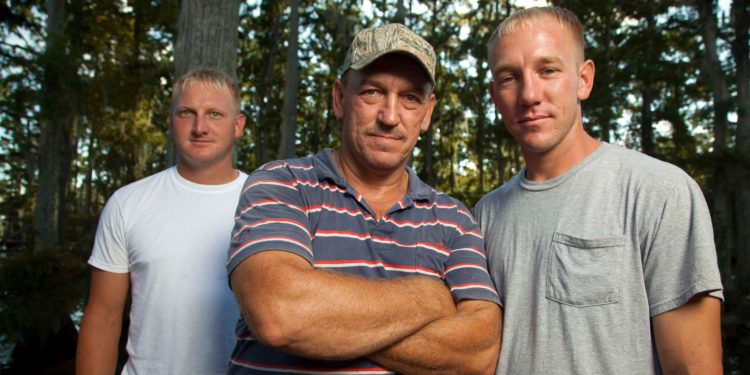 When people decide to become alligators, there's a very good chance that they aren't getting into it for money. While it's true that alligator hunters can live comfortably, it's certainly not on the list of the world's highest paying professions. However, since its release in 2010, Swamp People has shown the world a side of alligator hunting that they never knew existed. The show has also created some reality stars in the process. Of course, hunting for alligators isn't glamorous, the job has managed to intrigue millions of people and it's also helped the cast members make more money than they probably could've imagined. Keep reading to find out how much alligator hunters on Swamp People make.
What Is Swamp People About?
The premise of many shows is easy to determine based on the title, but that isn't exactly true for Swamp People. For those who aren't familiar with the series, Swamp People follows a group of alligator hunters based in Louisiana and Texas. During hunting season, the hunters are given a certain number of tags they can use, once they've 'tagged out' they can no longer hunt for the reason of the year. This means that the majority of their income is made in a very small window of time. Throughout the season, viewers are taken on a wild journey. Hunting for alligators is just as dangerous as it sounds and the cast of Swamp People regularly put their lives at risk while they work.
Although hunting is the main focus of the show, other aspects of 'swamp' culture are occasionally featured in the episodes. As a result, many of the cast members have become beloved figures.
How Much The Cast Members Make
Swamp People has seen a lot of cast members come and go throughout the years, and some have become far more prominent than others. As a result, we will only focus on some of the more well-known people on the show. The cast of Swamp People may not be paid as highly as the stars of other reality shows, but most of them would be perfectly fine if they never hunted another alligator.
Troy Landry
It's difficult to confirm exactly how much reality stars make because their contracts typically aren't available to the public. However, many believe that Troy Landry is one of the highest-paid cast members on Swamp People. That's easy to believe seeing as how he is 1 of the only people who has consistently been on the show since season one. According to Distractify, Troy's net worth is estimated to be at about $2 million. The Cinemaholic also reports that he makes about $25,000 per episode.
Jacob Landry
Just like his dad, Jacob has been on Swamp People since season one and he has become a fan favorite during his time on the show. According to Swamp People Cast, Jacob makes around $40,000 per episode and his net worth is estimated to be upwards of $500,000. Even though Jacob is most widely known for being on Swamp People, he is also interested in filmmaking. There's a very good chance that we could see him get involved in other projects in the entertainment industry in the years to come.
Chase Landry
At this point, the Landry name has become synonymous with alligator hunting. Although Chase Landry hasn't been on the show since season one, he's still considered an OG by most. Another article from Distractify said that Chase makes about $3,000 per episode and his net worth is somewhere between $200,000 and $400,000. While he doesn't make as much as his dad or brother, Chase certainly isn't doing too bad.
Willie Edwards
Alligator hunting probably isn't the first (second, or third) thing that comes to mind when most people think of family businesses, but that's exactly what it is for the Edwards family. Willie Edwards is another Swamp People OG and fans have gotten the chance to watch him grow up right before their eyes. We weren't able to find any information on how much he likely makes per episode, but The Cinemaholic mentioned that his net worth is around $500,000.
Daniel Edgar
Daniel Edgar has only been on the show since season seven, but he has quickly become popular among viewers. He is easily one of the most experienced hunters on the show and his expertise has come in handy countless times. Unlike the other people on the show, however, most of Daniel's fortune isn't tied to the show. He is estimated to have a net worth of around $1 million dollars, most of which he made through his businesses, St. Mary's seafood Incorporated and Louisiana Baits Company.
Tell us what's wrong with this post? How could we improve it? :)
Let us improve this post!