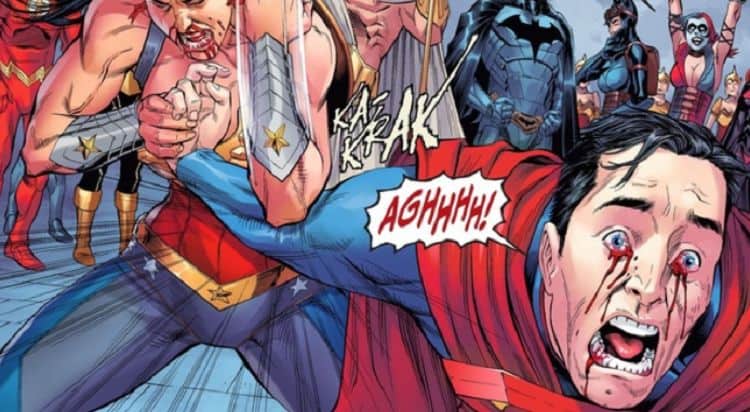 For a long time now Superman has been the gold standard of superheroes since it would appear that whenever a vulnerability was discovered he would suddenly find that the powers that he had could be used in a different manner as a counter, or he would find a reason avoid being around those that could trigger such weaknesses. The funny thing is that a lot of people tend to think that kryptonite is the only thing that can really put him down, when he does have a couple of other very glaring weaknesses, such as mental attacks and magic. One of those at least has been tested in the past since Shazam has managed to put the man of steel down. Sadly, many would attribute this to a sucker punch since they would also claim that Superman isn't susceptible to magic, but then again, there are people that clarify that it's not so much that he's more vulnerable to magic, it's that he's just as vulnerable as anyone else since he doesn't have any special power that can counter magic, and is just as capable of being affected by it as anyone else. In other words, Shazam's magic isn't weak, and it will affect Superman just as much as anyone else, but the amount of damage it can do is relative since Superman can obviously shake off a lot more than a lot of other people.
Without kryptonite though, there are a lot of people in the DC universe that could smack Superman around simply by dint of being just as strong as he is, or at least close to it. Doomsday is one of the most obvious choices to cite since he actually ended up causing the death of the man of steel, though that didn't last long since DC didn't want to lose its golden boy. Still, the spike-covered monstrosity took Superman to a limit that no one else had done at that point and it wasn't even the end of Doomsday. Wonder Woman has taken Clark to task and even slit his throat with her tiara before in order to defeat him. The thing about Superman is that he's been held to such a high standard over the years that he's been turned into a legendary figure that is more or less indestructible and has very few weaknesses, thereby making him one of the most powerful beings of all time. There's one problem with that unfortunately, it makes him hard to relate to, and a lot of people have grown up idolizing Superman, but relating to the hero is kind of difficult. That could be why other heroes and even Marvel heroes have been gaining in popularity for years since they've been humanized in a bigger way, showing people that even those with massive flaws and who aren't tough enough to walk into a speeding bullet can be heroes.
In fact, mentioning Marvel brings up the idea that during crossovers there have been a couple of individuals that have taken down Superman without kryptonite, largely because it doesn't exist in the Marvel universe. Galactus has taken Superman down and even turned him into his herald, which a lot of people might want to argue isn't canon, but the fact that it happened is enough to smile and say 'okay'. Darkseid is another figure that doesn't have to use kryptonite to give Superman a hard time, and he even brainwashed Clark into believing that he served him for a while. Superman did come back eventually and give Darkseid his comeuppance for the brainwashing, but it's easy to think that he won't forget that time spent as Darkseid's lackey. Anything that has to do with a psychic attack is bound to mess Superman up a bit since while he's insanely fast, the speed of thought is even quicker, and it's fair to say that if a skilled individual with psychic powers could take hold of Clark's mind he might find himself helpless as his mind was twisted about like a wad of putty, metaphorically speaking, as whoever had hold of him had their way with his every waking thought. For someone as strong and capable as Superman, the fact that he's so mentally weak is a glaring flaw that makes it a little easier to think of him as someone that's worth a little more respect. It's not reveling in the fact that he has flaws that makes this so great, it's realizing that he has challenges to meet just like anyone else, and isn't perfect.
Superman is by far one of the most capable and strongest heroes ever created, but there are plenty of characters that are stronger and much more capable and would smash the man of steel into a million pieces if he took a step too far.