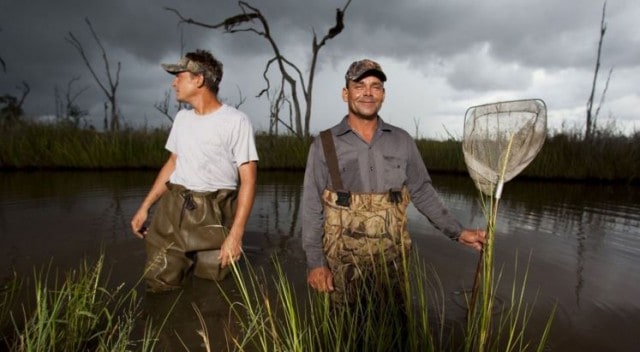 Swamp People is a reality TV show on History. As its name suggests, it is centered around people who live in the swamps that can be found in the state of Louisiana as well as in other places in the United States. To be exact, it is centered around people who hunt American alligators for most of their annual income, which is a rather risky profession to say the least. As a result, while some people might wonder about how Swamp People has managed to last eight seasons and counting in spite of its limited premise, this is perhaps not as surprising as it should be.
Simply put, alligator hunting is a high-risk endeavor, which in turn, means that there is a ready-made base of potential viewers who are interested in indulging themselves in vicarious risk-taking. For proof, look no further than the sheer number of other reality TV shows that are about risky professions, with examples ranging from gold mining to Alaskan sea fishing. As a result, so long as Swamp People continues to be filmed, it seems probable that it will continue to be watched.
With that said, it should be noted that there are people who are interested in the subject of alligator hunting as well, not least because it is such a strange profession by the standards of most viewers. After all, hunting isn't exactly a commonplace profession in modern industrialized societies. Never mind something as dangerous as alligator hunting. However, there is still a vague awareness among a lot of people out there that there has to be someone somewhere out there engaging in this sort of thing because alligator leather still sees use in a surprising range of products while alligator meat is still being served up in a surprising number of restaurants, though it should be noted that the demand for both of these products are met through alligator farms for the most part rather than the more traditional alligator hunting. Regardless, the combination of these characteristics result in a profession that is exotic but at the same time, connected to the viewers' lives to a limited extent, thus providing it with the allure of the exotic while also enabling interested individuals to form easier connections.
Of course, Swamp People couldn't have been so successful without the people involved with the reality TV show performing the usual scripting to ensure plenty of drama for the viewers. Some people might wonder whether this is the case or not for Swamp People, but considering the scenes in which cast members stick their arms into the water, one cannot help but suspect that some of the footage was staged for the purpose of creating a better-looking shot. After all, alligators are more than capable of taking someone's arm off of them, meaning that it is difficult to imagine an actual alligator hunter being so cavalier with their own safety.
Regardless, the result of the staging is a much more dramatic narrative than otherwise possible, meaning that there is no harm in enjoying the results so long as people don't buy into them so much that they head out to the swamps of the southern United States to test out what they have seen on TV for themselves in real life. Simply put, alligator hunting is certainly interesting, but it is definitely the sort of thing best experienced through a TV screen unless someone has actual expertise and experience as opposed to bits and pieces scraped together from watching a reality TV show.
Tell us what's wrong with this post? How could we improve it? :)
Let us improve this post!