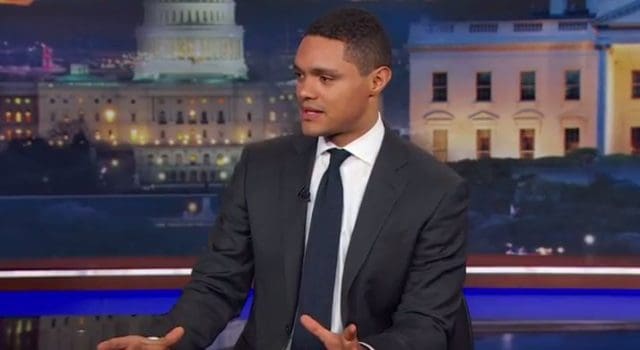 Comedy Central is entirely committed to Trevor Noah. And the good news for fans is the feeling is mutual and network and star have made it official. The network has just announced that it has concluded a deal with the dashing South African for five years. That will see him staying at the helm of the Daily Show until 2022 and beyond the next US Presidential election. The deal also includes an annual year end Daily Show special which will be produced and hosted by the suave Noah.
The news comes as Noah marks his second anniversary in the Daily Show host's chair. He took over from the much love Jon Stewart in September 2015. Reception for Stewart's little know replacement was initially tepid. While he may have gotten off to a slow start, Noah has solidified his audience and fan-base over the past two years. In his second series he posted gains in audience share week on week and is now widely recognized as one of the most potent and strongest voices on the late night comedy show circuit. An Emmy win for "Between the Scenes" in outstanding short-form variety has cemented his reputation. He is especially popular with millennials, a coveted demographic for target audiences. He looks likely to finish this season on a high as he has forged a distinctive path for himself in the midst of comedy heavy weights such as Jimmy Kimmel and Seth Meyers.
Other Daily Show alumni have also gone on to great comedic things including Samantha Bee, John Oliver and Stephen Colbert but they abandoned Comedy Central to host shows on rival networks. This massive five year contract extension guarantees that Comedy Central will hold Trevor under its roof. The extent to which the deal is reacting to the loss of these other talents and its challenges to find an incumbent for the Daily Show swivel chair, is unknown. The network President, Kent Alterman affirmed his support for Noah and has claimed that the network had unwavering confidence in him. In his statement he said " Trevor makes us look smart on a daily basis and for that we're grateful".
The news has come just a few weeks before Comedy Central will air Jordan Klepper's The Opposition after the Daily Show in the 11.30 slot. It will replace the Nightly Show with Larry Wilmore which the network asked earlier in the year.
Typically Trevor's own response and statement was almost too close to the bone. He said that he was delighted to continue the journey with the fans and with Comedy Central for the next five years. Or. he added, until Kin Jong Un wipes us all out "whichever comes first". Trevor is a master of the comedic model that invites us to laugh rather than cry at the horrifying realities we face. His brand of satire has really hit his stride when Americans turned to late night comedy to find relief in the face of the stark political divisions, alternative facts and fake news. As an outsider with the grasp of an insider, Trevor has taken an important place in the national conversation
We're delighted that Trevor is not going anywhere and look forward to him shedding light on current events with his inimitable point of view in the coming five years.
Tell us what's wrong with this post? How could we improve it? :)
Let us improve this post!