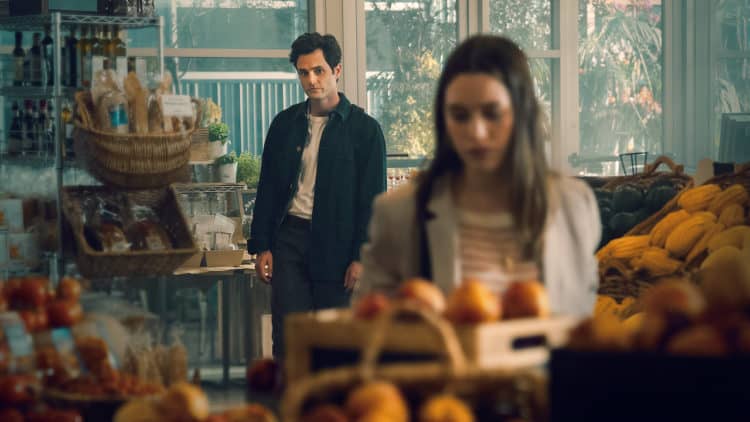 Many true crime fans have fallen in love with Netflix's series, YOU. As soon as you press play, you cannot help but get wrapped up in the storyline and wonder what will happen next. The show does a great job of keeping the audience guessing. Below are 10 moments in Netflix's YOU that we didn't see coming.
1. Peach is in Love with Beck
Not only does Beck (Elizabeth Lail) have one stalker, but two. When Joe Goldberg (Pen Badgley) steals Peach's (Shay Mitchell) laptop, we were shocked to find out that part of the reason she acts controlling toward Beck is her love for her. On her laptop, Joe finds a stash of photos that it is clear Beck didn't realize were taken. Oddly enough, Joe is disgusted to see someone who exhibits the same behavior as him and determines he must get rid of Peach.
2. When Peach Survives the first Murder Attempt
At this point in the series, it is no surprise that Joe plans to kill Peach. While out jogging, Joe stalks her and waits for the perfect moment to commit the perfect crime. He hits her over the head with a rock and Peach falls to the ground. Joe (and we) assume she has died and her murder will probably be pinned on someone else. Come to find out, she's in fact, alive and now knows she in fact does have a stalker.
3. Beck Winds Up in Joe's Cage
Beck finds a stash of odd treasures in Joe's ceiling. In it contains her panties, phones, a used tampon, and even a jar of teeth. Startled, she drops the teeth and they fall all over the ground. When Joe catches wind that Beck has found him out, he puts the love of his life in his cage. At this point, he tries his best to convince her of his love for her. He killed for her, after all.
4. Dr. Nicky Being Convicted of Murdering Beck
In an attempt to free herself, Beck writes a book that would pin everything on her therapist, Dr. Nicky (John Stamos). While it seems like the perfect way to escape, unfortunately, her book is published after her death. While we had a good idea Joe would get out of being caught, we were shocked to find out that Dr. Nicky would be punished for his crimes.
5. Candace is Alive and Comes Back
At the beginning of the series, Candace (Ambyr Childers) has disappeared. We believe she has been murdered by Joe, and don't think too much about her presence other than the flashbacks Joe has from time to time. Although Joe thought he murdered her and buried her, she survived. Now she's back, and ready for revenge.
6. Candace Begins Dating Love's Brother
Joe changed his name to Will Bettelheim, assuming that Candace will have a harder time finding him. We knew by the season one ending that Candace was sure to return. However, we didn't see it coming when she began dating Love's brother, Forty. It was the perfect way to insert herself into Will's (Joe) life without anyone noticing besides Joe.
7. Will Ends Up Being Trapped in the Cage
One thing we never thought would happen would be Will ending up in his own cage. Not only is he trapped in the cage, but he is trapped with Delilah's dead body. After locking him up, Candace calls Love to show her what he did to Delilah. Love comes as soon as Candace calls, but has a surprise up her sleeve.
8. Who Killed Delilah
After Delilah (Carmela Zumbado) begins snooping and comes across Joe's cage, it is no surprise she gets locked up. However, we know Joe can have a soft spot at times, and didn't believe he'd actually Kill Delilah. However, after seeing the blood on his hands while being drugged, it seems that maybe he did murder her. The big twist that nobody saw coming would be who killed Delilah. Turns out, Love is a lot more like Will than he realizes.
9. Love is Just as Crazy as Will Is
Will soon finds out just how much he and Love (Victoria Pedretti) have in common. Now that she knows Will has been killed before, she finally feels comfortable telling him that he isn't the only one. Not only has she now killed Delilah and Candace, but we find out that she is actually the one who killed the nanny in her past, not Forty.
10. Forty is Suspected of the Murders
When Love and Will decide to skip town, they first run into Forty. Although Forty plans to murder will, he is the one who ends up being dead. After his death, police start suspecting him for the disappearance of Delilah and the murder of Henderson. Once again, Joe/Will is off unsuspected by the police.
Tell us what's wrong with this post? How could we improve it? :)
Let us improve this post!