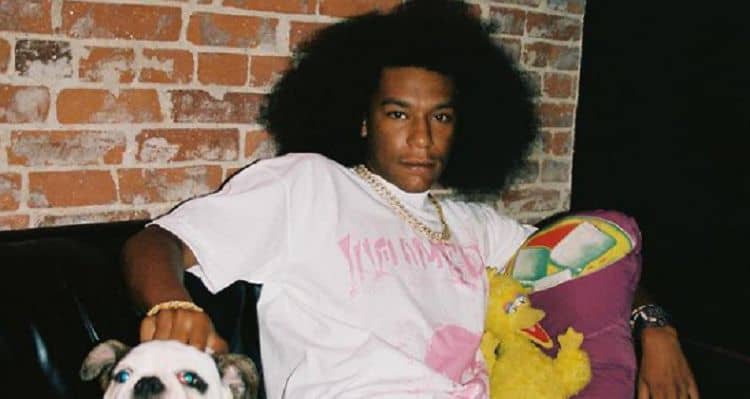 Parents are difficult. Almost any child will tell you this no matter how much they love their own parents, how wonderful their childhood, and how good their parents are. Almost all parents go through a phase in which their kids find them uncool, unfair, and unworthy of using complete sentences. To be honest, it's all right. Parenting is a tough job, and it's filled with the good and the bad. However, can you imagine growing up with parents who are famous? Imagine being Zion Shamaree Mayweather. His dad is the famous Floyd Mayweather Jr. He's one of the greatest athletes in the world. Every aspect of his life was plastered across the news, the newspapers, now social media, and everywhere in between when his son was growing up, and that has to be so embarrassing for a kid who just wants to live their life. With that in mind, here are a few things you don't know about Floyd Mayweather's impressive son.
1. He is Young
Zion Shamaree Mayweather was born on March 28, 2001. He just turned 20, though it's probably safe to assume he's looking more forward to turning 21 in 2022. He was born in Cleveland, Ohio.
2. He is not Following the Family Footsteps
While it seems that boxing is pretty much the career of choice for anyone who shares his last name, Zion is not following in the footsteps of so many of the men in his family. He has chosen a life that does not involve professional boxing, and it seems his family supports his decisions.
3. His Parents Were Not Married
Zion and two of his siblings are the only three kids who belong to both his mother and his father. His mother, Josie Harris, and his father were together for nearly 15 years. They began their relationship in 1995 and remained together until 2010.
4. His Parent's Relationship Ended Badly
When his mother left his father in 2010, it was not in the midst of an amicable split. In fact, she accused her children's father of abusing her. As a result, Mayweather Jr. spent three months in jail, served community service, paid a fine, and attended a mandatory domestic abuse program. She accused him of abusing her in front of their three children. His father was accused of domestic violence in 2002 and a misdemeanor battery charge in 2005.
5. He Lost His Mother
Tragically, Zion and his siblings lost their mother in 2020. While there are still conflicting reports of what happened to the last Josie Harris, it was reported that she was found unresponsive in her own car in her own driveway, and it is suspected that she died of a drug overdose.
6. He's Close to His Father
It might seem like there is animosity between the two, but there is not. Despite the fact that his mother and father did not get along and that his father was accused of abusing his mother allegedly in front of him and his siblings, Zion, and his father get along quite well, according to various sources across the internet. Their relationship is a good one, and that's a good thing. A son needs his father and his mother, and he needs his father, even more, when his mother is no longer with him.
7. He's a Social Media Star
From all accounts, it appears that Zion is thriving on social media. He has more than 230k followers, which means he is capable of making a nice income with his collaborations and his influencer status. He works to maintain that, and he seems to be doing quite well as a result.
8. His Mother Sued his Father
In the ongoing fight between his mother and his father, his mother sued his father in 2015 for defamation. She asked for $20 million after she accusing him of lying during an interview he did with Katie Couric in which he called her a drug abuser.
9. He is the Middle Child
Zion's mother and father had three kids together. His brother is the eldest child, and then Zion, and his sister is the youngest of the three. He has another sister, Iyanna Mayweather, that his father had with another girlfriend. While we don't know if the siblings are close, it has been reported that most of them do not have a relationship with their father.
10. He Had a Huge Sweet 16
When Zion celebrated his 16th birthday, his father threw him an amazing party. In fact, he even hired Young Thug to perform at the party for his son and his friends. it was a huge party, and it even came with a brand new Mercedes for his son.