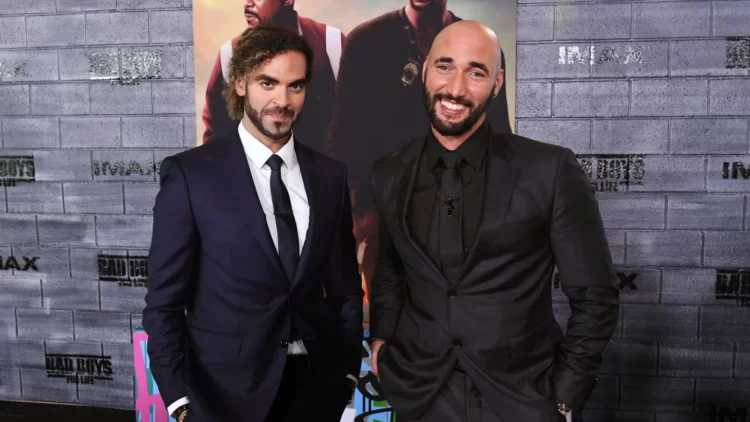 Bilall Fallah is a man who knows how to work the set of a movie and the cameras and make it his own. He is a well-known producer and director, and he's known for working as a duo with another famous face. However, it seems that the world wants to get to know him a little more as his work continues to be bigger and better than ever each time something new is released. Here is what we know about this amazing talent.
1. He is a Team Player
When you hear the name Bilall Fallah, you always hear the name Adil El Arbi with it. These two are longtime friends and partners in the work-related industry. They are often found producing and directing work together. In fact, we are not even certain they've ever done any work without the other. They are well-oiled machines who know the value of their own hard work and the work they bring to the table when they are working on a collaborative project.
2. He is an 80s Kid
He might not be very old, but he was born in the best decade. He was born on January 4, 1986. He is officially a man of 36 this year, and it works for him. He doesn't look his age, but people tend to age well these days compared to the past.
3. He is a Writer
In addition to directing and producing, he is well-known for his work as a writer. He and his partner both worked on writing a few projects, including the films Gangsta and Black. Their directing fame includes movies such as Bad Boys for Life, which is the franchise that includes the work of hit stars Will Smith and Martin Lawrence.
4. He is Moroccan
While we don't know a lot about where he grew up, we do know that he is Moroccan. Now, was he born there or does he simply claim the heritage thanks to his parents? We don't actually know.
5. He Went to School With His Partner
When we mentioned that Fallah and El Arbi are good friends and have been for a long time, we meant it. These two go way back. Despite the fact that El Arbi is more than two years younger than his friend, the two went to film school together. They worked hard, they learned, and they learned how to make their collaboration their big money maker.
6. He is Working on Major Project
The upcoming Ms. Marvel is something big. The world cannot stop talking about it and what the series means for the Marvel Universe, and we cannot disagree that it will bring big things to the table. However, what we've noticed more than anything is that this is one talented director who has – alongside his friend and partner – been tapped to direct at least a few episodes of the new series. This is big-time stuff.
7. He Talks About How He Became Friends with El Arbi
The two met when they were in film school in Belgium. He says in an interview that they were the only people at the school who were not white, and they were immediately drawn to one another as friends. El Arbi said that Bilall came up to him and asked if he was also Moroccan, and that is where their friendship began.
8. He Loves Music
As a man who loves to make movies, he knows that music is one of the most important aspects of any film. Additionally, he knows that it is very important in both the Muslim and Arab cultures. What he does is use this to make his films poignant and tell the audience how to feel in a given moment. When making the Cannes movie that they introduced earlier this year (Rebel) they know that going into the world of terrorism and ISIS would mean using the right music, and they did.
9. He Just Did Batgirl
When filming Batgirl, he got to spend his time in Glasgow. It was the set of Gotham City, which is an iconic city in the movie industry. After all, it is where Batman does all his work himself and with Robin. It was an exciting project to work on, and this is one director who loved every second of working on it and being in this particular locale.
10. He is a Huge Superhero Fan
He loves a lot of different genres, but there is something about sitting back and watching a movie that is so big and so exciting that really does it for him. It is just one of those things that makes a person so well-rounded. You can find him watching some more serious films, following people he admires – Jacques Audiard is one of them – but also throwing back some serious enjoyment at a big-budget film.
Tell us what's wrong with this post? How could we improve it? :)
Let us improve this post!