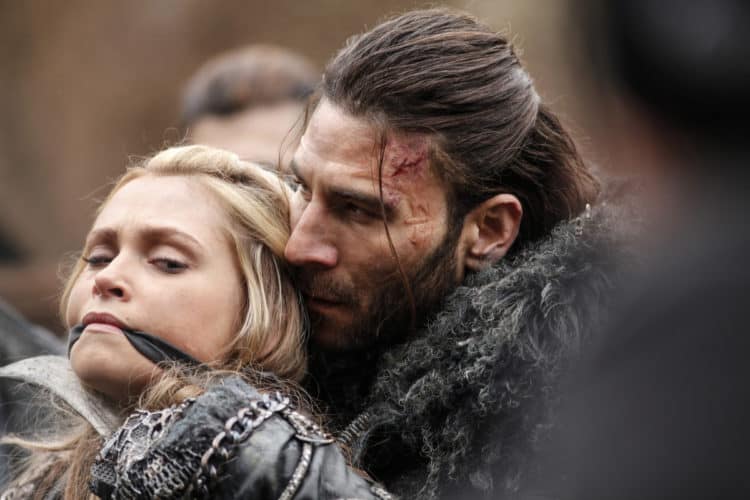 Zach McGowan rose to fame for his roles in SciFi and fantasy series including "Black Sails", "Agents of S.H.I.E.L.D." and "The 100". The New York City native has proven to be an excellent actor, constantly honing his craft. He's also known for his physique and his voice which appears in advertisements, animation and video games. Zach McGowan has steadily built an outstanding acting career. Here are 10 things you didn't know about Zach McGowan:
1. He's from New York City
Zach McGowan was born on May 5, 1980 and grew up in New York City's Upper West Side with his parents, Brenda and Vincent, and his older brothers, Doug and Matt. Because of Brenda's job with United Airlines, the family was able to travel a lot opening them up to many places and experiences. Vincent was a Marine. Growing up in New York City, Zach learned to appreciate the arts and culture and enjoyed the theater.
2. He was a jock in High School
Zach attended Ethical Culture Fieldstone School from Kindergarten through his graduation from high school. While his school encouraged arts and culture, Zach was also a star athlete. He was running back and captain of the high school football team. He also played on the schools ice hockey team. Zach enjoyed participating in school plays as well. From a young age Zach knew that he would either become a soldier like his father and brother, an athlete or an actor.
3. He fell in love with acting and his wife at college
Zach McGowan attended the private Liberal Arts Carlton College in Minnesota where he chose acting as a career although he continued to participate in athletics. He graduated from Carlton College with a Bachelor of Arts degree. It was at Carlton College that Zach met and fell in love with Emily Johnson. Emily studied dance and choreography as well as acting. The couple remain together today. They married in 2008. They live in Los Angeles with their two daughters and Zach's beloved Pit Bull.
4. He likes to cook
Following college, Zach and Emily moved to New York City where both sought jobs in the theater. Zach got several parts in New York City Stage productions, and he continued to study acting and directing. While the young couple worked toward their goals, they took some odd jobs. Zach worked as a nude model for art students. The couple moved to Los Angeles in 2005. They continued to work odd jobs and audition for roles. Zach pursued his love of cooking and worked as a sous chef in an LA restaurant. He and a friend appeared on a realty show in 2007 called "Two Dudes Catering".
5. He hosted the Scream Awards
Zach's acting career was beginning to take off. He was in two short films, "The 14th Morning" and "Sadiq". "The14th Morning" appeared in the LA International Short Film Festival, the New Haven Film Festival and The Method Festival. "Sadiq" was the 2006 MTVU Student Film Maker Award nominee and won "Best Short" at the San Luis Obispo International Film Festival. Zach appeared in an episode of "CSI: Miami" and a direct to DVD movie "The Hunt For Eagle One". In 2009, Zach appeared as a soldier in "Terminator Salvation" and was in "Losing Control" and "Conception". That year he was asked to host the Scream Awards, the Spike Lee sponsored homage to horror, SciFi and fantasy movies.
6. "Shameless"
The world began to notice Zach McGowan when he appeared in the popular award winning Showtime series "Shameless" beginning in 2011. Zach played Jody Silverman, a tattoo artist who dates Sheila's daughter but becomes attached to Sheila, calling her mom. The role called for the eccentric Jody often cooking in the nude. Zach has said that the nudity didn't really faze him because he had worked as a male nude model for art students. Zach relished the role, learned a lot about acting from it and enjoyed the notoriety that the role brought him.
7. "Black Sails"
Zach McGowan's next big roll was in the series "Black Sails". The period drama is about eighteenth century British pirates and is meant as a prequel to Robert Louis Stevenson's novel "Treasure Island". The role of Charles Vane, like all the roles were meant for British actors. Zach faked a British accent in the audition and fooled everyone. When his roose was discovered, he was hired for the part because he did so well. Zach played the role from 2014 through 2017. Then he got the recurring role of Roan in the post apocalyptic CW series "The 100" which continued to get Zach noticed. He went on to appear in television shows including "Agents of S.H.I.E.L.D." and "The Walking Dead". He appeared in films including "Dracula World" and "The Brawler".
8. Voice Work
Zach McGowan has done a lot of voice work in his acting career. A good part of his net worth comes from voice work. Particularly, Zach has voiced popular video games. This includes 2008's Boom Box and Iron Man. It also includes 2012's Tom Clancy's Ghost Recon: Future Soldier, Anarchy Reigns and Resident Evil 6. In addition to video game voice overs, Zach continues to do voice over work in a variety of genres including advertisements and animation projects.
9. His workout routine is crazy
Always an athlete, Zach McGowan has always continued a rigorous workout routine as well as maintaining a healthy diet. When he got the part of Charles Vane in "Black Sails", Zach realized he had to push his workout routine up a notch in order to look the part and, more importantly, be able to perform the stunts that the role of a pirate demanded. His daily routine often consisted of a 13 mile run. He performed 50 pull ups stopping just 4 times before completing another set of 50 before his daily run. After his run, he'd do another round of 50 pull ups and another complete set later in the day. Zach completed 2 sets of pushups, wall assisted handstand pushups and inverted sit ups. His workout routine also consisted of wearing gravity boots. Zach continued a rigorous daily workout well after his role in "Black Sails".
10. What's next?
Zach McGowan hasn't even begun to slow down in his career. He continues to do regular voice over work. He recently signed on to play a role in the series "LA's Finest", a part of the Bad Boys Franchise. He appears in an episode of the remake of "McGuyver". Zach has two movies in post production, "Robert the Bruce" and "Crabs In a Bucket". In the meantime, he is enjoying spending some downtime with Emily, their two daughters and their Pit Bull. He's also probably enjoying cooking with his family.