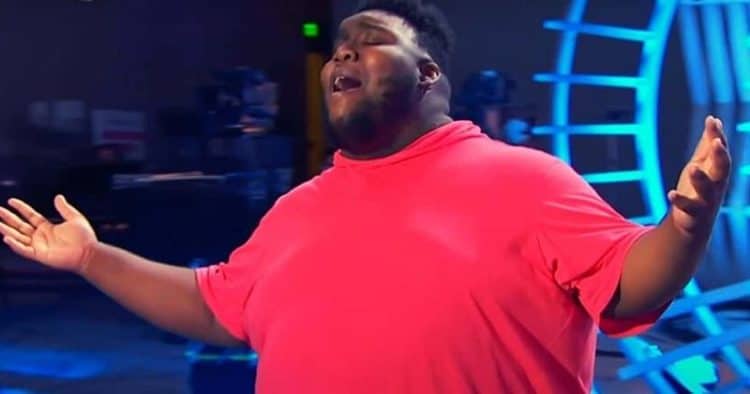 When Willie Spence walked in the American Idol room to audition for his chance at a Golden Ticket, he could barely control his nerves. Although he was afraid those feelings would get the best of him, he quickly replaced those nervous feelings with courage. During his performance of "Diamonds" by Rihanna, Willie let his beautiful voice fill the room as he displayed his range and control. All three of the judges were impressed and the decision to invite him to Hollywood was unanimous. Now the world is ready to see what Willie can really do, and he's excited to show us. Keep reading to learn 10 things you didn't know about Willie Spence from American Idol.
1. He Started Singing In Church
Willie loves music to his core and has been singing for almost as long as he can remember. He got his start singing at his grandfather's church when he was a kid and it quickly became apparent to everyone around him that he was working with a very special voice.
2. He Already Has A Fan Page
Willie may not be where he wants to be in his career just yet, but there are a lot of people who are rooting for him to get there. He already has a dedicated fan base and there's even an Instagram fan page for him already and it was started back in 2017. Unfortunately, the page hasn't posted anything since 2018.
3. He Lost 200 Pounds Prior To His Audition
Willie has struggled with his weight for many years, and at one point he weighed about 600 pounds. After a health scare, however, he decided he wanted to take some time to focus on his health. He told Parade, "I turned myself into the hospital to get a checkup because I had pain in my chest and the doctors told me that they found fluid in my lungs. I weighed 600 pounds. When they told me that, I knew I had to focus more on my health. I went from 600 to 400 pounds."
4. He Hopes To Inspire Others
Aside from keeping audiences entertained with his music, Willie also hopes that he can use his gift to uplift and inspire others. He wants his own journey to be an example that it's always important to chase your dreams. So far, I think it's safe to say that Willie is inspiring a lot of people.
5. He Has Millions Of Views On YouTube
While some people on American Idol have barely ever performed in front of anyone, there are also people like Willie who have been performing for years. In fact, Willie is already a star in his own right. He has a large social media following that includes 519,000 subscribers on YouTube. His channel has gotten more than 43.5 million views.
6. He's A Songwriter
Willie's voice isn't the only thing he wants to share with the world, he also wants to share his thoughts and feelings. Writing songs is one of the best ways for him to do that. Unfortunately since American Idol is a singing competition and not a songwriting one, we may not get the chance to hear any of his songs during the season.
7. Family Is Important To Him
Family is everything to Willie. He was born into a very close knit family and he enjoys hanging out with his loved ones as much as possible. He has an especially close relationship with his mother and she has always supported his love for music. Not only does he want to win the show for himself, but he also wants to make his family proud.
8. He Was On The Steve Harvey Show
American Idol may be WIllie's first time on a talent competition show, but it isn't the first time he's performed on TV. After going viral online when a friend posted a video of Willie singing "Diamonds" he began to get attention from people in the entertainment industry. He was invited to The Steve Harvey Show to perform in 2018.
9. He's A K. Michelle Fan
Willie loves R&B music and he's a huge fan of K. Michelle. Although most people think of reality TV when they hear K. Michelle's name, she's actually a very talented singer. Willie even got the chance to sing for her after one of her shows. Maybe the two will get the chance to collaborate on a song some day.
10. He's Already Released His Own Music
Willie has been putting in work for the last several years to help take his career to new levels. He has been spending time in the studio to put together an original project for his fans. Willie released a song in 2020 and is currently working on putting out more music.