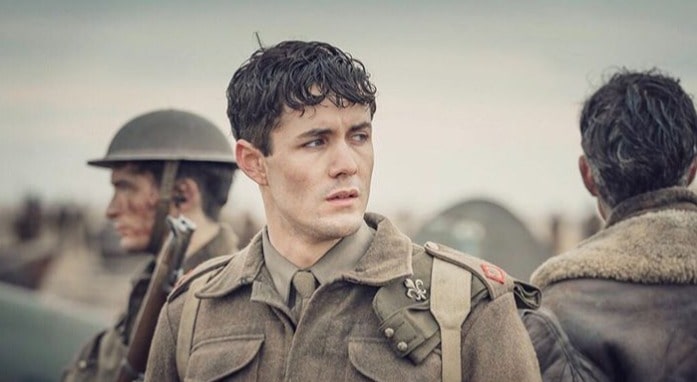 Jonah Andre Hauer-King pretty much sprang up onto the movie and television scene when he got his first off-stage role, which happened to be the Danny Huston film 'The Last Photograph. It premiered at the Edinburgh International Film Festival, and he has pretty much been working steadily ever since. The movies and television programs he has starred in have earned him plenty of fame and attention in England, but this is one actor whom America has not yet gotten familiar with, since his roles, thus far, have been in British works. We expect, however, that this situation is in the process of being rectified by Hauer-King himself, thanks to the release of an upcoming film that will likely be very popular.
In an effort to help you get to know this young man and his work to-date, we have put together a bit of information about Jonah Hauer-King, his personal life, and his career. The information is listed below as ten 'factoids' that you probably are unaware of regarding this young man, and they are listed in no particular order, really. We're just going to kind of start from the beginning and work our way forward, but some information will likely be out of chronological order. Hopefully, by the time Hauer-King begins to get the ball rolling on his fame here in the states, you will be more than ready for him. So, sit, relax, read, and learn…
1. His Early Years
Jonah was born on May 30, 1995 in Westminster, London, England; he is twenty-four years of age. He was raised by his parents, theater producer and therapist Debra Hauer, and restaurateur Jeremy King. His mother is American and his father is British, which results in him possessing citizenship in both the United States and England. His grandparents on his mother's side were forced to flee Warsaw in the 1930s, which explains why Hauer-King had a Jewish upbringing.
2. Education
According to Gossipgist, Hauer-King completed his primary education, then enrolled at Eton College in Berkshire, England. After completing his courses at Eton, Jonah proceeded to enroll at St., John's College in Cambridge, where he successfully graduated in 2017 with a first-class degree in Theology and Religious Studies. He continued to juggle both stage and screen acting during his college years.
3. His Siblings
While Jonah is the only son of his parents, he is not the only child. He has two sisters with whom to contend. Margo works for WPP in London as Strategic Partnership Director, CTO Team. Hannah co-founded Damsel Productions, a successful all-girl theater company; she has also found success as a theater director. Jonah is said to have always been interested in acting, and we are willing to bet that this interest was fueled a bit by his sister, Hannah, though that is not based on fact.
4. His Professional Credits
While he is not well known here in the states, Jonah is, for all intents and purposes, already a star in the United Kingdom, on both stage and screen. Some of the works he is featured In include a West End production of 'The Entertainer' (opposite Kenneth Branagh), the film 'A Dog's Way Home', the BBC adaptation of 'Little Women' (2017), 'Postcards from London', and more.
5. He Can Sing
He's not just another pretty face! Like most born under the sign of Gemini, Jonah is intelligent and multi-talented. Not only can he act well, but he is also able to carry a heck of a tune. He is currently credited with singing two soundtrack pieces, one from 'Postcards from London' and the other for 'Little Women'; he is feature on the soundtrack albums for both. If you want to check his crooning out, he has a video on YouTube. Just search 'Jonah Hauer-King Singing'…the song is 'Hallelujah'. It's actually pretty awesome.
6. He's On Instagram…
Yes, you read that right, he's on Instagram. Jonah makes posts on a fairly regular basis, including photos and videos. As a matter of fact, he has 63.3k followers. That number alone should tell you that we have really been in the dark about this young man's existence. If you want to follow Jonah, you can find him @jonahhauerking. Get on Instagram and see what he's been up to.
7. Live-Action Eric
It seems that people are all abuzz over the upcoming live-action version of 'The Little Mermaid', with Jonah Hauer-King starring opposite Halle Bailey, as Prince Eric and Ariel, respectively. What you may not know is that Jonah was second-choice for the role. It was actually former One Direction band member Harry Stiles that the movie makers wanted, but he turned the role down. As Prince Eric, Hauer-King will be main character Ariel's love interest in the film. 'Mermaid' will be Jonah's first big American film, though he has been in movies in England. Mostly he is known for his roles in television, so this movie is a big step for him, and we're cheering him onward to success her in the good old USA.
8. Thoroughly Modern Jonah
Thus far, Jonah has acted in movies that were almost all period pieces, or movies and shows set in one era of the past or another (ie: 'Little Women', 'World on Fire'). While he says he has thoroughly enjoyed participating in these works, he longs to step outside of the box that has been somewhat imposed upon him so he can take on some more modern roles. "It's been nice to have a lot of variety; that's what keeps it exciting," he told The List. Well, if all goes as well as he is hoping with 'Mermaid', he will likely have an overabundance of contemporary parts to play. Shooting for the movie is scheduled to start in the spring of 2020 .
9. Does He Have A Girlfriend?
At the current time actor Jonah Hauer-King is single. He has not been married or engaged in the past, and he has no children. It seems that the young man is busy focusing on his career at this point in his life, which tends to make relationships difficult due to time restrictions and being apart for long periods of time. While there isn't a lot of information out there about who Jonah has dated in the past, but rumor has it on a couple of fronts that he went out with Maya Hawke at one point, and not too long ago, at that. Maya, by the way, is the daughter of veteran actor and actress Ethan Hawke and Uma Thurman.
10. Net Worth
According to Factmandu, Jonah's net worth, as of 2019, sits at approximately $600,000. Being active in television and movies for on a small handful of years, no one can expect him to make was the big names make in Hollywood…not yet, anyway. But That number isn't bad for the number of parts he has played professionally. We guess, and are even willing to bet, that he will be making much more in no time at all.
Well, it looks like America is getting a new star, and if he continues working like he has and putting out quality movies and TV shows, Jonah Hauer-King is likely to be around for some time to come. He's good looking, versatile, young, multi-talented, motivated, and focused…all the requirements for success in show business. He has plenty of time for marriage and children, but for now he has the right idea. He is working on his career so he can take things to the next level here in the States, which is exactly what he should be doing. We will definitely be seeing more of this skilled young man in the future!