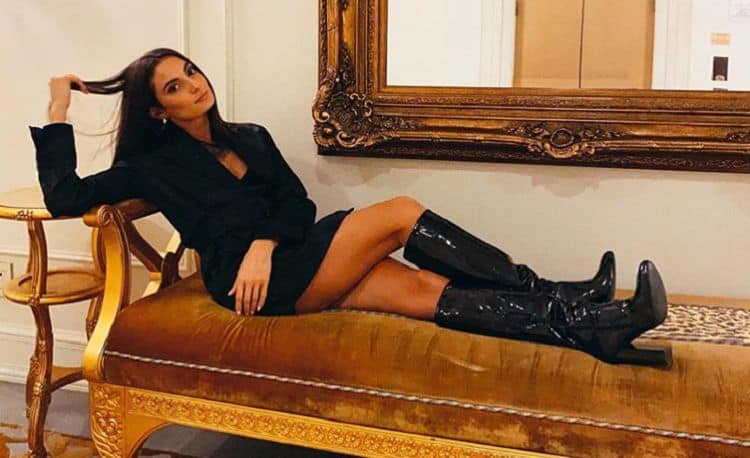 Paige DeSorbo was raised in a close-knit family where they all sat down to have dinner. She went to Catholic school since she was in kindergarten until college, so it is surprising to see her on "Summer House" where drinking and hooking up are the order of the day. However, Paige has always loved showbiz and began modeling at five years old. She is currently known for her exquisite fashion sense, which she puts to good use through a fashion blog. Here is everything else you need to know about Paige.
1. Her only regret for being on camera
Unlike most people, who will not watch any of the shows they have been cast, Paige enjoys watching every minute of "Summer House." By the time the first season was halfway, she and the rest of the cast had formed a group to keep chatting about the show, and for Paige, that was a fantastic experience. Unfortunately, as much as she loved seeing herself on the screen, the reality star still wishes she could go back and change one thing. Paige told AOL she hated her posture thus tried to improve on it for the rest of the season.
2. She knew she would be best friends with Amanda by watching the show
Paige admits that making friends, especially when one is in their twenties can be a bit weird. She, therefore, knew that even if she went to the house and someone told her that another person was mean, she would have to wait and be the judge. However, before she ended up on the show, by just watching Amanda, Paige knew she and Amanda would make the best of friends, and she was right.
3. She has expensive taste
Paige is one person who will always go for the most exquisite thing she can find. Even at 21, she already knew the importance of having a high-quality bag; therefore, to treat herself on her birthday, she saved up for the entire year to buy a Céline bag. Céline bags are quite expensive, considering that the minimum price you can get for one is $2,500. At one time, she also admitted to saving some money to buy a Chanel bag, another brand that does not come cheap.
4. All about her fashion sense
Paige does not mind splurging on anything that keeps her awake at night, but she still has regrets in some things she has bought. For instance, she purchased a pair of Louboutin heels, and they were so uncomfortable that she never wears them. Still, she confesses that her greatest extravagance is on shoes and bags. However, she knows that just because something is expensive, it does not necessarily equate to looking good in it. Paige looks up to fashion icons like Victoria Beckham, Audrey Hepburn, and Olivia Palermo for some inspiration.
5. She raids her mother's closet
Paige's favorite brands to shop from include Forever 21, Zara, Alexander Wang, Alice and Olivia, and of course, the designer brand Chanel. However, she still believes her mother's closet has unique clothing. Consequently, she will always go and shop from her mother's closet since she finds it has everything that she would want from the 90s trend. On the other hand, if Paige were given a chance to borrow from someone's closet, then she would pick Camila Coelho's.
6. She almost got fired from her first job after only three weeks
After graduating from college, Paige was lucky enough to get herself a job at Lincoln Square Productions, where she was the worst assistant any employer could have. She did everything wrong, from not bothering to ask who was on the other end of the line, to spelling names wrong. As a result, meetings were canceled, flights were messed up, and after three weeks, Paige's boss, Danielle Rossen, had had enough of Paige. However, Danielle gave another chance and instilled in her a good work ethic and confidence.
7. She is grateful to her parents for always being there for her
Some parents get tired of supporting dreams that never seem to be fruitful, but Paige's parents never got tired of being there for her. Since she was five until she turned 18, Paige's parents drove her to modeling auditions, yet she never booked most of them. In college, Paige wanted to have on-camera experience; therefore, her parents drove her to a studio every Saturday morning to film a show that no one ever bothered to watch. Moreover, to prove just how loving they are, when Paige graduated, she wanted to move to New York, and they offered to pay her rent until she could afford it.
8. Her favorite life lesson quote
Paige's mother perhaps knew the pressure teenage girls have about their body image when she hung "Happy girls are the prettiest" in Paige's room when she was in high school. That quite heavily impacted Paige subconsciously, and she realized that inner beauty is what matters most. The reality star said that being nice to someone and making their day is what makes one happy and in turn make you pretty.
9. She thinks her boyfriend will propose to her in 2020
Paige has proven to be very good at moving on. Like she says, if something is not working out, then she does not dwell on it. Her relationship with Carl is therefore over, and she has found herself a new man in whom she has high hopes of settling down with, although time will tell. Paige revealed that her boyfriend asked her to keep her nails well-manicured the entire year, and to her, that is a sign that he might want to put a ring on her finger. Still, Paige has always had polished nails, so the request is not something to pressure her.
10. The person she would like to have a private breakfast with
Growing up, Paige admired Kelly Ripa, and every time she was asked what she would like to do, she replied that she wanted to do anything that would enable her to become like Kelly. Paige felt a connection with Kelly not just because of their Italian background, but because they both were not bright students. Consequently, for Paige, watching Kelly being successful made her have hope of measuring up to her in the future.