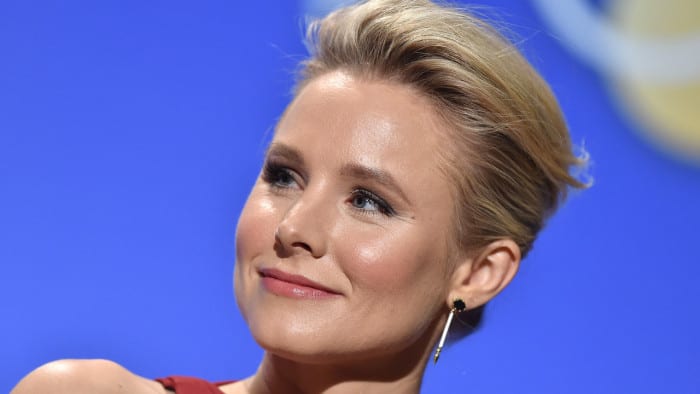 Some humans just have this inexplicable quality of lighting up a room simply with their presence. And Kristen Bell is certainly one among them! One of the peppiest, enthusiastic, funniest, and quirkiest celebrities we know, Kristen is loved even more because she is grounded! And even as she goes around spreading happiness with her idiosyncrasies, one can't help but deny that she also spreads the word on all things important and passes on quite a few life lessons too. With a balanced approach to life and never denying that she is but just another human being learning from her experiences while making the most of it all, Kristen is surely one of our favorites. And for some reason, if you happen to remain unconvinced, this list of Why It's Impossible Not to Fall in Love With Kristen Bell will be enough to have you convinced and transform you into a Kristen Bell fan too
Kristen is Quirky and She Knows It
That Kristen Bell is quirky, is a gross understatement! From her lazy eye who she decided to call Wonky to her unique sense of humor, Kristen is quirky to bits, knows all about it, and is mighty proud about it too! So proud that she refuses to get it fixed (her mother had her condition treated when she was only a kid but Kristen refuses to follow in her footsteps). While topping the list of quirky things associated with the beautiful actor is surely her lazy eye Wonky, the transgressions of which she never fails to display the first chance she gets, there are others on the list too. For starters, she's a self-confessed nerd, loving every N64 offering ranging from Mario Kart 64 to GoldenEye. Legend has it that if you had to catch up with Kristen while she was in college, you'd probably have to do it over a video game! And then there's the coupon habit! Despite being a celebrity who earns a lot more than the average person, Kristen loves her coupons and especially loves taking them to Bed, Bath, and Beyond. Now, how many celebs do you know of who rely on coupons to satiate their shopping cravings! Oh, and did you know that she has a bag of rice labeled "cellphone rice" only so that she can have something to save her phone every time she drops it into the water? Now, how many people you know do this!
Kristen is Fun, Even When She's Not Trying
Kristen Bell is fun and there's no denying it! She is a favorite everywhere she goes — from Ellen DeGeneres to Craig Ferguson love having her on their shows and simply cannot have enough. And there's always so much the audiences have whenever she is on a show! Her playful exchanges with Geoff Peterson, the equally funny gay skeleton on The Late Late Show are especially a hit with audiences and although Kristen couldn't quite grab Geoff's position as Craig's assistant in the show, we're sure there was no love lost there! And then there are her statements! "No one recognizes me anyway," is her retort to questions regarding her celebrity status and if it bothers her. "I try not to interact with my kids too much before I drink my matcha because I need to be caffeinated to be nice to anyone," is what she has to say on how she spends time with her kids. "I am currently walking through the grocery store being assaulted by a toddler with stickers and not a single person is calling the police," is a story she shared on Instagram, and most her of life experiences seem to be just as fun!
Kristen Believes in Love, Just Like the Rest of Us
Oh, if there's anyone out there who gives us all the right lessons in love, the beautiful ones as well as the not-so-beautiful ones, it's Kristen Bell. And although equal credit goes to Dax Shepard, for now, we'll talk about what we continue to learn from Kristen! Along with her long-time love and husband (oh come on, we always knew we couldn't do this without mentioning Dax), Kristen has shown us just how human celebrity couples are, and not everything is always hunky-dory with them either! From their initial split to their everyday household and relationships skirmishes, Kristen shares it all, knowing that everything she shares proves to be a lesson to someone or the other. Apart from their decision to remain unmarried as long as same-sex marriages weren't recognized as legal unions (more on that later), Kristen and Dax are also famous for spending $142 on their wedding! Yes, you did read that right! It is indeed $142, the amount it took for the duo to get married at a courthouse, and it was all impromptu too! It is said that the biggest strength of a loving relationship is to accept that there will be times when weaknesses creep in and going by this lesson, Kristen and Dax sure know all there is to being in love and carrying a relationship through no matter what.
Kristen Worked Her Way Up to Stardom
Kristen may be a well-known face (although she still considers herself someone who is never recognized) in Hollywood today but this fame hasn't come easily to her. She began working on stage while still in school and then moved on to the Tisch School of the Arts in New York City to learn more. Although her love for musical theater was what brought her here, she failed to graduate, giving up her few remaining credits for a role instead — this one was a Broadway musical based on The Adventures of Tom Sawyer. Before this, her brief brush with the camera was for her role in Polish Wedding, a local movie. The first film credited to her was Pootie Tang, and although the shoot had her narrating one line, the film cut that out. She even auditioned for the role of Chloe Sullivan in Smallville, a role she didn't get and one that went to Allison Mack instead. Another Broadway show came in the way of The Crucible, which also had Liam Neeson, Laura Linney, and Angela Bettis. Moving to Los Angeles, Kristen had to bear with the continuing saga of guest appearances on shows and failed screen tests until she finally began bagging some serious roles. And working hard at them, she made sure she was well-recognized soon enough too. Today, the actor in Kristen Bell has to her name several nominated and winning works like Veronica Mars, Reefer Madness: The Movie Musical, Forgetting Sarah Marshall, Heroes, Couples Retreat, When in Rome, Scream 4, Safety Not Guaranteed, Frozen, Burning Love, House of Lies, Bad Moms & The Boss, The Good Place, Teen Titans Go! To the Movies, Momsplaining with Kristen Bell, and Frozen II.
Kristen Loves Animals and is a Vegetarian
Kristen has been labeled "World's Sexiest Vegetarian" by PETA in 2006 and 2013, and that's just the beginning of her love for animals. She suffers actual meltdowns when it comes to sloth bears, not because she's scared of them but because she just can't handle the love she has for them! She loves koalas and pandas too and goes around spreading facts related to them every chance she gets. She has dogs that are an integral part of her family. She has been a vegetarian for as long as she can remember and in her own sweet way. also encourages others to give up meat. She has fostered animals when living in Michigan, associating with the Michigan Humane Society. She is a regular at fundraisers related to animal welfare and is a well-known supporter of the Helen Woodward Animal Center, the American Society for the Prevention of Cruelty to Animals, as well as other organizations that protect and serve animals of all kinds. Always showing her love for animals no matter what the stage, Kristen sure believes in animal love as much as she does in human love!
Kristen is Anna From Frozen and We Love Her Even More For It
Not that we needed more reasons to love Kristen Bell even more but how can we ever ignore the fact that she is the one behind the voice of Princess Anna in Frozen and Frozen II! With two movies that have won the hearts of children and adults alike, the Frozen series is easily one of the most successful fantasy franchises of all time. And we are sure that none of it would have been as magical without Kristen lending her voice to Anna. And Kristen sure put in a lot of conscious hard work behind shaping the character too. Openly proclaiming how she related to the character in "every single way", this is what Kristen had to add, "I helped shape who she was. Leading with her heart always, goofy, and clumsy but unafraid to take a challenge." Anf although Kristen has played voice characters before, this one is a clear favorite as far as Kristen and Frozen fans are concerned!
Kristen May Play It Down But She is Sexy As Hell
You will never find Kristen Bell strutting around as if she is a diva. Instead, you will often find her behaving just like the rest of us, or even quicker and more laid back than most of us. And despite her waywardness that makes her even more endearing, Kristen sure is sexy as hell! And she's mighty proud of that side of her personality too. In her early days, as Kristen has often shared, she was more the tomboy even as far as her looks went, so sexy wasn't something she had discovered until she was 25. And then, there was no looking back! From showing off her body to confidently carrying off steamy scenes in movies and series, Kristen is pretty cool about it and has even featured nude on the cover of Jane magazine. As for her fans, we simply love the fact that someone who is so easygoing and humble can carry off the sexy tag with equal confidence too!
Kristen's Okay With Sharing Stories But Protects Her Privacy Too
Kristen Bell is the kind of celebrity who seems to have struck the right balance in every way. She knows how to stay humble and maintain her celebrity status at the same time. She knows that she is sexy and carries this image off with aplomb but yet manages to remain down to earth. And she sure as hell knows that she is successful and a role model but that doesn't stop her from showing her vulnerability either. But the one thing that Kristen sure has got right is the way she shares some stuff about her family and then just doesn't let anyone interfere when it comes to other stuff related to her children! For example, Kristen's all about sharing her challenges related to motherhood and has often spoken of how she and Dax do as parents. She even shares some fun stories about her kids every time she gets a chance to talk about them. But when it comes to sharing images of her children or allowing paparazzi to invade their privacy in any way, Kristen puts her foot down hard. And knowing her, there's no way anyone can even think of messing with this momma!
Kristen is a Firm Supporter of Same-Sex Marriage, in Deed Too
When Kristen and Dax were engaged, there was only one thing that was stopping them from getting married to one another. No, it wasn't a fear of commitment. No, it wasn't a fear of losing out on the work front. And no, it certainly did not have anything to do with their commitments to their projects. The only thing that kept Kristen and Dax from getting married was the fact that same-sex marriage still wasn't legal. You may wonder why this was even a factor, especially considering the fact that Dax was very much a man and Kristen very much a woman, which meant that this rule just didn't apply to them. Right? Well, of course, you are right, but this was Kristen's and Dax's mutual decision. Showing their support for same-sex couples who could not get married like them, they decided to remain unmarried until same-sex marriages were considered legal. And true to their word, they married each other only after same-sex marriages began to be recognized as legal. Now that's what we call commitment to a cause!
Kristen Struggles with Mental Health and Doesn't Hide It
In Hollywood, you will always find celebrities hiding their real-world struggles with drugs, their fight against alcoholism, or even their dependence on pills. Even more taboo is the topic of mental health. Most celebrities out there wish to portray themselves as strong and confident and like to show their fans that they've always got it together. Well, not Kristen Bell. Always one to showcase her vulnerabilities so that others may learn from her experiences and lessons, Kristen has always been pretty vocal about her struggles with mental health. She has spoken about her ADHD medication, announced that she suffers from anxiety and depression, and has always proclaimed how everyone should consider it normal to ask for help when they need it. And all this strength she attributes to her mom, sharing how her mom always maintained that if she ever felt that something wasn't going right, it was absolutely fine to accept your struggles and seek help.
How Can Anyone Not Love Kristen Bell Even More After This!
From showing us her humane side to showing us that she is as human as the rest of us, Kristen Bell sure connects with us in so many ways. She loves herself, she struggles with herself, she is proud of herself, and she is even courageous about her vulnerabilities. And even when those around her begin to think that she's got it all together, she gets up and says that she's human too, which means she fighting it out just like the rest of us too! As real as a celebrity can ever get, Kristen Bell sure raises the bar when it comes to beautiful, talented, and successful Hollywood celebrities who are real people just like us and aren't afraid to show it!