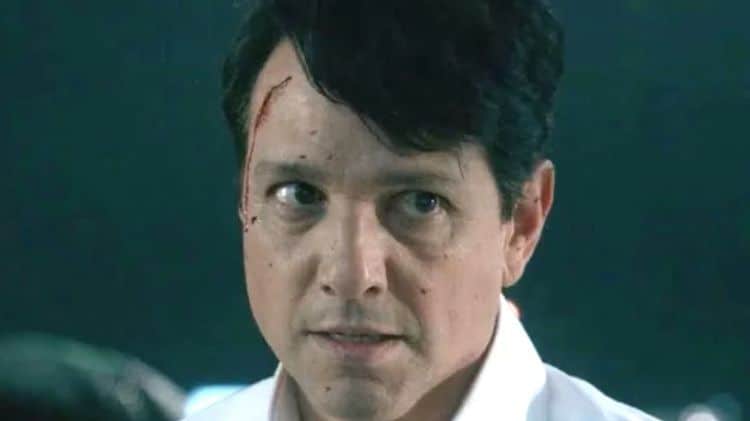 There are lots of cool places to stay on Airbnb. Treehouses. Boats. Caves. And likely soon – the Cobra Kai mansion. In the show, Ralph Macchio plays Daniel LaRusso (just as he did in the original movie). Daniel lives in the mansion with his wife and kids, and it's the home of the Miyagi-Do karate dojo. Although on the show, the home is in Encino, the actual mansion is in Marietta, Georgia. People magazine reports it was sold to an anonymous buyer for $2.4 million, who plans to make it an Airbnb. The selling price was down from the original listing, which was $2.65 million.
You can see the listing here (technically, it hasn't actually closed yet). Realtor Chad Carrodus says the mansion, called Villa Flora, is "rich with history and architectural significance." It was built by an award-winning architect and an international chef to be their personal home and was inspired by the Amalfi Coast. It was built to be "environmentally responsible" as well. Carrodus also says before it was the Cobra Kai mansion, the home was owned by "two sitting former U.S. Presidents" and "legendary golfer Arnold Palmer." The home definitely looks inspired by Italy, and it's surrounded by lush greenery and plenty of trees. TMZ reports that Jamie Foxx showed interested in buying the mansion a few months ago, but ultimately didn't do it. If you do rent it on Airbnb, you'll have plenty of room! The mansion is 9,214 square feet and is on a 1.1-acre lot.
"Cobra Kai" finished production on the fourth season in May, and that season will hit Netflix in December. The stars promise there will be fun flashbacks. So far, "Cobra Kai" has had plenty of visits from stars of the original movies (we're lookin' at you, Elizabeth Shue), and Ralph Macchio and William Zabka dropped some hints that there may be more. "Cobra Kai" was on YouTube Red for two seasons, but moved to Netflix during the pandemic, where a whole new audience found it and is excited for the return of the show this winter. The Cobra Kai mansion isn't the only famous place you can stay on Airbnb, either. Here are a few other famous houses that we regular people can rent (assuming we have the money – and that's a biiiig assumption. Most of these places aren't cheap!)
1. The Villa Sophia
This Los Angeles home was used as the Amalfi Coast/Positano hotel location for the final scene of "Entourage." The house is also featured in "The Real Housewives of Beverly Hills" and "The Bachelorette." And it can be yours for a time for the fairly reasonable price of just $474/night.
2. A Fixer Upper Home
Chip and Joanna Gaines are some of Waco's most famous residents, and some of the homes they fixed up on their home improvement show are available to rent in the city. This mid-century modern home has five bedrooms and you can fit 10-12 people here. It will run you $373 a night.
3. The Lake Cabin From "Avengers: Endgame"
Tony Stark's simple cabin was an important setting in "Avengers: Endgame," and you can now stay there yourself. The cabin is in Fairburn, Georgia and has three bedrooms and three bathrooms. It'll cost you $800 a night.
4. The "Twilight" Swan House
This home in Saint Helens, Oregon was the home of Charlie and Bella Swan in "Twilight." It's an adorable 1930s home not too far from Portland, and you can stay there for $379 a night.
5. A Creole Mansion From "Interview With A Vampire"
This New Orleans home was featured in the Brad Pitt and Tom Cruise movie, and it has 14-foot ceilings and original fireplaces. You can stay there for $389 a night…if you dare.
6. The Spice Girl bus
Yes! You can stay in the Spice Bus, featured in the 1997 Spice Girl movie, "Spice World"! You know you want to. The outside of the bus thankfully looks just as it did for the movie, with the Union Jack painted on the bus. The inside has plenty of pink and sequins. It can be yours for $298 a night, on the Isle of Wight in the U.K.