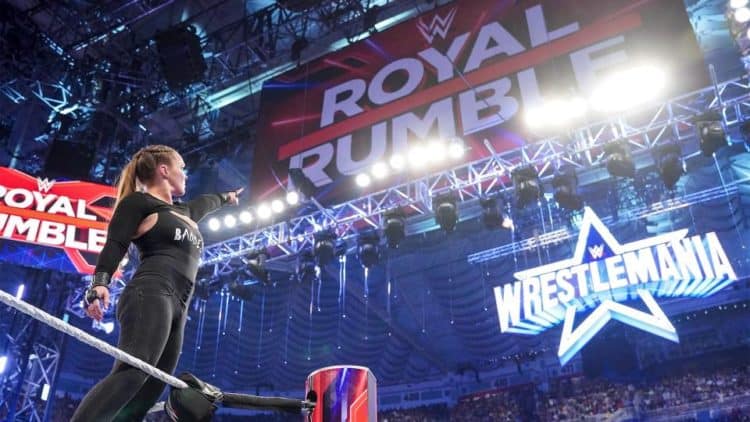 The Royal Rumble has long been the start of WrestleMania season, with the winners of the Royal Rumble match earning a championship match on the biggest stage of them all. It is often a very exciting event that helped set up the next few months. Recently, WWE held the Royal Rumble event for 2022, and instead of being an exciting event filled with anticipation for what is to come, it fell flat with almost every match and fans were left feeling deflated. Here is our review and thoughts of WWE's Royal Rumble 2022 PPV, sorry it's "Premium Live Event."
Seth Rollins vs Roman Reigns Was Match Of The Year Quality But It Was Ruined By An Awful Finish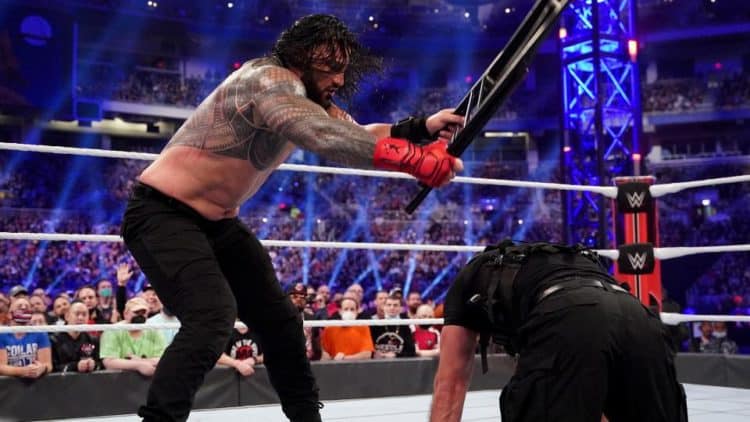 Roman Reigns has arguably been one of the highlights of WWE over the past year or so as Universal Champion and he is continuing to dominate the company right now, even though he is starting to get a bit stale as champion although his reign will likely end at WrestleMania. For many years fans begged the WWE for him to turn heel and it turned out to be the correct decision and has allowed him to perform in many top matches with babyfaces such as Seth Rollins, Edge, and John Cena.
If you want to open a PPV, or a "Premium Live Event", in the best way possible, then put these two former Shield members together to face off. Seth Rollins vs Roman Reigns will potentially be listed as one of the best matches of 2022 and the year has only just gotten started. Speaking of The Shield, Seth Rollins came to the ring through the crowd while dressed in his old attire to give the fans a huge throwback moment which was a lot of fun.
The match itself was great, but the finish completely ruined it. In the closing moments of the match, Roman Reigns locked on the guillotine choke submission move but failed to release the hold once Rollins grabbed the rope which resulted in a disqualification finish. It is understandable that WWE wouldn't want either of their top stars to lose but fans expect someone to lose, that is the entire point of wrestling or any other sport, there are winners and losers. Many fans going into the match expected Reigns to win due to the very likely WrestleMania main event that is being planned of Roman Reigns vs Brock Lesnar, a match that has now been confirmed to be happening. So, a finish like this just completely ruins what was an otherwise stellar match.
Is Becky Lynch Getting Go Away Heat?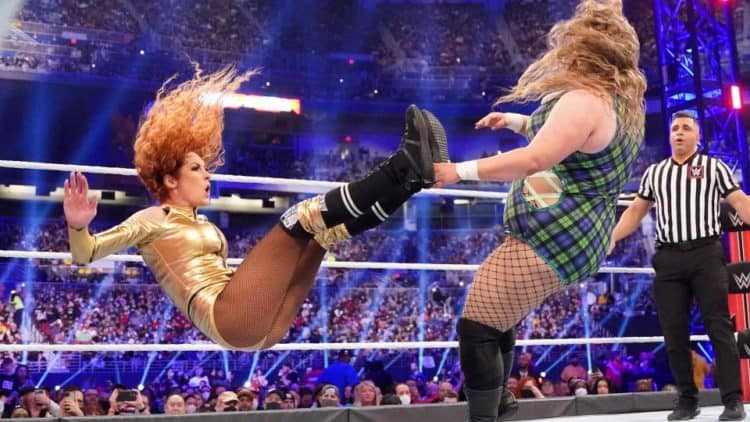 Becky Lynch vs Doudrop for the Raw Women's Championship lasted for 13 minutes and was perfectly fine, but that's all it was, just fine. The match itself had very little build and didn't really give fans any reason to care about the match or the outcome, because we all knew that Becky Lynch would walk out of the event with the championship. And, it seems really weird to even type these words, but is Becky Lynch starting to get go-away heat? It could just be me but whenever I see Becky Lynch on my screen I just want to turn it off or I go and do something else for a bit.
When Becky Lynch first became "The Man" following her accidental injury at the hands of Nia Jax that led to her adopting a Stone Cold Steve Austin-type gimmick, it was awesome and it felt like we were seeing a modern Texas Rattlesnake build up before our very eyes. But, in 2022 she is now known as "Big Time Becks" and it is starting to become apparent that this is what Stone Cold Steve Austin would have been like had Hollywood scriptwriters been working in the company during the Attitude Era. What was the top gimmick in the company and must-see TV has now become a shell of itself and is getting stale and boring very quickly, which is a shame because Becky Lynch is a great worker with tons of natural charisma.
The WWE Championship Match Didn't Need A Swerve Finish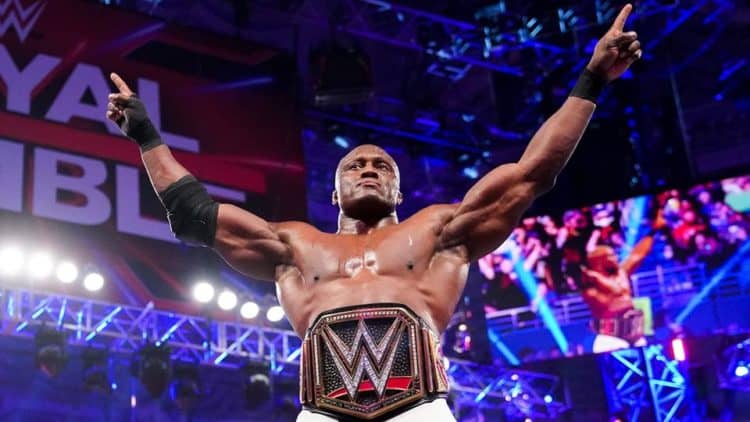 The WWE Championship match between Brock Lesnar and Bobby Lashley could have gone one of two ways. Either we would see two former MMA heavyweight fighters finally clash in a dream match that fans have wanted to see for over a decade, or we could have seen a very slow and clunky big man style match. Thankfully, it was the first one and the match was great, with plenty of hard-hitting moments, this felt like a fight. Unfortunately, like the Reigns vs Rollins match, it was let down by the swerve finish.
For much of Lesnar's WWE career, he has been managed by Paul Heyman, but he was betrayed as Heyman joined forces with Roman Reigns throughout his recent heel turn. Recently we saw Heyman once again align with Brock Lesnar, but was betrayed by him during the match following interference by Roman Reigns. I know WWE did this to try and build a story going into WrestleMania, but when watching it I just sat and thought, "why?" The match itself was great and did not need this finish.
The Women's Royal Rumble Match Was Confusing And No-One Shined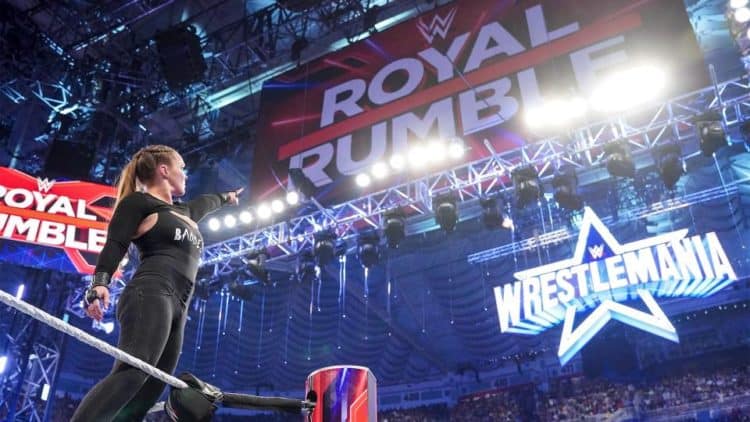 The Women's Royal Rumble match shined a light on a glaring problem in WWE, they have very few stars, and that isn't a knock on the talent. Excluding NXT, WWE only has 18 female performers excluding the two Women's Champions, so 20 in total, which was caused by WWE cutting dozens of talent throughout 2020 and 2021. This meant that WWE had to find 12 Superstars to fill out the match. Various former Superstars made their returns including Lita, Mickie James, and The Bella Twins, but overall no one really shined in the match and once Ronda Rousey made her return towards the end of the match it was clear she was going to win and it made the rest of the match feel pointless. A good Royal Rumble is usually one where there seems like an obvious winner or two, but it plays out like you really don't know which way it will go. This match just felt like the women were killing time before Rousey returned.
95% Of The Men's Royal Rumble Match Was Pointless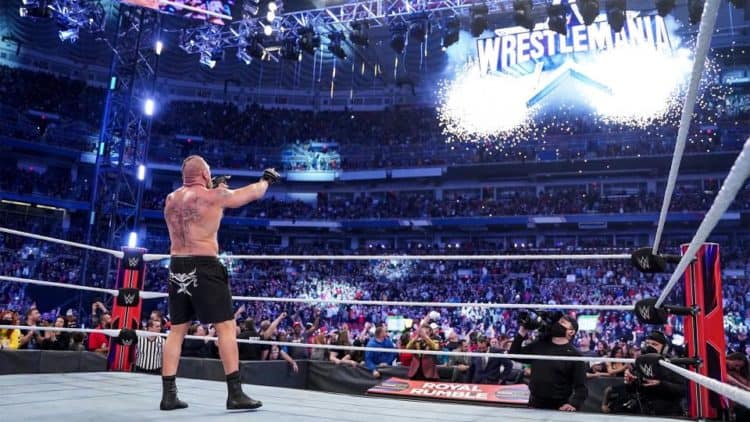 My criticisms of the women's match apply almost completely to the men's match too. No one shined in this match and it felt like we were just waiting for Brock Lesnar to come out at number 30 to become the winner, which he did. While this was the logical outcome and one we all expected to happen, it just meant that the previous 49 minutes was worthless and you could have as much enjoyment just skipping to the last five minutes.
Tell us what's wrong with this post? How could we improve it? :)
Let us improve this post!