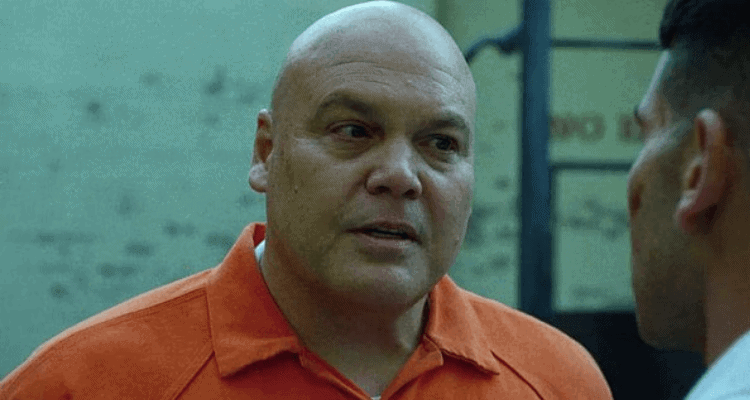 If you love the Marvel Cinematic Universe, you've probably been watching Hawkeye. That means you saw Wilson Fisk make a little cameo appearance by the very end of the last episode. Now if you're like me and have been keeping up with the news surrounding the show, it's been heavily rumored for a while that this character would be returning. Well, guess what, Marvel fans? The rumors are certainly true. Guess that means you can actually trust some rumors, huh? I mean, let's just appreciate the fact that the very awesome Vincent D'Onofrio has returned to reprise the role. As every Marvel fan should know, Vincent D'Onofrio played Wilson Fisk in the Daredevil series on Netflix from 2015 to 2018. He wasn't even called the Kingpin until the third season. I'm was so thrilled that we were able to see his take on Wilson Fisk evolve into becoming the Kingpin we comic nuts are familiar with. Now granted, his version was in a show that was meant to be more street-based and grounded, but those Netflix shows are a thing in the past.
Kevin Feige is adamant about keeping the MCU characters under his own roof, rightfully so. All the Marvel characters who existed under the other Marvel shows were created by someone who isn't Kevin Feige. That is certainly a big deal, because after all the Netflix shows were cancelled, that's when Marvel decided to pursue the Disney+ shows. We should view this as Marvel saying farewell to those past shows and rebooting Marvel shows with Disney+. The critical difference is that these shows are under Kevin Feige's supervision. And yes, that probably goes for the ABC shows as well. At least for the most part. So what does that mean for Wilson Fisk in Hawkeye? If Kevin Feige and Marvel want to move on from the past shows, then why bring Vincent D'Onofrio back to reprise the role? Well, for one, Vincent D'Onofrio was freaking phenomenal as Wilson Fisk. Everyone who watched the show knows that, including Kevin Feige himself. Recasting the villain would've been a tough move and probably would've disappointed fans. If Kevin Feige recognized Vincent D'Onofrio's amazing performance, then it's not too hard to believe why he brought him back. And of course, we will welcome him back with open arms.
The thing is, even with Vincent D'Onofrio coming back, I don't think he'll be playing the same Wilson Fisk he played in the Daredevil show. I'm guessing the Wilson Fisk in the Hawkeye show will be a reimagining of his take on the character. That actually sounds very familiar to what Charlie Cox recently said about Matt Murdock. Now I got to talk about the rumors surrounding Charlie Cox returning as Daredevil. As every Marvel fan should know by now, Charlie Cox's Matt Murdock is heavily rumored to be appearing in Spider-Man: No Way Home, which is right around the corner. With the latest episode of Hawkeye revealing the existence of Wilson Fisk in the MCU, this really does confirm what we've been suspecting all along. Is it a coincidence that this particular episode came out so close to the release date of Spider-Man: No Way Home? I think not. This is some strategic planning on Marvel's part, and with Wilson Fisk finally coming back, I think we can safely assume that Matt Murdock's return is imminent.
That's good news for us Marvel fans. The last episode of Hawkeye will come out next Wednesday and we can finally see Wilson Fisk in action once again. One of the biggest differences between this new Wilson Fisk and the Netflix version is that the Disney+ version will likely be more comic accurate. The Netflix version was more grounded, but definitely still had those comic elements to him. For instance, the white suit, his massive size, his backstory, and of course, his bald head. That's something we can all expect to see in the Hawkeye finale, but I think he'll look even more like the comic version. Either way, I think the return of Vincent D'Onofrio's Wilson Fisk means that we'll be seeing more Marvel characters we've seen before. Hopefully, that means Charlie Cox really is coming back as Matt Murdock, as well as Kristen Ritter as Jessica Jones and especially Jon Bernthal as the Punisher. Marvel can certainly think of a place for those particular characters. Of course, they would have to be watered down a bit, since they'll be on Disney+, but that could be an interesting modification. I mean, seeing a Punisher not creating bloodbaths of criminals with his guns sounds weird. However, we can still see him be a gun-ho vigilante shooting at enemies who aren't human. That way, Disney and Marvel doesn't have to worry about showing us buckets of blood. Personally, I think we can trust Kevin Feige and Marvel to bring back the characters and actors who deserved to come back. Vincent D'Onofrio as Wilson Fisk was certainly one of them and I can't wait to see this new version of him in the Hawkeye finale. And again, that could very well mean we'll be seeing Charlie Cox again in Spider-Man: No Way Home. What are your thoughts, Marvel fans?