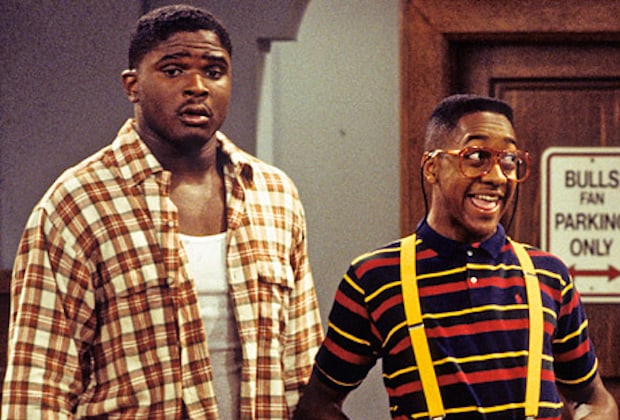 I'm not sure if the tweet posted by Darius McCrary was a cry for help as in "I really need the work!" or it was just a fun inquiry posed to fans. In my honest opinion I think it was a little bit of both. Both he and Jaleel White took a picture together which McCrary tweeted out saying "How many of you would love to see a "Family Matters" Reunion?!" I find the timing quite curious considering that Kobe Bryant recently did some Steve Urkel slam poetry.
However, considering this is the age of reboots is a Family Matters show so out of the question? Honestly I don't think so. If Full House can do it then so can the Winslow's. How hard could it be? I'm just curious of Jaleel White would be down to do Urkel again considering every single pictures he's ever taken of himself after the show he's tried to look like Stefan. Netflix, you reading this? This is a no brainer.
According to TVline
For what it's worth, there's been no talk of a Family Matters revival – but really, would anyone be surprised? If for nothing else, a continuation would get TVLine's seal of approval so long as it promises to divulge what ever happened to middle child Judy Winslow.
Reginald VelJohnson and Jo Marie Payton, who played Carl and Harriette Winslow on Family Matters, also reunited back in 2015, co-starring in the Lifetime original movie The Flight Before Christmas. VelJohnson later turned up on the final season of Girl Meets World, a spinoff of fellow TGIF comedy Boy Meets World – and though Family Matters and BMW technically existed in the same universe, he did not play Carl. He did, however, play a fellow officer of the law.
https://twitter.com/DariusMccrary/status/857041661981069312