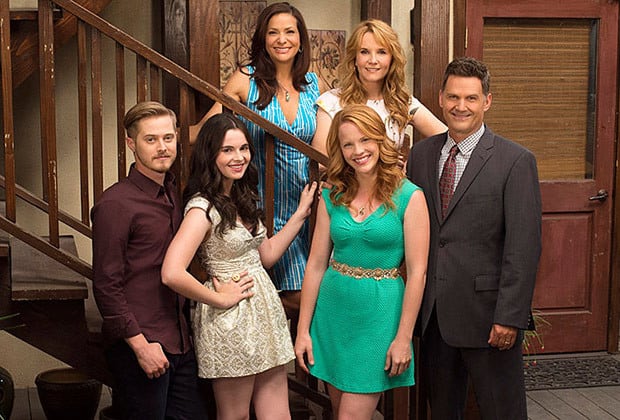 We still feel as if Switched at Birth was switched off too early at only 5 seasons. Still, we appreciate what we've been given with this heartfelt and inspirational show. When Switched at Birth first premiered back in 2011, we weren't exactly the biggest fans; but the show won us over episode after episode, and by the time the series finale came, it felt like we were already part of the family. Out of all those 5 seasons, we consider the fifth and final season to be the best one of the series. There were 10 episodes in that season; therefore, we give you 10 reasons (per episode) why season 5 was Switched at Birth's best.
Two Parents Against One
Five years after Bay, Daphne, and the rest of the families learned about the switch, we see them interact like any real, modern family would. It's delightful to see both moms team up against the dad when it came to the girls, specifically regarding Bay's future. We'd have to say that the phone call that brought everyone back together after the girls left for China was something that should be the top of this list as well. This particular moment was just so delightful that we couldn't hesitate.
Regina and Luca
For us, this relationship was doomed from the beginning, but we couldn't help indulging in it regardless. Even with the difference in age, Regina and Luca actually looked good together; and for a brief moment, Regina was able to treat herself to something fantastical and romantic. We all knew, as much as Regina did, that it wasn't forever, but it was a good experience for her character nevertheless.
The Wedding
Toby and Lily's story had always been full of ups and downs, and we've followed these two throughout their relationship. When they came back to the U.S. after some difficulties in London, everyone was excited to welcome them back. The whole family was excited as well when the couple announced their engagement–and their wedding that very same day. The wedding, however, wasn't as happy as we all wanted it to be.
Travis and Emmett
Switched at Birth is nothing without its complicated relationships, and one of the most complicated ones is between foster brothers Travis and Emmett. These two used to be close until Bay got in between them. There was always this raw chemistry between Bay and Emmett, even after they kept on breaking up and getting back together and finally breaking up for good. Travis was the one that ended up with Bay in the end, but it's all more complicated than it seems.
The Hunger Strike
This was one of the most important episodes of the series. In this arc, the black students at the University of Missouri were in protest against the students who put cotton balls onto the lawn of the black student union. Led by Iris, the group found validation and success in their protests in this episode.
Bay, the Tattoo Artist
After so much time, effort, dreaming, and longing, Bay finally got to live out her dream of becoming a tattoo artist. We finally saw her give her first tattoo this season, and it was epic to say the least. Her first day on the job was quite eventful considering her parents showed up taking pictures while she was just about to get started with her first customer. She lost the customer as expected.
Ally
This season, we met a new character–Ally. She was on the transplant list for her problematic heart, and she became the recipient of Angelo's organ. The character came on to the show after Daphne sought out Angelo's organ recipients for a school project. Talk about emotional–this entire arc made us cry more than anything.
The Party
No party is complete without any drama, and the one from this episode was the a brilliant one. The gang wasn't going out without a celebration, even though this was really Bay's elaborate ruse to get Simone jealous of her.
Daphne's Sacrifice
This was a good testament to the kind of person Daphne was, but even she was confused when it came to Chris. What she did for Chris might have been above and beyond, and the way she expressed her guilt got to us on so many levels. She ended up doubting herself, something we didn't like seeing, but we're glad it was all resolved in the end.
The Family Dinner
For the last time, the family got together for one more dinner. John finally accepted Bay's choices. Regina declared she was moving out and taking care of Eric's son. In short, all loose ends were tied nicely in a bow, and we were left crying and smiling at the same time, especially when Daphne asked Kathryn if she could call her 'mom'.