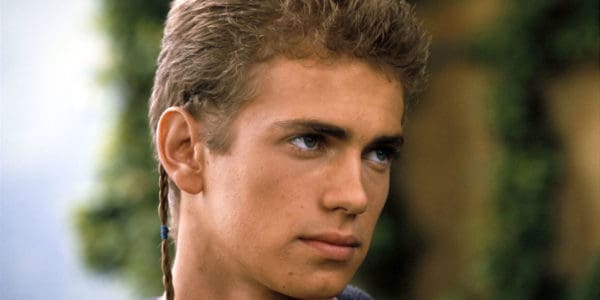 Hayden Christensen is one of those Star Wars actors who never really moved on from that franchise. What else has he done after Revenge of the Sith? The only thing I can think of is Takers from 2010, which he was pretty good in. As far as I know, he has done several independent projects and some direct-to-video movies, and the very few I have seen weren't that good. But if we're being honest here, I do think that the majority Star Wars fanbase was pretty hard on Hayden Christensen for his performance as Anakin Skywalker in the prequel trilogy. We shouldn't kid ourselves and say that it wasn't bad, because it was. Like, very bad. But to be fair, the man was given a very terrible script, especially for Attack of the Clones. Okay, I do have to emphasize on this, but as much as we all love George Lucas, that script he wrote was like a bad soap opera in space. And I just have to say, do some research on how Harrison Ford convinced George Lucas to rewrite some very questionable lines for A New Hope. To put it lightly, Mr. Ford handled it exactly how you would expect him to. Come on, Harrison Ford is the man and he is as fearless as his most popular characters. I don't think there's a man alive who can match the manliness of Harrison Ford. Oh, but he wasn't alone, since Mark Hamill had to practically beg George Lucas to take out some lines relating to the destruction of Alderaan. He used a much nicer approach compared to his co-star, but at least he spoke up.
That makes me wonder, could things have turned out differently for Attack of the Clones if Hayden Christensen spoke up? Maybe he should have approached George Lucas with Natalie Portman, considering their scenes together were the most poorly written. I know that's putting it lightly, but at this point, we have all learned to make jokes about it. I can only imagine how much poor Hayden Christensen had to bite his tongue after reading those horrendous lines. To his credit, I think he did his absolute best to work with the script he was given. I mean, at least he got to end his run as Anakin Skywalker while being in the Darth Vader suit. Or did he? If you're a Star Wars fan, I know you have all been waiting to see that upcoming Obi-Wan Kenobi series coming to Disney+. With Ewan McGregor returning to reprise the role after seventeen years, I think it's practically impossible to not have that inner Star Wars child go completely nuts. But here's a shocker, we know that Ewan McGregor is returning to Star Wars, but on top of that, Hayden Christensen is coming back as Darth Vader. That's right, as Darth Vader, not his actual role as Anakin Skywalker.
That makes me very curious and I'm sure other Star Wars fans feel the same. So what exactly is the point in bringing back Hayden Christensen if he's only going to be in the Darth Vader suit? Once we hear the voice of Darth Vader, I'm pretty sure that won't be Hayden Christensen's voice we hear. I could be wrong, but either way, couldn't Disney just hire another actor if all we're going to see is Darth Vader? Well, I have a feeling we'll be seeing a lot more than just Hayden Christensen behind the Darth Vader mask. Now Hayden Christensen himself has been asked this question. Entertainment Weekly did try to get an answer out of him and he responded with your typical professional answer. In just a few short words, he simply stated that he was sworn to secrecy. I don't know about you, but that tells me we'll be seeing our Anakin in the flesh once again. The question is, how and when? The first theory that many fans are coming to are flashbacks. Okay, I'm willing to bite. I do want to see a few flashbacks of Obi-Wan and Anakin interacting with each other during the Clone Wars. We've seen that plenty of times in the animated series, but never have we seen it in live-action form. How cool would it be to see both Obi-Wan and Anakin in their Jedi armor during the Clone Wars in live-action form? I think that would be a totally glorious sight. If the Obi-Wan Kenobi series is going to bring back Hayden Christensen as Anakin Skywalker, then that would be the ultimate purpose in doing so.
Now there is another option. I know we Star Wars fans are always up for seeing more Darth Vader. In my opinion, he is the greatest character in the whole Star Wars franchise. However, I do think there is a very high possibility of seeing the horribly scarred man behind the mask in the Obi-Wan series. Go on YouTube and watch the make-up process Hayden Christensen had to go through to make himself look like the horribly burned cyborg that would subsequently become Darth Vader. As soon as the make-up to his face was applied, Ewan McGregor popped in the room and tickled his chin. That was a very hilarious sight to see. That was technically the last time we saw Hayden Christensen as Anakin Skywalker, as that horribly burned body beyond recognition. Unless, of course, you all want to count his re-edited appearance as the force ghost in Return of the Jedi. Yeah, maybe not, but we all know what Darth Vader really looks like underneath the mask. Now this upcoming series may very well give us a rematch between Obi-Wan and Darth Vader. You can have mixed feelings about that all you want, but it should be an epic lightsaber duel. And you know what? I do believe there is a chance we'll be seeing at least a glimpse of Anakin's scarred face either during or after that duel.
Now that is where Hayden Christensen can really stand out. He has confirmed that his new Darth Vader will be more powerful than ever before. If Obi-Wan manages to somehow take that mask off of him, we'll finally see the man behind the mask in action. We never really got to see that in the original trilogy, so that's something the Obi-Wan series can do. The closest thing we got to it was when Darth Vader fought Ahsoka in the Rebels show. Granted, we didn't get to see his whole face, but we saw a glimpse of it. Honestly, that just made it even more frightening. His appearance in the Obi-Wan series can take it one step further. Just imagine how Obi-Wan will react when he sees his former apprentice without the mask? I'm sure he'll be just as surprised as the rest of us.
What are your thoughts, Star Wars fans? Do you think we'll be seeing actual Hayden Christensen in the Obi-Wan series?Ewan McGregor