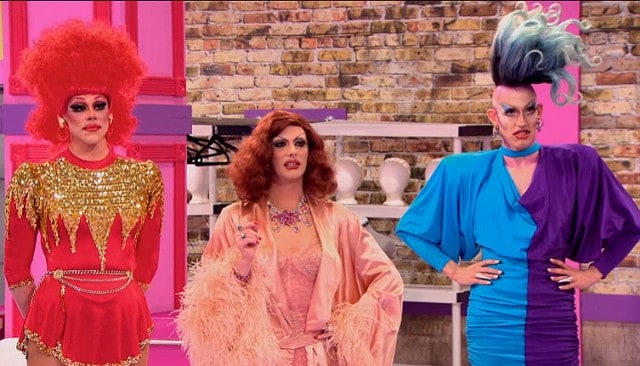 RuPaul's Drag Race season 8, episode 1, marks the 100th episode of this reality competition show! One hundred episodes is considered a milestone in television and brands a show a true success. So much for anyone who didn't think it would last!
However, if you don't have cable network Logo, you may have never actually seen the show. Picture a mashup of Project Runway, America's Next Top Models, and Face Off with some salty language – but even that's not the entire picture. If you are a connoisseur of drag, you know just how entertaining it can be as there are so many skills that go into a drag performance. As you can see in this compilation, RuPaul's Drag Race (Season 8) | Herstory: 100 Queens In 100 Seconds, acting, art, comedy, crafts, and dance, all factor into doing drag.
[youtube https://www.youtube.com/watch?v=_xZkbRBl1t0?rel=0&showinfo=0]
There are so many different looks represented it that compilation! Clearly a drag queen is not merely a guy in a dress!
Also, for the record, a drag queen the same as a transgender woman. The media organization GLAAD gives clear distinctions between a woman who has been born in the wrong body and men who "dress like women for entertainment." Now, here are the queens of RuPaul's Drag Race season 8!
So, how does a guy get into doing drag? Listen to the men behind Acid Betty and Robbie Turner talk about what got them into it. These answers might surprise you!
[youtube https://www.youtube.com/watch?v=15bQi3_uAy8?rel=0&showinfo=0&w=560&h=315]
I love Robbie's answer of basically needing a job! Sometimes things aren't that deep. However, doing drag isn't strictly for laughs either.
ThinkProgress.org did a great article on drag queens and interviewed RuPaul's Drag Race Season 5 winner Jerick Hoffer (He's Jinkx Monsoon). He talks about how doing drag can be empowering.
"No matter who you are in your day-to-day life, and no matter what you look like, and whatever insecurities you're dealing with," he told ThinkProgress, "you can fully transform yourself. It's as easy as deciding to transform yourself." He's heard many drag queens say that doing drag helps them become stronger and more self-assured in their non-drag life.
RuPaul's Drag Race Season 8, Episode 1 Highlights
Some Shady Moments
Cynthia Lee Fontaine from Puerto Rico – and Austin, Texas – is the second girl into the Werk Room. After making her entrance she talks with 90's supermodel styled Naomi Smalls about her drag aesthetic.
Cynthia: I call myself between pageant queen and performer. Because I do comedy, I do campy sometimes…

Naomi: Sometimes?
Robbie Tuner has a definite opinion about everything and everyone, but her reaction to the stacked sneakers Goth girl Laila McQueen has on is hilarious!
Robbie: I'm gonna to tell you a story, about flats. No.
In honor of this being the 100th episode RuPaul brings back all the past winners, except for Bianca Del Rio (who was unavailable and replaced with a circus clown…). The new contestants will all do individual photo shoots to see if they can stand with "greatness."
While Robbie is doing his, Sharon Needles says Robbie's sleeve is "in her light."
Robbie: Well, then, you should move.
Yeah, we're gonna be hearing a lot from Robbie this season! She may be the Queen of Shade!
A Keeping It Real Moment
Korean drag queen Kim Chi (Sang-young Shin) does a "live-action anime drag" that is fierce! (I'm like, an instant fan!). However, here Sang-young talks about a painful reality about what he does.
[youtube https://www.youtube.com/watch?v=l3Nni6D1pD4?rel=0&showinfo=0&w=560&h=315]
The Top & The Bottom
This week's main challenge was to redo a given challenge from past seasons.
The Winner – Kim Chi: "Hair Ball"
I love, love, love Kim Chi! She's a total artist – and a total sweetheart. Like, Kim is a Miss Congeniality lockdown! However, as the competition goes on I'm worried that sweetness may get her knocked out of the competition. It's certainly no surprise, but there are some majorly sharp-tongued queens in this group!
Sent Home – Naysha Lopez: Drag on a Dime
Naysha had to lip sync for her life against Laylia, and the goth girl seriously turned it out! Laylia didn't do well on her challenges this week, but after seeing that performance, I think she could end up being a contender. That queen can seriously work a stage! Plus, unlike Naysha, Laylia does know how to sew – the judges loved her jacket, but then she didn't really do anything for the rest of the costume. She just needs to think bigger.
If you missed seeing the first episode, you catch it over on Logo.