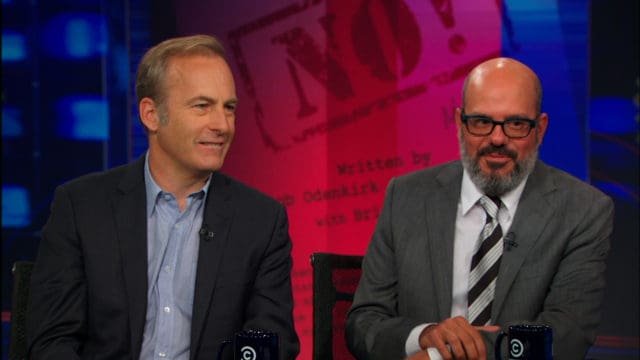 The heat is beginning to pick up on Better Call Saul Season 3. If you're not watching the Breaking Bad and Better Call Saul marathons this weekend, then this is your reminder to do so. In addition to the marathons, AMC announced on Friday that it will air two installments of Chris Hardwick's Talking franchise, one after Saul's season 3 opener on April 10 and the other after the season closer on June 12. The network gave Saul's season 2 premiere and finale similar treatment. The show will include interviews with Saul cast members, producers, and celebrity fans chatting about the journey of Jimmy McGill (Bob Odenkirk) into Saul Goodman.
One question many people are starting to raise is "will one of those cast members be David Cross?" Odenkirk and David Cross have an excellent history together. The two were both on Mr. Show which many (including myself) thought was an excellent sketch comedy show. Odenkirk had a cameo on Arrested Development where he played a marriage counselor in a hilarious scene. It would make sense for David Cross to at least appear in at least one episode if only for a brief stint. Only time will tell.
In the meantime, here's that marriage counselor scene.