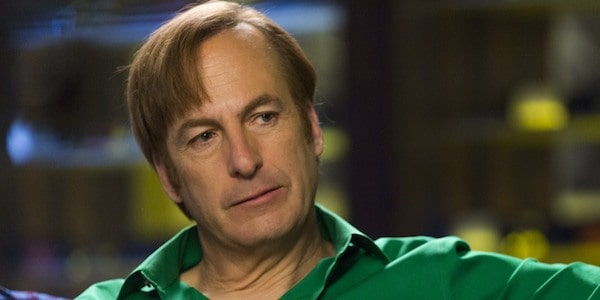 Far and away one of the most anticipated moments on Better Call Saul's third season will be when Jimmy McGill officially transitions into Saul Goodman. It's a moment fans are waiting for and it's a moment that fans are also speculating on. For example in the last episode with a flashback to Jimmy's days with his best friend Marco, that was titled "Slip," and literally featured Jimmy slipping in the music store in order to inspire litigious guilt, some loyal fans probably saw this episode as a step in Saul Goodman's direction. But let's put the brakes on that for a second, at least according to the actor who plays Saul, Bob Odenkirk:
I think Saul is the guy who really doesn't care about the collateral damage, and knows it, and is aware of it. Jimmy sometimes does things to hurt people, and that's what the purpose of his scheme is, to hurt Chuck usually, but he seems to be oblivious to the collateral damage, or not wanting to look at it. Saul is kind of more mature, fully aware of who is going to get hurt, and he doesn't care. It's about him, serving himself. So, when he makes those emotional choices, to me, that's when we're getting in touch with Saul. It's not the name. It's not the fast talking. He did that when he was 16. He's done it his whole life. It's the growth of the character to an awareness of 'people get hurt by my schemes.'
Unfortunately that response doesn't necessarily reveal much in terms of when the actual name will be brought up and used. However, if anyone on the show knows this character intimately other than Vince Gilligan, it's Odenkirk. It's going to be very interesting to see how season 3 of Better Call Saul ends but one this is for certain, I don't plan on missing it.