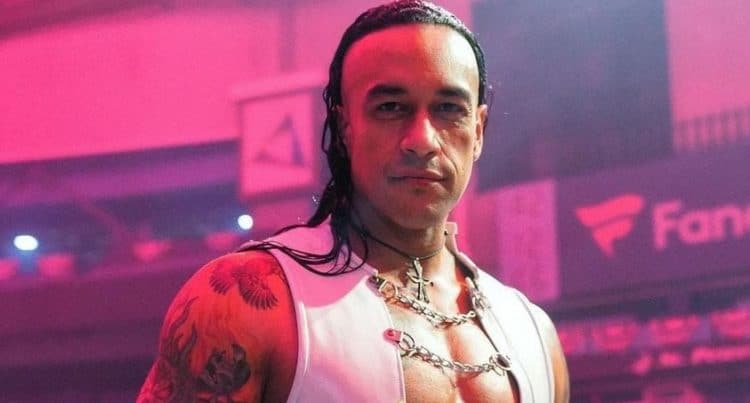 Known as Punishment Martinez around the independent scene, the 39-year-old made a name for himself mainly during his time in Ring of Honor. However, once Priest made the move over to WWE, his dark and brooding character on the indie scene was lighted, portraying a rocker/playboy type in the black and gold brand. Priest had no issues getting over on the developmental brand as the guy is a credible in-ring talent and his gimmick wasn't some cartoonish or over-the-top sports entertainment nonsense. When Priest made the transition over, it took a while for the company to properly use him once the story with Bad Bunny was over. The RAW superstar slowly gained steam once he moved past The Miz and John Morrison, and fans were solidly behind him especially when WWE put the United States Championship on him. However, WWE for some odd reason felt that he needed to change some reason. Giving Priest more of an edge is actually a good idea as talents like Stone Cold Steve Austin, The Shield (Seth Rollins, Roman Reigns, Dean Ambrose), Ronda Rousey, and even Becky Lynch have proven that being a rebel resonates with the fans.
The problem is, Priest is coming off as a child who's unable to control his temper. Do you remember when Christian would throw those over-the-top tantrums? That's essentially what Damian Priest's gimmick is, but the difference is that it isn't being played as a joke like Christian's comedic gimmick. Even then the company had the former WWE star drop the gimmick when he was being pushed as main event player back in 2011. Priest's gimmick is that he snaps or loses control after certain actions. It's not exactly clear what triggers him to go into this mode as it randomly started without much explanation. The United States Champion may not do the over-the-top shenanigans that Christian did, but his gimmick is making him look like a moron. More importantly, he's coming across as a heel than a babyface. This moment all started back at Survivor Series, where the man purposely got himself disqualified during his match against Shinsuke Nakamura. Granted, the Intercontinental Champion was doing heelish things (even though he's a babyface), but WWE's murkiness of babyface and heels is not much of a surprise. Priest intentionally got himself disqualified, showcasing that A) he didn't care about the match result and B) It's an established move that heels do. Priest wasn't in some blood feud with Nakamura, so him randomly snapping over typical heel shenanigans was out of character and simply made no sense for a babyface.
His actions continued notably against his mini feud with Dolph Ziggler and Bobby Roode where Priest's new persona didn't particularly care about winning or losing since the heels were acting like pricks. However, the most notable thing was Priest and his match against Kevin Owens for the WWE United States title. Priest disobeyed the referee and got himself intentionally disqualified, which actually drew boos from fans. Priest was fighting Kevin Owens, a man that's not too hard to hate. Here's the thing, this new gimmick isn't working because WWE doesn't seem to understand the basic logic behind it. They're trying to showcase a darker side of the United States Champion, but Priest is coming across as a loser who can't control his emotions. Giving a babyface anger issues is fine and can actually benefit in the storytelling department. Problem is that WWE's creative team isn't exactly good at character development or nuance storytelling. Every now and then, they'll get it right, but more often it's wrong. Why should we care about Damian Priest's character who doesn't have the mental strength to overcome the odds against the dastardly heels? The purpose of the babyface is to overcome the obstacles standing their way. Unfortunately, no one is standing Damian Priest's way except himself because he's purposely getting disqualified. What exactly is Priest doing about his anger issues? Nothing. This is a gimmick, not a television show, so the company isn't exploring how he needs to overcome his internal demons. I know wrestling isn't about subtly and nuance, but some strong character writing is desperately needed here. If not, then Priest's new gimmick is going to continue coming across as cold to fans. The WWE United States Champion is a heel. Let's home Vince McMahon and company figures this out and drops the act before Priest continues to fall out of favor with the fans.