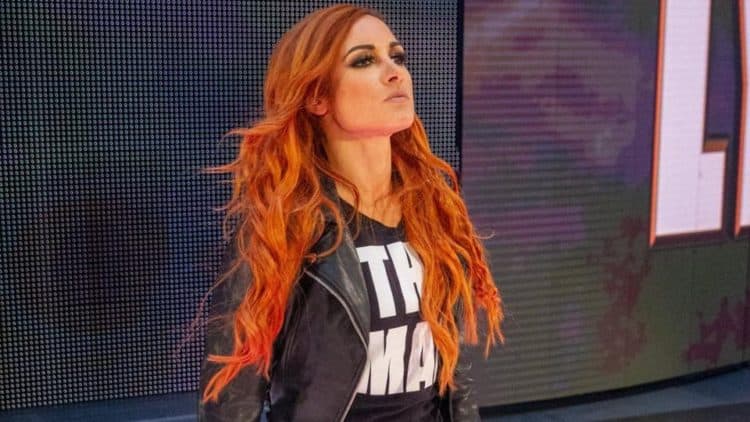 The former WWE RAW Women's Champion Becky Lynch was experiencing a record reign by mid-April 2020. She had held the title for 373 days, although WWE seems to recognize 398 days somehow. The thought among many was that she'd likely remain champion at least for a little longer. Known as "The Man," Lynch managed to become a major star in WWE dating back to 2018. A new attitude and personality came along with Becky letting her true self out for the world to see.
We enjoyed seeing it, and could not get enough. Fast-forward to 2019, she wins the Women's Royal Rumble and goes on to main event WrestleMania 35 with Ronda Rousey & Charlotte Flair. She'd win this big match, capturing the RAW & SmackDown Women's Titles. Of course, she was the first to ever hold them at the same time. Although she lost the SmackDown Women's Title relatively soon following this event, by April 2020, Lynch was still holding that same RAW Women's Title.
Then, she found out that she was pregnant. Of course, "Becky Lynch" might have been on the run of her life. She might be one of the top stars in the entire professional wrestling industry. Yet "Rebecca Quin" mattered too, and Rebecca might not have planned to be a mother at this moment, but she always wanted to be one. This meant that Becky Lynch had to take a backseat to Rebecca Quin for the first time in nearly a decade. Yet this might not be for long…
Becky Lynch SummerSlam Return?
Becky Lynch is going to be at WWE's SummerSlam event on August 21st. Yep, the biggest party of the summer in WWE's eyes will be taking place in roughly two weeks. The thing is, saying Becky will be at the event does not offer a lot of information. People might assume this means something significant but Lynch has also been to several other PPVs this year as well as SmackDown tapings too. Her husband, and the father of her child, obviously works for WWE. While his real name is Colby Lopez, he's also known by the name of Seth Rollins in WWE. For those unaware, Rollins is one of WWE's top stars in his own right. He has held 13 total championships, with 5 of them being World Championships. Needless to say, he will be on the SummerSlam card and that means his wife will also attend the event.
This sort of works out for WWE. They know fans are anticipating Lynch's return and will follow any small news story that connects to her. However, they also know she's coming to shows to support her husband. The fans know she's there for such a purpose too. Allowing WWE to have her present without giving away when or where they will finally have her return to the ring once again. Unlike with others, you cannot merely spot her at an arena and claim she's coming back. Because again, she's been to several shows this year.
How Is SummerSlam Different?
There's a reason why all the newswires are reporting Becky Lynch possibly returning to the ring at WWE's SummerSlam event. For one reason, Becky has managed to get back into incredible shape. She had her daughter, Roux, back on December 4, 2020. Of course, some naturally expected a return to the ring by WrestleMania 37. Since the event takes place in April, she had several months to lose any baby weight. However, asking her to do all of this would be cruel and hardly worth doing. Not only that, but Lynch would return to television before then in front of screens and no live crowd. Her return is worthy of a live audience being present, both on the night of the return and the shows that follow. Yet WWE was not prepared to go back to live shows until this Summer. Now that they have been doing live shows once again with often packed arenas, things are naturally going a lot better than they were earlier this year.
Now, Becky has had over eight months to get back into ring shape. This is different from just losing the weight you put on while pregnant. That is hard to lose for many but getting back in ring shape is far harder. You have to be able to add muscle, get your body used to being impacted and stretched, and bring your cardio up to work longer matches. That is by no means easy, especially for a singles star, like Becky Lynch. Eight months is enough time to do this, and you finally have the live crowd back to make her return even bigger! Not to mention, she's also been at the WWE Performance Center a lot in recent months too.
Don't Expect Anything Full-Time Though
WWE is trying to pad up SummerSlam a lot like how they'd pack a WrestleMania event. While they did go all out for WrestleMania 37 this year, they left a lot of stuff out that they could have added. That was all to set up SummerSlam, and some of this has already started to unfold. Bill Goldberg & John Cena have both returned and will compete on the show. There are also possible debuts that could occur here too. Yet at the centerpiece of all of this is said to be the return of Becky Lynch. It's clear that people will be excited to see Becky back. Obviously, if she comes back at SummerSlam then many will expect her to be ready for a full-time return.
However, this will not happen. To be fair, WWE is not completely back to a full-time schedule in spite of the many events that have already been done and have planned upcoming. Even when they do, it is unlikely Lynch will be open to returning for some 4 or 5-day weekly schedule. With both she and Seth working for WWE, they can easily work together to take care of their daughter. But the child cannot travel like crazy with them, especially under a year old with a global pandemic still very much worthy of worry. This means Lynch might work just television tapings for the foreseeable future with the occasional live event schedule. Either that or she will be given a free-flowing schedule that will allow her to work small full-time schedules with various breaks between them.
Changing Of The Brands
Sean Ross Sapp of Fightful reported that many expected Becky Lynch to be added to the RAW Women's Title match at SummerSlam. Yet this was made into a random triple threat with Nikki ASH (c), Rhea Ripley, & Charlotte Flair. Of course, WWE RAW was the show Becky was on before she left so it made sense she'd return to that show. However, Sapp believes this signals a brand change for Lynch, saying:
"That match (RAW Women's Title triple threat) being made for SummerSlam was a bit of a surprise. A lot of people were expecting Becky to be back, but word is she might be heading to a different brand. So, who knows, but they need her back bad."
Sapp is likely onto something with this. It should not be ignored that Seth Rollins is currently a member of the WWE SmackDown roster, and happens to be an important part of it at the moment. It is WWE's unspoken policy to keep married men & women together on the same brand as well. Therefore, it only makes sense for Becky to join Rollins on the blue brand upon her return to the ring.
It should also be noted that while Sasha Banks just returned to SmackDown, the longest-reigning SmackDown Women's Champion Bayley will be out of action until at least early 2022. This means they actually need Lynch to return to help out the show after one of their top female acts went down to an injury. Of course, this could indicate how the Sasha Banks vs Bianca Belair match will go too. Banks/Lynch is a perfect return match to many.
Tell us what's wrong with this post? How could we improve it? :)
Let us improve this post!