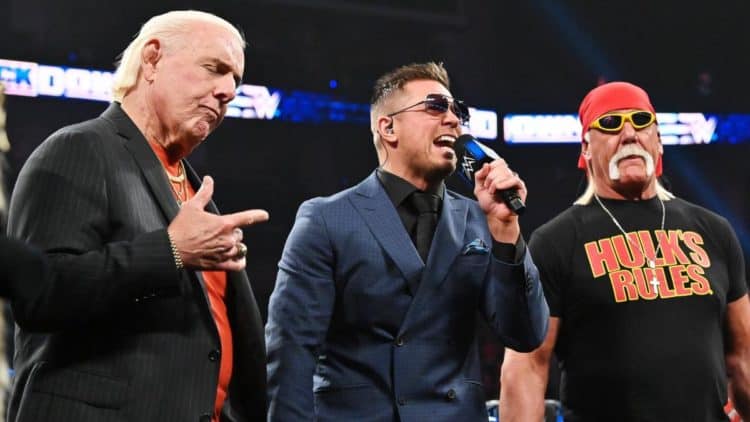 Friday Night Smackdown is the current version of WWE Smackdown. It is called thus because it is broadcast on Friday nights on Fox, which managed to secure a 5-year deal in exchange for $1 billion. Something that speaks volumes about the commercial potential of the WWE. Here are 10 things that you may or may not have known about Friday Night Smackdown:
1. Product of WWE-WCW Competition
Nowadays, the WWE has no real competitors in its chosen field. However, that wasn't always true, as shown by its competition with the WCW in the late 1990s. WWE Smackdown was a product of this period that was meant to compete head-to-head with the WCW's Thunder that was broadcast on Thursday nights.
2. Planned to Be Focused on Divas
One of the consequences of the WWE-WCW competition was the increased prominence of the WWE's Divas. In those times, most of the WWE's Divas were still marketed as sex symbols that relied on sex appeal to bring in male fans. However, some of them were starting to be treated as professional wrestlers in their own right, thus paving the way for their successors. It is interesting to note that WWE Smackdown was supposed to consist of two hours of Diva-focused content, though that never panned out.
3. Started Out As a Complement to WWE Raw
Instead, WWE Smackdown started out as a complement to WWE Raw, Nowadays, these two shows can be considered the WWE's two flagship brands. However, in that earliest period, WWE Smackdown was more of an extension of WWE Raw because it took some time before the WWE made the choice to turn them into separate brands with separate rosters.
4. Huge Success
With that said, the first version of WWE Smackdown was a huge success, so much so that it beat its entrenched competitor Thunder. For proof, look no further than the fact that even though WWE Smackdown was the late-comer to the same slot in the TV schedule, it was Thunder that was forced to relocate to Wednesday nights so that it wouldn't have to continue facing WWE Smackdown in head-to-head competition. Suffice to say that such moves say much about what was happening because of the competition even without the numbers to provide exact context.
5. Was on The CW
For a time, WWE Smackdown was on The CW, which can seem a bit strange for people who are used to its current programming. This happened because WWE Smackdown was on UPN, which combined with The WB to create The CW. The combination came with an announcement that the show would be renewed for two more seasons. However, when those two seasons came to a conclusion, The CW declined to renew it further. Due to this, WWE Smackdown was picked up by MyNetworkTV, which was formed for the purpose of picking up shows affiliated with either UPN or The WB that had failed to remain with The CW.
6. The Brand Extension Was Re-implemented
The WWE's brand extension was implemented in March of 2002. However, that came to a conclusion in August of 2011, with the result that the second brand extension wasn't implemented until July of 2016. It remains to be seen how long the second brand extension will last. Certainly, the WWE has benefited from the separation of WWE Smackdown and WWE Raw into their own respective brands at various times, but the fact of the matter is that circumstances are ever-changing, meaning that what is true in the present time might not remain true in the times to come. Based on precedence, it seems safe to say that when the costs of the brand extension outweigh the benefits of the same, the second brand extension will come to a conclusion as well.
7. Fox Is Thought to Have Pursued WWE Because of the Disney Sale
It is thought that Fox put so much effort into pursuing WWE programming because of the Disney sale. In short, the Disney sale meant that Fox would have lost its in-house studios to Disney, meaning that it would have to pay higher costs for scripted programming from other studios if it continued to stick with it. Instead, Fox made the choice to put increased emphasis on live sports as well as other kinds of non-scripted programming, thus making the WWE a natural choice for its future plans.
8. Was What Fox Managed to Get
Initially, Fox wanted both WWE Smackdown and WWE Raw. The plan was that WWE Raw would be broadcast on Fox while WWE Smackdown would be broadcast on FS1, which is a live sports-focused Fox channel. However, that plan fell through because NBCUniversal focused on renewing its WWE Raw deal, with the result that Fox chose to focus on picking up WWE Smackdown instead.
9. Has Managed to Make It into the Dictionaries
WWE Smackdown has long since proven to be popular enough for "smackdown" to make it into the dictionaries. Nowadays, the word is used to mean everything from knocking down an opponent to a decisive defeat as well as a heated competition between rivals. However, it is interesting to note that the Oxford English Dictionary claims that "smackdown" can be traced at least as far as 1990, though even in its case, it concedes that it was WWE Smackdown that popularized the use of the word.
10. Very Wide Reach
Unsurprisingly, WWE Smackdown is broadcast in both the United States and Canada, which aren't identical in a cultural sense but are nonetheless close enough for most programming to cross over with relative ease. However, WWE Smackdown is by no means limited to these two countries, seeing as how it is broadcast on every continent with the exception of Antarctica, which doesn't really count for obvious reasons. For instance, WWE Smackdown is broadcast in Mexico by Fox Sports, which has a pretty easy time broadcasting it through much of Central America and South America as well thanks to the fact that most of the countries in those regions speak Spanish.