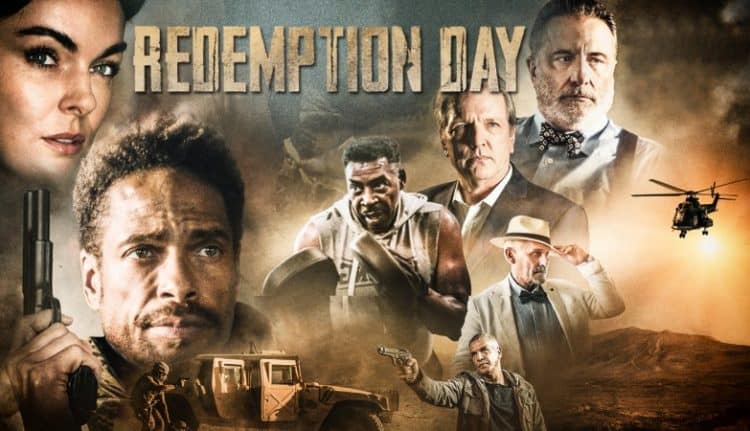 Some folks might want to say that a war movie is a war movie is a war movie and so on and so forth, but they're all a bit different no matter what we think about them and no matter that the story does tend to be a little similar in each one. Redemption Day is the story of a man who is still suffering through the past that he's lived as his time in the military continues to wake him up in the middle of the night with traumatic memories, even if it does appear that he's doing his best to work through them. This is where some folks might actually want to throw in their opinion since the whole idea behind PTSD and its many varying degrees is that it doesn't just go away, but there many methods that can be used to help it if a person is willing to accept them and to do their best to move forward. Having someone in your life is a good way to at least try to move forward, as the main character, played by Gary Dourdan, who people should remember from CSI and Alien: Resurrection, is going to be playing the lead character. It's kind of obvious that he's had a bit of a hard time letting the past go for one reason or another and is seeking ways to help calm it down, even though as many veterans can attest to, there isn't much of anything that can simply make the trauma go away.
When his wife is abducted by terrorists however he has no problem stepping back into the fray as he goes to save the woman he loves and remind the terrorists that there are consequences for their actions. To be realistic this looks like another movie designed around a military veteran that is doing what they can to keep things together in their life but are forced to wade back into the fight when someone they care about is taken hostage by terrorists of some sort. It's a very well-worn tale that has been used in many different ways and with many different actors, but there's usually enough interest to at least see what it's worth and possibly enjoy the movie since each new movie is going to feature different actors that will bring their own spin to the story and will no doubt do their best to make it work as much as they can.
A lot of movies that deal with issues such as this tend to send in those that are special forces and highly-trained in multiple combat styles, but this feels a little more down to earth as Dourdan's character almost feels as though he's someone that is trained but isn't at the same insane level as Rambo or Commando. He feels much more human as he has his own set of issues and has been doing his best to deal with them. That kind of realism is what a lot of people appreciate these days. Movies that feature a big, buff individual that can fight in so many different styles and kill people with their bare hands are still valued by many, but a lot of people also want to see something that feels as though it's true to life and isn't blown so far out of proportion that it couldn't possibly be real. This movie looks like something that probably wouldn't happen in real life, at least not exactly the way it's happening on the screen, but it's a piece of fiction that also looks like it might be sticking closer to the boundaries of reality than many movies tend to do since it's keeping the feel to it that indicates that it could be a little more believable in some ways. War movies, at least on a small scale, are often given the look of something that's almost completely unrealistic since the whole lone-wolf idea, or the small, elite group that wades into trouble looking for hostages and are known as some of the toughest individuals around, is something that people have seen multiple times. It's not a bad idea, but it's definitely one that's worn a very deep groove in the public consciousness and is hard to get too excited by these days.
Still, this movie looks like it will be worth the effort simply because it's not touting itself as such a huge movie that needs to be watched by so many, and it's featuring some very well-known faces that are seen as reliable and still very popular among many fans. The manner in which it's been put together feels like it might be a little rushed, but that will be something that we'll have to wait and see when we finally watch it. But it's definitely worth a look.