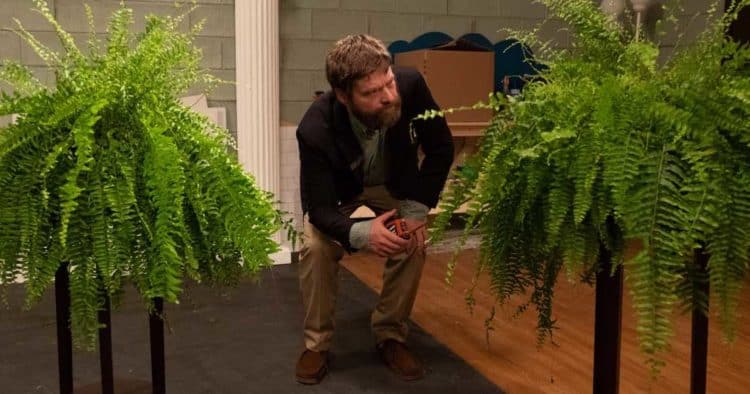 If there's any real reason to go and watch Between Two Ferns it will be because of Zach Galifianakis since anytime he's in a movie and it's being promoted it's bound to be something that you might want to pay attention to. There's that, and the idea that as he's been getting older and more established he's become less of a goofball that takes on the role of a disturbed and emotionally challenged individual to someone that's actually kind of deep and worth watching. Kevin Burwick from MovieWeb seems pretty optimistic about it so far and to be quite honest it might not be the type of movie that everyone will enjoy, but it could be a good experience for a lot of people that want to see something calm and composed that might be of interest. It's not likely that we're going to be seeing Zach get all goofy and crazy as he's done before, but there are other stars that are rumored to be showing up and will no doubt lend a great deal of interest to the movie as well.
The trailer hasn't been released yet but so far as we know thanks to Neetha K from Meaww it will be showing up on Netflix and it will seemingly have a few big stars that will be popping in and contributing to the movie in a few different ways. The release date is set for September 20th of this year so the movie will be coming out fairly soon, meaning that the trailer should drop at any time. Whether it will be able to garner great reviews or not is something we'll have to wait and see, though it does seem that it might at least get a nod for being an interesting idea that can gain some sort of credit for having been pushed through. In his time on screen Zach has quite often been the kind of guy that's hard to take in some ways since he does seem to pick characters that are so far out there in one way or another that it's easily deemed cringe-worth when a person finds it possible to watch him. But again, as I already mentioned he's been changing it up throughout the years and taking on more serious roles as he's established himself as a more diverse and therefore more interesting actor.
According to Anne Victoria Clarke from Vulture this movie has been in the wings for a little over a decade, or at least the origin material has, and it would seem that a lot of people are getting excited to see it finally represented in a way that even more audience members can enjoy it. Given that it's been around for so long it's a big hope that it can wow people in a way that will mean exceptional ratings and a possibility of adding another hint of brilliance to a career that has been growing pretty steadily throughout the years. Zach is the type of guy it would seem that tends to go for shock value as well a type of comedy that not everyone can or will want to hang with and will do it simply because it's bound to get a response. He's done this with a few of his movies and made out pretty well so far since people have had to try and figure him out over the years. It's still not entirely possible since he tends to come up with something new now and again that makes people wonder, but something like this seems as though it might be genuine and worthwhile when it comes to seeing him as a serious and very dedicated actor, which he's been from the start.
If you're looking for the action and goofy nature of something like The Hangover then this isn't going to be your type of movie, but if you're interested in seeing Zach and several others engage in a film that will still be entertaining in its own way then this could be for you. Every now and then we need a reprieve from the action, the horror, and the comedy to just breathe and enjoy a down to earth movie that's not going to thrill, shock, or make us cry with laughter. To some people that might sound kind of boring but honestly it's something that helps balance a viewer out more often than not, especially if the movie in question is done well and given a chance by the audience. It's kind of hard to say whether or not this movie will meet those expectations but all in all it could possibly be good enough to please a wide variety of people and be deemed as another step in Zach's continuing development as an actor. Take a look when it comes out, it might surprise you.