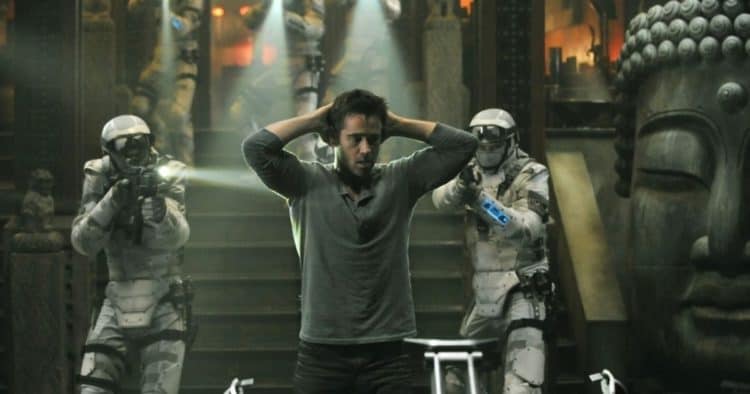 People are bound to argue with this point of view since the original Total Recall is most likely going to be considered the best no matter what, but the truth is that the Total Recall remake that was released back in 2012 wasn't all that bad. Plenty of folks might criticize the story, the acting, and the similarities between the two movies, and many other factors, and it's true that not everything is quite as good as the original. Thinking it's all bad because critics claimed it had less emotion and didn't possess the same fleshed-out characters of the original is a bit ridiculous since where the original was filled with characters the remake went for simplicity and didn't delve that deeply into every individual as it stayed on course with the main characters and kept things in perspective instead of building up the entire world. Both movies had their strengths in other words, but as it usually happens the original is what people cling to. Here are five reasons why the Total Recall remake was better than people think.
5. The fact that Kate Beckinsale's character lasted longer was great.
Lori did last for a while in the original but it doesn't really matter that it was Sharon Stone playing the part, she wasn't that impressive when compared to the choreography and the overall emotional impact that Kate Beckinsale brought to the movie. Stone's version of this character had a few one-liners and was able to play the type of character that people still felt was attractive enough to get away with her behavior, but it was very easy to go from liking Lori to thinking she was a cold, vindictive individual in the remake. The original kept Lori a little too warm and inviting, even when she revealed her real persona.
4. Bryan Cranston was a better villain.
Don't get me wrong, I like Ronny Cox as a villain, and as Cohaagen he was a real slime, but Cranston definitely stepped it up since he could go toe to toe with Hauser in the remake and make it look at least somewhat believable. Trying to imagine Cox getting into a fight with Schwarzenegger was even less believable than Michael Ironside throwing down with Arnold's version of the main character. The protagonist and the antagonist don't always have to match each other in size and strength, but it goes a long way to making their final bout easy to buy into when they're standing nose to nose. Plus, Cranston wasn't so over the top, which also helped.
3. The absence of going to Mars was appreciated.
Had the remake gone this route it would have probably been considered to be even worse since the complete copy probably wouldn't have been appreciated. But leaving Mars out of it and keeping the story grounded on earth did a service to the original and the remake since it kept a great deal of the story without having to leave home. There's plenty of weirdness to be had on earth, so it's fair to say that heading off to Mars would have been one of the last things this movie would have needed. Some folks might have been disappointed, but honestly, it was one of the best ways to keep the remake grounded.
2. The technology was a lot better.
This can't be argued against that easily since the advanced technology that came along two decades after the original was filmed gave this movie a bit of an edge considering that it pushed the fantasy and science fiction a little further since the budget was a little greater and the ideas were a little more forward-thinking. Some of it went a bit awry in the eyes of the fans, but the overall effect is a world that's moved ahead and still managed to forget a great number of people that are just trying to hang on while doing what they can to advance humanity in terms of one technological advancement after another.
1. The story was a little simpler.
This is one aspect of the story that some folks might not fully appreciate since the original had a plot that was more involved and had more working parts to it, including everything that went into creating the Mars environment that was a big part of the story. The remake didn't go that far abroad and kept everything down to earth, and even within the earth since the Fall was a rather innovative idea that might have been tough to wrap a person's head around, but was still kind of cool since it was a grand, sweeping idea that connected various parts of the world in a manner that people hadn't thought about before. But the overall plot wasn't hard to see and enjoy since there wasn't that much to it. Unfortunately, some folks were left wanting more. When all is said and done though, this movie was still fun to watch.