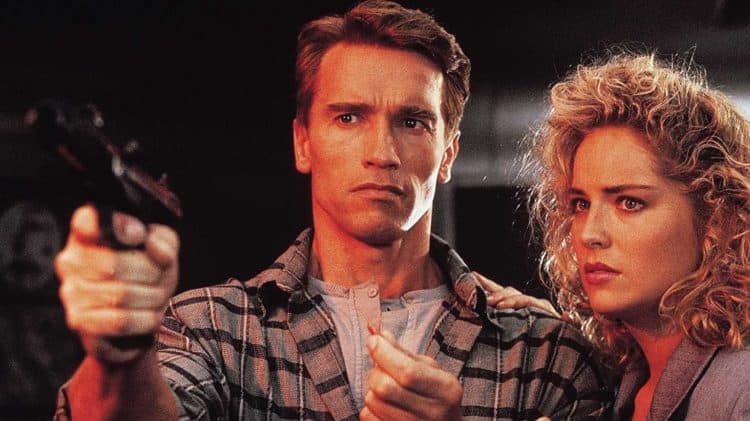 At one point or another, it does feel as though one movie or another might take a shortcut in order to keep costs down or make the best use of props and set pieces rather than continue to create new and expensive sets and designs that might be reflected in the budget. In this light, it's been seen that many props and set designs over the years have made their way from one movie to another, and while some people notice this without fail, others might not really take note or will actively ignore it since the stories are different enough that they don't want to spoil one or the other by taking the time to note the similarities. Starship Troopers and Total Recall, the original not the remake, are pretty far apart in terms of story and cast, but the connection between them isn't too hard to see if a person really tries to take note of it. While there aren't so many props being used from Total Recall that would be noticed, it's still interesting to note that anything is being used in two movies that don't share a lot other than they're both action movies. Apart from that, one can imagine that a lot of people would be scratching their heads trying to figure out what else there is between the two movies that might be worth noticing.
About the only other connection these two movies have is that they were both directed by Paul Verhoeven, who's proven over the years that he has a definite vision but that it's tough to see every now and then since he takes on viewpoints that could invite controversy and argument in a very big way. Total Recall could be said to be filled with various xenophobic issues that might come through to several viewers but are taken as just part of the movie by others. There are plenty of things to say about both movies since in Total Recall the obvious good vs. evil trope is there, and the bad guys don't make a great case as to why they might have any hope of a redemption arc since they're all about subjugating those who they feel are beneath them and doing the best thing for business even if it harms others. That's about as cut and dried as a movie can get from a moral standpoint since Quaid is the hero that Mars needs without a doubt, and Cohaagen and his forces are just plain bad since they don't care who gets hurt so long as they get to have their way. That could be why Total Recall is a favored movie since it doesn't really complicate things.
Starship Troopers on the other hand is a little more difficult since from the standpoint of the humans, the bugs are bad news, and the fact that they'll kill without hesitation is pure evil. But one has to remember that the humans were intruders on Klendathu, as far as the bugs saw it at least. One can say that the bugs weren't exactly deep thinkers, but they were quick to annihilate whatever organisms tried to intrude upon their domain, which is how it tends to happen in nature when trying to justify the killing of another living being. But here's the thing; the bugs were defending their home, and while their swarming technique and utter ferocity required an equally lethal response, it wasn't entirely unjustified since this kind of activity has been seen throughout human history, as one group will invade and the other group will defend against what they perceive to be a threat. While humans might take the time to figure out what's what, the bugs were far more vicious since they had no intention of communicating in anything but the most violent of methods.
Verhoeven is the biggest link between the two movies really since aside from any props or set pieces he's been the guy that has helped to think up ways to make this happen and has been responsible for two movies that have gained cult followings over the years. Both movies have been widely accepted by many fans in a number of ways, but it's fair to say that Starship Troopers did this through a type of parody that makes it clear that a lot of people feel that it's a portrayal of an alt-right world where fascism is celebrated, which is funny since, despite the imagery, the world in which this story exists is one that was meant to be divisive simply because Verhoeven had the idea to create something he didn't even bother reading entirely. As great as his visions have been over the years, there's a reason why Verhoeven is, sometimes, easy to ridicule, and it's because he falls prey to one of the biggest gaffes that a lot of people share every now and then, he did what he wanted without considering the point of view he was taking the idea from.