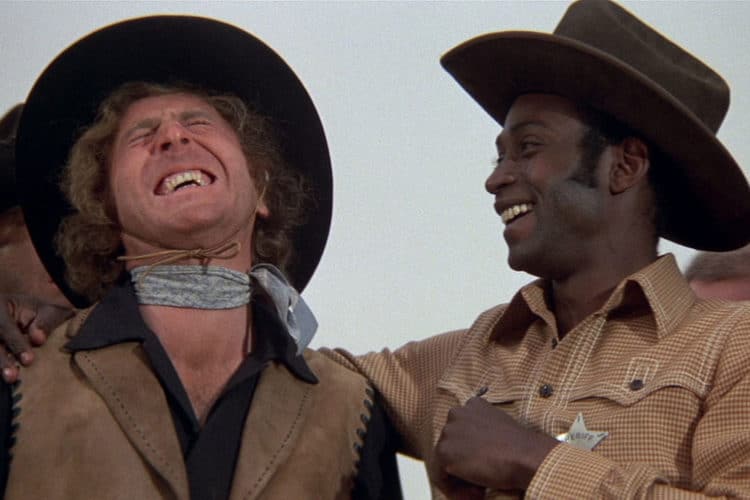 You had to know that this might be a possibility after Gone With the Wind was first pulled from HBO Max and then put back with a disclaimer so that people could feel a little comfortable about the movie when they watched it. Apparently the current idea is that the lot of us that can understand the content in these movies are children that need disclaimers so that we're not offended or otherwise traumatized by the fact that Blazing Saddles, a comedy, uses the type of language and concepts that one might find in a Quentin Tarantino movie, where they're not typically used as comedy and are for some reason tolerated in a much easier manner. Does that sound odd to anyone else? Does that sound odd to anyone else? A Mel Brooks comedy that's been around for decades and actually makes fun of racism in a very blatant way has to be explained by a disclaimer while movies that use the same language and situations, but in a very serious and dramatic manner, don't need anyone to explain away their content. If you're reading the frustration laced into the words then congratulations since text doesn't always manage to convey the emotions that the writer wants to impact. There's no need for anger obviously, but the weary, frustrated mien of many folks that have seen this movie before and could have told anyone that it's a comedy, it's satire, and that it's not to be taken seriously could have stated in their own words that Blazing Saddles is one of the greatest movies ever made, and it didn't need no steenking disclaimer. Watch the movie, you'll get that one eventually.
If you're all about the paranoia then you might think that this is an attempt to police what you happen to think about the movie and make certain that you understand the concept that it's just comedy, that the west wasn't like this. Then you might want to roll your eyes and wonder who wrecked the people that feel the need to remind anyone that real life wasn't like the movies. Of course, the west wasn't the way Mel Brooks presents it, likely it wasn't nearly as comical since in the old west the kind of comedy that Brooks used in his movie might have gotten a person shot or hanged for being too needlessly vulgar. The disclaimer isn't a stab at good taste or at the comedy of the movie, in fact, it's not even attempting to shut down anyone's idea of a good time when watching Blazing Saddles, but it's definitely trying to act as a cushion to anyone who's delicate sensibilities might be wounded the first time they hear the n-word, or perhaps when they see how black people are being treated in the movie, along with the Chinese and other individuals that aren't white men. If a person is easily bruised by words though, then this likely isn't the movie for them since there's no bubble wrap affixed to the words or ideas that Brooks uses and thank goodness for that.
It might sound vindictive and cruel, but it might actually be interesting to see a video of someone watching Blazing Saddles for the first time in order to find out what their reaction would be. Those that claim to be 'woke' (remember it rhymes with joke) might actually find an issue with it, but if they're the type that grew up listening to the type of rappers that still freely use the n-word and other controversial ideas in their songs then it's time to call out the hypocrisy. That's a part of what's so confusing, with all the material out there to watch, listen to, and experience, Blazing Saddles, a movie from the past, is still being just as heavily scrutinized as any movie from the 80s or 90s for its disturbing images and language. Thankfully, plenty of people still love the movie and are bound to watch it whenever they want a good laugh since it's still considered comedy gold and thereby is the type of movie that will stick around for a while to come. This does make a person wonder just what's going to be next to get this kind of treatment since people definitely appear to be thin-skinned these days when it comes to various movies. Even better are those that didn't speak up years ago, but are now speaking out since others have taken up the cause.
The thing about a movie, any movie for that instance, is that if you don't like what you're watching, you have the option to not watch it. This appears to be the lesson that a lot of people tend to have forgotten, that they have the right NOT to watch something as well. At the very least the disclaimer isn't a huge problem, but it is amusing to think that some people feel that viewers need it.