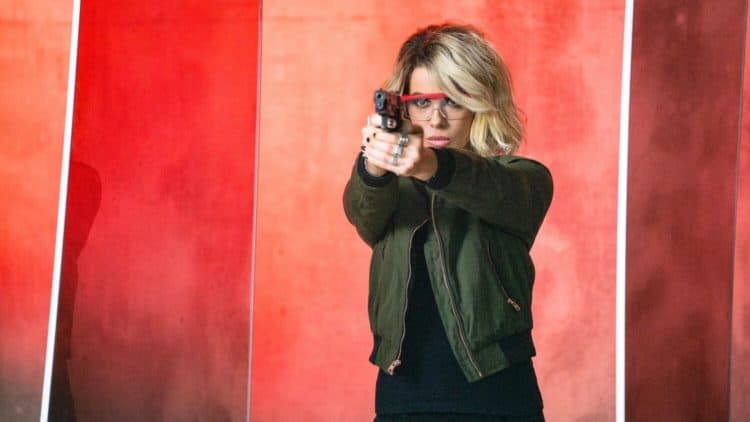 If you couldn't tell already, Jolt is going to be an action-comedy that's kind of along the same lines as Guns Akimbo starring Samara Weaving and Daniel Radcliffe, but definitely of a different variety. Kate Beckinsale has already showcased how much of a badass she is in the past thanks to the Underworld movies and even the less-than-stellar Total Recall reboot, but this time around she's taking things to a different level. While she won't be playing a Death Dealer or any type of government agent she will apparently be playing the part of someone who's very well-versed in hurting people and has serious anger management issues. As anyone can see in the trailer, whenever she's touched in a way she doesn't like it's bound to happen that she'll snap and quite possibly break anything that happens to be touching her at that moment, but whether it's right away or after a sigh of irritation is hard to say since one has to think that she might actually get tired of maiming people eventually. Seriously, after hearing enough bones break a person might get used to it or just get annoyed by it.
It's definitely been a while since we've been able to see Beckinsale in an action movie, but this has the look of something that's going to knock our hair back just a bit and makes us remember just how awesome Kate can be when she's given a role she can stretch out in. The main premise of the movie is revenge since while Kate isn't playing a government agent or anything else that gives her an attachment to a seriously organized bunch, or at least it doesn't appear that way, she's still more than enough for any single person or group to handle. Out of all the action movies that have been coming out lately this looks like one of those that might actually deliver, and could possibly be one of the better action movies of the year. As of right now, that's a lot of speculation to be certain, but it's a feeling and one that will hopefully be justified.
Between being a dramatic actor and being an action star Kate Beckinsale has been seen to give some of her best performances when she's able to blend the two, but her action shops have been seriously impressive over the years, which is one reason why it's so great to see her step back into such a role. The surge of women in action movies over the last few decades has been impressive, but even more impressive have been those women that can get in and do the work to make it look as good as some of these movies have over the years. That might sound a little too dismissive of some individuals since the truth is that most people do try when the cameras are on, but those that put in the type of work that makes a movie look absolutely solid and real enough that a person can feel themselves sinking into the story are those that can be labeled as some of the absolute best in the business. Kate has definitely had a few flops in her career like many other actors, but she's come surging back since and in this movie, it looks as though she's ready to take down just about anyone that stands in her way.
When it comes to action movies, some of them are able to pull off a hint of comedy here and there, while others can get downright goofy and still be considered to be great. Time will tell with this movie, but the comedic moments feel a little ironic already and even as though they're pulling from the idea that women are still and always will be underestimated. Those poor saps that still think that there are certain things that women can't do in the movies might need a refresher course, and should possibly watch this movie when it comes out since women haven't been the damsels in distress in a while when it comes to action movies. Personally, I happen to think that's more exciting than anything.
Watching women get down and dirty in action movies and show that they too can take on a part that will let them mow down one opponent after another is pretty awesome in fact. Now, take a man and woman in a movie that are both highly trained and have a lick of common sense between them and then let them go at one another as it happened in Mr. & Mrs. Smith, and that's a movie. Of course, some of the more goofy elements might need to be adjusted or removed, but it's still a great idea. Hopefully there is someone in this movie that will challenge Kate more than a little, but otherwise, it looks like something that could be a lot of fun to watch.